2017 Fantasy Baseball: Total Points– First Basemen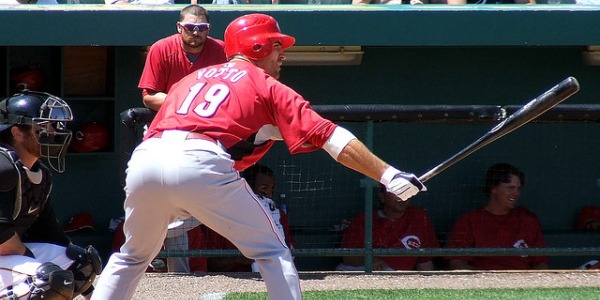 The head to head season is nearly over for most fantasy players, but the total points revolution has hit the sport. This is primarily because of the development of daily fantasy sports. Some would consider it gambling, but if you manage it responsibly it can add that little juice you need to the meaningless games in September when your yearly fantasy chances have gone in the toilet.
There are some season long leagues that use total points as well. I prefer those leagues because they encompass more of what a player does than the standard five and even six category leagues. For those new to the concept, total points leagues assign certain points to certain events. Since different sites assign different weights to specific events, I have devised my own simple formula to evaluate the players. Below are the point values assigned. In the tables, you will see walks, stolen bases, and hit by pitches as positive events. You will see strikeouts, caught stealings, and grounded into double plays as negative events
Total Bases= 1 point each                                          Strikeouts= -1 point each
Runs= 1 point each                                                     Caught Stealing= -1 point each
RBI= 1 point each                                                       GIDP= -1 point each
SB= 1 point each
HBP= 1 point each
Walks= 1 point each
We are dividing each position into three categories. There are players that would be starters no matter which platform or format you use. There are players that could be starters or might be bench players, but they tend to shine in total points leagues. Then, there are players that wouldn't make it no matter what format you used. Statistics are accurate as of Friday August 25th.
The Elites 
As intelligent fantasy baseball players, we have to go where the data takes us. I could establish pre-ordained dividing lines, but that is not where the data normally goes. We see two or maybe three elite players here and then there is everyone else. Goldschmidt is the odds on favorite for MVP in the National League but maybe he shouldn't be. Votto is just a remarkable player and 500 points is a rare total for any player. With a strong finish he could approach 600 points. Let that sink in for a moment.
While the separation of numbers mostly effects seasonal draft decisions, the perception of certain players effects their DFS salaries. Occasionally, you see gaps between a player's perceived value and their actual value. The bottom three guys were not supposed to be this high at the beginning of the season, so you occasionally will see that at a lower price point. In particular, Smoak wasn't supposed to be here at the beginning of the year, but every season brings surprises.
The Rank and File
The rank of file section demonstrates how compact performance is and how fantasy players can exploit inefficiency. After all, what is the appreciable difference between the seventh ranked first baseman and the tenth ranked first baseman? Bellinger came up in late April, so on a per game basis he belongs in the first group. The same could be said of Freddie Freeman after he missed about six weeks of action. Otherwise, you could throw the others in a hat and pick at random.
The other story that gets lost when looking at seasonal total points is in how those points were obtained. There might not be a hotter player in baseball than Josh Bell. That represents an inefficiency that can be exploited. Carpenter has more total points, but has not been performing as well lately. So, you could actually do better by using one of the players before.
The Rest 
Gurriel is an anomaly when compared to the others on the list. They are each there primarily because of the negative events (primarily strikeouts). While that might not seem fair it is a predictor of how these things normally go. Reynolds and Thames got off to quick starts, but have settled in as fantasy backups as they had been in the past (or worse in Thames case). Alonso similarly got off to a quick start and has faded down the stretch.
In DFS (unlike season long leagues) you can take advantage of hot streaks and avoid players in cold spells. All of these players have shown an inability to sustain their success over long periods of time. Yet, for a period of a few weeks each has been near the best at the position. So, you should keep an eye on trends and mix and match when necessary.