2017 Fantasy Baseball: Washington Nationals Team Preview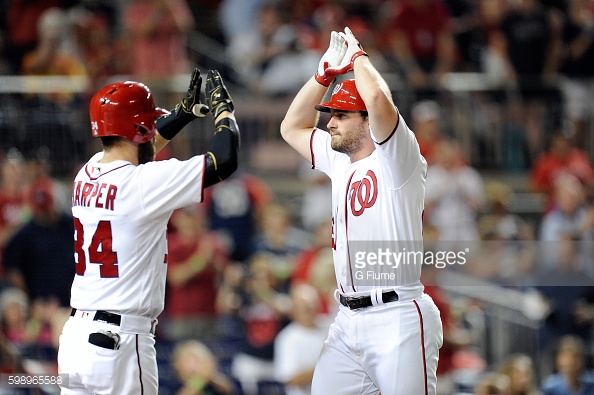 Offseason Overview
For the past few seasons, there have been many of us who have crowned the Washington Nationals as the World Series champions before the season even began. Most recently, it happened after they signed Max Scherzer, which added a solidified ace to a rotation that was already loaded to begin with. However, with the emergence of the Chicago Cubs, along with the Los Angeles Dodgers being a perennial playoff team, the Nationals are no longer the team to beat in the National League. That being said, the team made a few additions this offseason that they hope will put them over the top

The biggest move the team made this offseason was trading top prospect Lucas Giolito, along with Reynaldo Lopez, to the Chicago White Sox in exchange for outfielder Adam Eaton, who will be slotted in center field. Eaton fills a big need for the team, as the ball club was also connected to Andrew McCutchen this offseason to fill the position. While Eaton isn't the household name that McCutchen is, he ranks fourth in WAR over the past three seasons among outfielders, and the Nats will have him under control for the next five years at a very affordable cost. In addition to adding Eaton, the team acquired Derek Norris from the San Diego Padres to fill the void left by Wilson Ramos' free agent departure.
In order to make a World Series run, however, the Nationals are going to have to hope that a lot of things go their way. Ultimately, keeping their current projected roster on the field should be their main concern. Outside of the product they're likely going to be running out every day, there isn't a whole lot of room for optimism. The team's current bench features the likes of Stephen Drew, Michael Taylor, Chris Heisey, Clint Robinson, and last but certainly not least, Jose Lobaton. And even though some teams don't put huge stock into their bench, it's important to always have depth in case something does go wrong with one of your starting players; the Nats certainly lack that depth that other contenders have.
Top Draft Picks
Despite not posting the numbers he did in 2015, Bryce Harper still had a solid but not spectacular 2016 campaign. Still just 24-years-old, Harper still possesses some of the best raw power in the game, and the potential for him breaking out for another monster season is always still there. That being said, it seems as if pitchers had a much easier time pitching to him this past season. Although his strikeout rate improved, Harper took a huge hit in all the major offensive categories. He saw his ISO take a huge dip, going from .319 in 2015 to just .198 in 2016. On top of that, his wRC+ went from 197 to 112, which helps show just how outstanding his 2015 season was. While it's easy to expect him to improve on his numbers from last season, it may become more and more obvious that his 2015 season might have been the anomaly, rather than his 2016 season.
Max Scherzer is like a fine wine, as he seems to get better with age. Now 32-years-old, Scherzer just strung together his most dominant season, which ended with him being crowned the NL CY Young award winner. Scherzer was third in baseball in K/9, which was fueled by a league leading 284 strikeouts. He will most definitely be among the top three pitchers taken in any given league, depending on how league owners rank him. If it weren't for Clayton Kershaw and Noah Syndergaard, Scherzer would likely be the favorite to take home the award once again in 2017. While some regression is likely inevitable, expect him to remain one of the most dominating pitchers in all of baseball.
When the Nationals first acquired Trea Turner in the Wil Myers deal, most of the baseball world was shocked. First of all, it's not everyday you see a first round pick from the same year traded as a "player to be named later." Additionally, the Nats were able to get him and Joe Ross for Steven Souza and Travis Ott. Turner quickly went from that player to be named later to one of the best shortstops in baseball, and arguably the best fantasy shortstop in baseball. Not only does Turner possess his 80-grade speed, he has also proven to everyone that he has a lot more pop in his bat than originally thought, launching 13 home runs in 307 at-bats in 2016. Although he didn't have enough appearances to qualify in any major batting category, his wRc+ of 147 would have ranked him first among shortstops. On top of that, he would have ranked first in slugging percentage, first in ISO, second in wOBA, and first in OPS. Do you see a trend here?
Having four players crack the "top draft picks" list is a difficult feat, but as mentioned prior, the Nationals are a top-heavy team. Along with having the best fantasy shortstop on their squad, they also have the best fantasy second baseman in Daniel Murphy. Coming over as a free agent acquisition last offseason, Murphy is currently signed to one of the most team-friendly contracts in all of baseball. After a record-setting postseason with the New York Mets in 2015, Murphy assured everyone it wasn't a fluke, placing second in the MVP voting and leading second basemen in most of the major offensive categories. Even though some regression is likely (his season was fueled by a .348 BABIP), Murphy proved his offensive breakout was legit. His wRC+ of 156 led all second basemen, and Jose Altuve was the only other second baseman within ten points of him. Along with wRC+, Murphy led second basemen in wOBA, OPS, SLG, and wRAA. Murphy was only edged out by Brian Dozier in ISO, thanks to Dozier's absurd second half of the season.
Sleepers
I published an article two years ago here where I explained my reasoning for thinking Adam Eaton was undervalued at the time. While trading Lucas Giolito and Reynaldo Lopez no longer make him "undervalued", it's still hard to believe that some projection systems predict him having only a slightly above average season. It could have something to do with the fact that he'll be playing in center field, which suppresses his defensive value; Eaton was one of the very best defensive corner outfielders in baseball last season. And while Eaton doesn't have one particular offensive skill that he hones, he does a lot of things right that make him valuable to own on a fantasy team. Oh, and by the way, Eaton had a higher wRC+ than Harper last year, edging him out 115 to 112. For Eaton, that makes three straight seasons in which he's posted at least a .360 OBP with a wRC+ between 115-119. With a Harper bounce back likely, we will likely see Eaton score more runs, as well. Even though he will likely be the 30th outfielder off the board in drafts, it's easy to believe that he holds more upside than those who will be drafted in the same area.
Joe Ross projects to be the fifth starter for the Nationals this season, barring an upset in which A.J. Cole or Vance Worley earn the rotation spot. Even though Ross was just able to get over 100 innings pitched last season, there were a lot of positive signs from the 23-year-old right-hander. At the same time, there were some troubling signs, including a shoulder injury, which nagged him for the latter half of the season. On top of that, Ross was also having a lot of trouble getting hitters out the third time through the lineup. In fact, he had the second highest K% differential between the first and third times through the lineup in all of baseball (-16.39%). This could have something to do with the fact that Ross throws two pitches, his fastball and slider, a little over 91% of the time, with his changeup filling in the remaining 8.8%. With all of that being said, buy low! In the 105 innings he threw, he nearly struck out a batter per inning, while keeping his BB/9 at a respectable 2.5. Digging deeper, you notice that Ross was able to keep his ground ball percentage in line with his minor league numbers, while actually slightly decreasing the number of fly balls he gave up. Of course, the more fly balls you give up, the higher the chances become that one of those balls go over the fence. Ross isn't your typical #5 starter, and one should be confident taking a chance on his upside rather than an Ian Kennedy type, who is currently being mock drafted in the same area.
Busts
There's something to be said about the rarity of a Scott Boras client taking a contract extension before they hit the open market. Stephen Strasburg did just that, and in typical Strasburg fashion, he broke down and failed to help the Nationals once again in their postseason run. Maybe Boras knew something we didn't, or maybe he was just waiting for the inevitable Strasburg elbow/shoulder injury. Nonetheless, it feels like every offseason Strasburg is among the favorites to win the NL CY Young, though he's never placed higher than ninth in the voting. If he were able to stay healthy, the Nationals would have one of the best, if not the best one-two punch in baseball. Unfortunately, they have a killer one-two punch for about a half of the season, give or take. If Strasburg can piece together a full season in 2017, he could be a top ten pitcher. Unfortunately, history shows that a full season form Strasburg is unlikely, and he'll end up on the shelf at some point. To be honest, if the Nationals could go back and let Strasburg hit free agency instead of signing him, I have a good feeling they would.
Closer Situation
Well, this is fun. The Nationals were in on both Andrew Miller and Aroldis Chapman at last year's trade deadline, though they decided not to pull the trigger on either. Instead, they traded for Mark Melancon, who did a great job in nearly thirty innings with the team, posting a 1.82 ERA and notching 17 saves. However, Melancon signed a four-year deal with the San Francisco Giants this offseason, leaving the Nats with a question mark in the ninth inning. There have been rumblings about the team possibly trading for David Robertson, though those have only been rumors up to this point. Instead, they have to turn to Shawn Kelley as their closer, who pitched very well for the team last season. Kelley struck out 80 batters in a little under 60 innings last year, proving he has the late-inning stuff to miss bats. That being said, it's hard being sold on a contending team handing Kelley their closer role, especially given the fact that he only has 11 career saves. If things don't go well for Kelley in the closer, look for Sammy Solis or Blake Treinen to step into the role. It's worth noting that they signed Joe Nathan to a minor league contract with an invite to Spring Training, though it's far from a sure thing that he will make the team.
Impact Minor Leaguer
Koda Glover struggled at the big league level in 2016, though pitched very well in across three levels prior to his promotion to the majors. While Glover isn't a shiny top prospect, it's easy to see him stepping in, perhaps in the closer role at some point, and putting up big numbers. Since the bullpen depth is thin and there are plenty of question marks, Glover is the perfect candidate to step in and have a large impact. Last season, Glover posted a 2.41 ERA in 56 innings, striking out 66 batters while walking 14.
Fun Fact
In 2016, Daniel Murphy became the only player in Washington Nationals history to win player of the month twice in the same season (May and July).