2017 Fantasy Baseball, Week 1 Review and Noteworthy Trends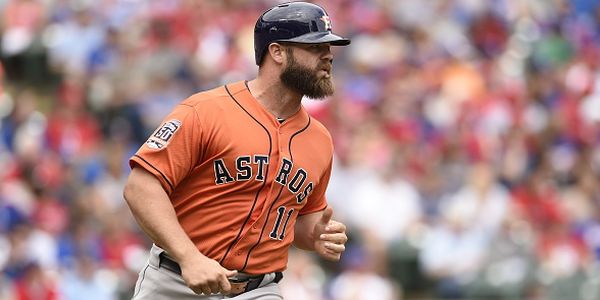 The first week of real baseball is almost in the books. And already there's way too much irrational behaviour for me to deal with. It's still too early to panic about player X after going 1 for 8 or a rough outing. Once we get some more data over the next few days, we can start to make informed decisions.
Ryan Zimmerman had a horrible spring. No one wanted to draft him, everyone thought he was done. He started the season 5 for 12 with two homers. So stop including spring stats in your thought process and don't put too much into the early numbers. Yet.
Anyways, there are some interesting trends you should be picking up on. Not necessarily to be jumping the gun on a trade, but certainly when deciding who to bench on a given day or even to monitor as a potential pick-up.
These trends are basically team's line-ups and bullpen use. Most team's batting order you could've guessed at the start of the year, but there has been some interesting early season line-ups which are worth noting and some clues to how their bullpens will be used going forward.
So we're going to go through each team and just pick out some interesting early trends which may affect your fantasy thinking.
Keep your eyes out for the week 2 preview also coming out this weekend. From next weekend, the weekly review and preview will be one article. So make sure to follow The Fantasy Fix on Twitter for the latest articles and feel free to follow me too. If you want to of course.
Arizona Diamondbacks
Fernando Rodney's first outing for the Diamondbacks wasn't good. He redeemed himself with a clean save on Wednesday but there's no clear cut setup guy right now.
David Peralta is hitting 2nd in the order vs RHP, but sat vs LHP. Chris Owings hit 2nd vs LHP and 5th vs RHP.
Atlanta Braves
The Braves have yet to face a LHP but their line-up appears pretty set regardless.
Baltimore Orioles
Against RHP, Seth Smith led off and played RF with Hyun Soo Kim playing LF. Facing LHP, Joey Rickard led off playing LF and Trey Mancini played RF. So a couple of platoons in the outfield either side of Adam Jones. Mark Trumbo was the DH against both.
Boston Red Sox
Flu has been running rampant throughout Boston (one reason why I'm not a fan of weekly line-ups). Rain has also hampered the Red Sox start to the season but they do now have 7 games in week 2.
Chicago Cubs
Addison Russell hit clean up when Zobrist sat out.
Wade Davis has two saves to his name, but interestingly the order before him seems fluid. The Cubs went Koji Uehara in the 7th followed by Pedro Strop in the 8th before Davis in a 1 run lead. Then they went Hector Rondon, Strop, Carl Edwards Jr before Davis during the next save opportunity.
Chicago White Sox
All I can say right now is the White Sox malaise might start affecting their remaining stars (Jose Quintana, Todd Frazier etc.). Only thing to do right now is monitor Yoan Moncada in the minors. If he's off to a hot start, expect an early call up.
Cincinnati Reds
On Wednesday, Raisel Iglesias got the save with 1 hit & 2 K's. Michael Lorenzen pitched the 8th in a 2 run game, although the Reds took lead in the bottom of the 7th so likely to have been readying Lorenzen and just kept him going.
Then Thursday, Drew Storen got the save. It's unclear if the Reds aren't prepared to use Iglesias 2 days running or if it's a committee approach. However, it would make sense to use Storen as their closer and boost his trade value.
Cleveland Indians
Cody Allen got the first save chance for the Indians as expected. What was interesting is that Andrew Miller faced the 9/1/2 hitters in the 8th inning leaving Allen the 3/4/5 guys in the 9th. Some saw Miller as the guy to face the heart of the line-ups late in games.
Miller and Allen didn't pitch in a 3rd straight game, leaving Bryan Shaw to get the save after a 5 run top of the 9th.
Austin Jackson and Tyler Naquin are platooning in CF. Michael Brantley sat vs LHP but this was most likely a pre-planned rest day rather than paying in 3rd straight game.
Colorado Rockies
Greg Holland is definitely the closer. Before him, Adam Ottavino is being used in the 7th (on Tuesday to face the 9/1/2 hitters). Mike Dunn is the 8th inning guy. Ottavino gave up tying run in 7th (solo HR) on Thursday before Dunn finished inning and worked through the 8th prior to Holland getting the save. Dunn looks good in holds leagues.
Detroit Tigers
The Tigers are using Nick Castellanos in the 2 spot as expected.
Francisco Rodriguez just gave up a go ahead solo homer to Pablo Sandoval as I type. Bruce Rondon and Alex Wilson both gave up runs to make it a tie in the 8th. Bullpen looks pretty bad again for the Tigers. Stick with Rodriguez for saves though.
Houston Astros
The Astros' line-up looks very flexible. So far; Carlos Beltran has played LF, Evan Gattis DH, Brian McCann C with Marwin Gonzalez 1B.
Also, Gonzalez played 3B (Alex Bregman sat) with Yulieski Gurriel at 1B and McCann catching vs LHP (Gattis sat). It's difficult to predict their line-up on a daily basis.
I was worried at the start of the year that Luke Gregerson would eat into some Ken Giles' saves. Then, Giles recorded the first two saves of the year with Gregerson pitching the 8th (neither giving up a run). That changed on Thursday after Gregerson pitched a clean 8th in a tie game before Giles entered in the 9th. He went; K, BB, HBP, single, K, single, K, giving up two earned runs and taking the loss.
Giles wasn't lit up but worth monitoring given pre-season comments about Gregerson being used in the 9th.
Kansas City Royals
All I can say is the Royals look like a good team to stream pitching against. I still believe they'll finish with the worst record in the American League. I've yet to be convinced otherwise.
Los Angeles Angels
A closer by committee approach where only one guy is worth owning. Cam Bedrosian got the save Tuesday and the Angels committee until Huston Street comes back could be Bedrosian and no one else.
Cameron Maybin played LF vs LHP and RHP in the Angels first 3 games. Ben Revere got the start in left for their 4th game so looks like Revere is only backup at this point. Until Maybin gets hurt of course.
Los Angeles Dodgers
The Dodgers are fielding a very different line-up against LHP and RHP.
Vs LHP – Franklin Gutierrez and Kike Hernandez in for Joc Pederson and Andrew Toles
Vs RHP – Toles leads off and Pederson 5th or 6th
Then Friday, Pederson started vs a LHP (albeit hitting 8th) with Hernandez playing shortstop for Corey Seager and Scott Van Slyke replacing Adrian Gonzalez at first. The Dodgers are desperate to get something going against south paws after being humbled by Clayton Richard and struggling throughout 2016.
With Toles leading off against RHP, Logan Forsythe hits 1st vs LHP. Against RHP, Forsythe has been hitting 3rd and 5th. He also played 3B vs RHP and Chase Utley started for Justin Turner. Expect more fluidity as they search for a winning formula.
Alex Wood pitched 7th and 8th in 2 run game Wednesday and might be a good setup man if he doesn't get into the starting rotation.
Miami Marlins
Those excited about Derek Dietrich playing while Prado is injured might be disappointed as he seems to be platooning at 3B with Miguel Rojas.
Milwaukee Brewers
Another team changing their line-up depending on the starting pitcher they face.
Vs LHP, Eric Thames sat, Keon Broxton hit 2nd. Thames has so far played 1B and LF
Vs RHP, Thames 2nd, Broxton hit 8th and then sat one for Kirk Nieuwenhuis
Ryan Braun was rested on a day Thursday game after the Wednesday night game.
The Brewers weren't lying when they said they'll get creative in finding Hernan Perez at bats. So far, he's played 3B, RF and SS. He'll be a great utility guy to add if he settles into a routine hitting.
Jesus Aguilar is getting time at 1B against LHP and RHP.
Minnesota Twins
At Shortstop, Jorge Polanco went 2 for 3 with a walk in their first game. He then sat the next game for Eduardo Escobar despite being a switch hitter. Escobar proceeded to homer, then sat the next game. Polanco then went 2 for 3 with a walk.
Interesting to note that Escobar has played outfield before so if Byron Buxton doesn't get going and is sent down, Escobar could see move to the outfield with Polanco as the everyday SS. I like Polanco as a deeper league option there.
Max Kepler is hitting 2nd vs RHP 8th vs LHP
New York Mets
Wilmer Flores and Lucas Duda are platooning at 1B. Michael Conforto seems to be an afterthought right night.
New York Yankees
Nothing to report. Just boring, standard line-ups and bullpen use.
Oakland Athletics
Santiago Casilla got the A's 1st save opportunity after Sean Doolittle and Ryan Madson pitched in the 8th. A's went with Madson in the 8th again and Ryan Dull in 9th for the save with a 2 run lead the following day. Dull gave up 3 runs off 3 hits (a 3 run homer).
Then in a 4 run lead, Casilla pitched a clean 8th inning facing the 2/3/4 guys. Then Doolittle got 9th. Casilla appears to have the most trust right now.
Ryon Healy has so far played 3B (with Trevor Plouffe DH'ing) before playing 1B Thursday. Could see added position eligibility in the not too distant future.
Marcus Semien batted 2nd vs LHP but 8th or 9th vs RHP.
Philadelphia Phillies
Tommy Joseph went 0 for 8 in first 2 games with 5 K's. He was then benched on Thursday for Brock Stassi who went hitless. Joseph got 2 at-bats after entering the game and was hitless. It's unsure how long Joseph's leash is if he continues to struggle.
Pittsburgh Pirates
Adam Frazier led off as LF vs RHP & Gregory Polanco was the DH in the Pirates opening game. Jordy Mercer then led off vs LHP with Frazier batting 9th as the DH.
As of typing, Wade LeBlanc turned a 4 run lead into a 1 run lead in the 8th, leading to Daniel Hudson sorting out the mess and ending the inning. Tony Watson pitched a clean 9th for his first save. Hudson looks clear setup man for Watson.
San Diego Padres
The Padres are using Manny Margot lead off or 2nd vs LHP and RHP. Travis Jankowski will lead off or hit 2nd vs RHP but hits 8th or 9th vs LHP.
Ryan Schimpf is playing 3B and Yangervis Solarte 2B vs LHP & RHP. Position eligibility could be nice boost, especially for Solarte.
San Francisco Giants
Joe Panik is hitting 8th vs LHP and RHP. If he does hit around the .300 mark, expect him to jump up the order. Brandon Belt is currently hitting in the 2 spot.
Seattle Mariners
Mitch Haniger is entrenched as the no.2 hitter vs LHP and RHP with Jarrod Dyson and Leonys Martin 8th & 9th. Great news for us Haniger lovers.
St. Louis Cardinals
Stephen Piscotty was dinged 3 times (both elbows and head) in one eventful trip around the bases, before sitting the next game (although he did pinch hit). Laughably, Matt Adams got the start in LF with Piscotty out.
Kolten Wong & Jedd Gyorko are platooning at 2B, although Gyorko did start 3B over Jhonny Peralta vs RHP on game. All three should be mixed up until one struggles enough to bench.
Tampa Bay Rays
Erasmo Ramirez pitched 7th and 8th before Alex Colome got the 2 hit save on Wednesday. Could be the setup guy and nice holds guy.
Corey Dickerson has been DH'ing and leading off, but was benched Friday when facing a LHP. Mallex Smith is platooning in LF with Peter Bourjos.
Texas Rangers
Despite all the "Delino DeShields will play LF", he sat vs RHP for the Rangers' first 2 games. He then led off vs 3rd straight RHP and DH'd but was pinch hit for in 7th.
Carlos Gomez led off first 2 games then batted 6th in the third game.
Elvis Andrus is rather annoyingly hitting 8th or 9th.
Sam Dyson has been brutal in his two save chances. Matt Bush is expected to replace him at some point, but I'd rather speculate on Jeremy Jeffress with Bush being used in an "Andrew Miller type role" should Dyson lose the job.
Toronto Blue Jays
Jason Grilli is the interim closer while Roberto Osuna is on the DL. Don't expect Osuna to miss much time though. He should return by the start of week 3 and is expected to be closer again.
Washington Nationals
Blake Treinen got his 2nd save but gave up a run in doing so, although neither Koda Glover nor Shawn Kelley pitched in the 4 run game (which became 2 run win on Wednesday).
Then, Glover pitched the 7th with 1 a run lead, Kelley pitched the 8th in what was then a 2 run lead and gave up the tying 2 run homer. Sammy Solis then entered in the 9th with 1 a run lead and left with 2 outs and a runner on third, before Treinen came in and gave up a hit to tie the game.
Joe Blanton came into 10th and gave up winning run. Treinen threw 20 pitches the night before so maybe trying to restrict the workload early. And yes, this was a wild game towards the end.