2017 Fantasy Baseball, Week 13 Preview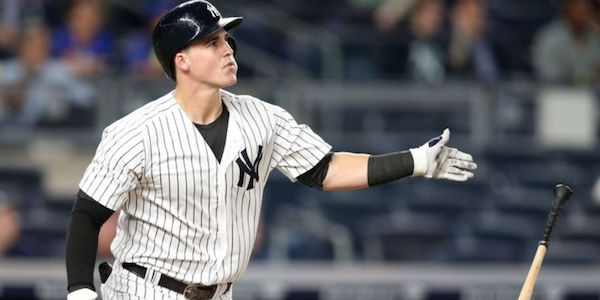 As you regular readers will have seen, illness has prevented me from making much of a contribution the last couple of weeks. Hampered by the fact every time I typed 50 words I would be out of breath for 10 minutes, I have been neglectful.
However, my rehab assignment went well enough to get me activated from the DL and back into the swing of things.
And earlier this week, we posted a question on Twitter which got me thinking, reminiscing and regretting all at once.

Why did it resonate with me so much? Well, just over a couple of weeks ago I did this……

Before you ask, I'm "PENG".
Since the trade on June 08th, the players' fantasy stat lines are as follows;
Samardzija – 0-2 W-L, 19.0 IP, 14 ER, 18 K, 6.63 ERA, 1.21 WHIP
Bellinger – 0.339 avg, 15 R, 10 HR, 20 RBI, 1 SB
Needless to say, it's not a trade which is really working out for me. Or is it? This is a 12 team Head-to-Head league, has been running for a long time and outside of money or pro leagues is the most competitive I've ever encountered.
The reason I made the trade is Bellinger had just begun to cool off in the 10 days leading up to this. I have lots of power in my team (easily leading the league in home runs and atop the runs and RBI stats). Plus; I had an abundance of outfielders.
What I did lack is starting pitching. If you're in a league deeper than 10 teams or an NL/AL League you will have experienced the dearth of good pitching available. There's nothing of note on the waivers from week to week, so I needed to trade for a useful starter.
Samardzija is someone I've never been a fan of. Never drafted. Never owned. But his FIP was considerably less than his ERA and still is for that matter (4.74 ERA and 3.49 FIP) so there appears to be more upside to come.
Given his K/9 is up over 10, Samardzija looked likely to be a good pick-up for the remainder of the season.
Now looking at the results since the trade it's easy to see why I'm remorseful. Yet I'm also pleased. Crazy? Perhaps.
But since the trade, I've won both my match-ups including homers, runs and RBIs. I've also won K's in both weeks. Something I probably wouldn't have done had I not made the trade.
Granted, if I was looking at trading Bellinger now I probably would be able to get a greater return. But that's the nature of the beast. I still believe Bellinger will cool off soon for a longer period than a week, yet he will still be a significant contributor for the remainder of the season.
But at the time, the trade was fair for both sides. Filled a need for both teams and despite being considered "the loser" of the trade, it has only helped me so far.
In roto leagues, it probably wouldn't have helped me so you need to consider your options for every trade. Focus on your team's needs and even a trade which doesn't appear to be good on paper can actually help your team. Sometimes, a trade can look bad but still work out in your favour.
Anyway, just because I can doesn't mean I need to ramble on. So without further ado, let's delve into week 13 and hope it doesn't bring us bad luck.
Two Start Stars
The first Two Start Star appears to be a no-brainer; Sean Newcomb of the Atlanta Braves.
The young rookie has made a big impact since joining the Majors, throwing 3 straight quality starts amounting to a sub 2.00 ERA, a WHIP barely over 1.00 and an ok strikeout rate.
Week 13 represents two more opportunities to cement himself as an excellent starting pitching option with road starts against the San Diego Padres and Oakland Athletics.
The Padres have scored fewer runs in June than any other MLB side whilst the Athletics rank 13th in that regard. The Athletics have struck out more than any other side this month except the Milwaukee Brewers, with the Padres ranking 7th in K's.
The Braves on the other hand rank 3rd in runs scored in June so Newcomb has many chances to be fantasy relevant in week 13. Still only around 20% owned, Newcomb should be able to put together a very nice week 13 and boost that ownership above the 50% threshold to appear on here again.
Next up, we have to dig a little deeper to find a viable Two Start Star. And by digging a little, we find ourselves opting for LA Dodgers leftie Hyun-Jin Ryu.
Ryu pulls starts at home against the LA Angels in an interleague game before heading to the San Diego Padres.
The Angels without Trout aren't nearly as daunting and actually rank 25th in runs scored against left-handed pitching this season as well as being 19th in batting average against southpaws.
The Dodgers have been scoring runs at will recently so Ryu should receive enough support and keep the Angels off the board enough to start the week well.
Then there's the Padres who we have already talked about enough. Ryu hasn't passed 5 innings in his last three outings, but there's no reason to believe he won't be able to this week.
Ryu is also battling for a long-term rotation spot so have plenty of incentive to put together a good week 13.
Third and final Two Start Star is someone we have dug even deeper for; Trevor Williams of the Pittsburgh Pirates.
Williams is currently scheduled for two homes games, against the Tampa Bay Rays and San Francisco Giants.
Williams is currently sporting an unsightly 5.09 ERA and only 41 K's in 58.1 innings. But his biggest asset is his ability to keep the ball in the yard. Williams has given up only two homers in his last 7 starts (both against the Marlins).
Neither the Rays nor the Giants strike out much in June (Rays rank 13th and Giants 29th in K's this month) but Williams isn't much of a strikeout pitcher as we noted. Williams best bet to week 13 stardom is his strength; keeping the ball in the yard.
The Rays rank 8th in homers in June and 10th in runs scored so do rely on the long ball. The Giants rank 28th in homers this month, 14th in runs scored and 10th in batting average, along with being 7th in walks.
So the Giants ability to put the ball in play and score runs could hamper Williams, but they don't do it to the point where they put up hefty numbers every game (even when they have scored more than 5 they find ways to lose games).
Williams is a risk and only advisable in deeper leagues, but he should be able to put up adequate numbers in week 13 to help your team.
Worthy hitter pick-ups
This week, Tyler Austin is the hitter you want to be picking up. He may only be eligible at first base (some leagues he'll have outfield eligibility too) but the Yankees have DFA Chris Carter. Coupled with Greg Bird still seemingly a-ways away from returning from his bad foot, Austin should get all the starts at first.
The Yankees have a 4 game road trip to the Chicago White Sox, followed by 3 games in Houston against the Astros so should see plenty of at-bats in week 13.
Before his MLB debut was cut short by injury last year, Austin logged 31 games in which he hit 5 homers with a .241 average. Don't expect gaudy Judge like numbers, but Austin will be hitting in a productive lineup and is more than capable with bat in hand to put up solid week 13 numbers.
That's your lot for this week. Remember to follow The Fantasy Fix on Twitter and you can reach out to me with any questions you have on there too. Until next week, happy fantasying.