2017 Fantasy Baseball, Week 16 Preview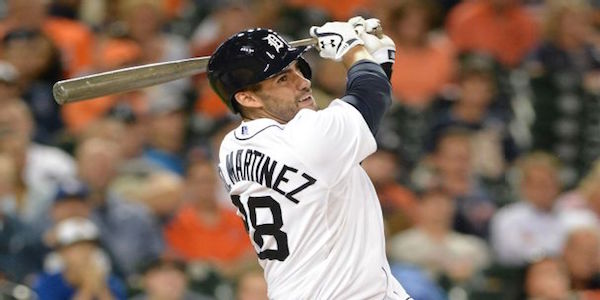 That's more like it. A full 10 days of baseball in the bag, big name trades kicking off crazy season and I'm in no doubt that there's plenty more to come. With that, comes my warning notice.
I mention it in every offseason about people wanting a new and shiny toy come draft day. A prospect who will start the year in the Majors, a signing from Japan or Korea. Even a slugger who gets a new ballpark to call home.
It's natural. New = Better, right?
The same sensation happens this time of year. A player gets moved and instantly there's clamour for him. JD Martinez is the perfect example.
Moving from Detroit to Arizona would help pretty much any hitter. So Martinez is now more valuable? Well yes. But there are other factors to consider like the fact he will be facing some of the best pitchers now calling the NL West home.
In Fantasy, everything is quantifiable. So we can look at park factors and ascertain how much of a boost moving to the desert will be. We can assess team's rotations and bullpens to give us an idea of how much tougher his schedule could be.
But it's the unquantifiable I wish to heed a warning to. You see, baseball players are people too. How many of you have started a new job and it's taken you a few days or more to get to grips with it.
A new desk with drawers on the other side than what you are used to. Taking the wrong turn at the water cooler when trying to find the kitchen. Oblivious to where the stationary cupboard is. You can't put a number on this but little things can affect your performance.
So surely the same thing goes for professional athletes. Their warm and cosy surroundings no longer exist and the pre-game routine they've been doing for years alters. It's natural.
Now some guys will hit the ground running and won't be fazed by it. Others will be. But it's something we need to consider. I'm not suggesting for a minute you look to trade away a player because he moves (unless his role changes like the case for David Robertson).
I mention this because of a league I am in. I received two offers for my JD Martinez within hours of his trade to the Arizona Diamondbacks being confirmed. One was for George Springer. The other was for Jose Altuve.
I had no intention of moving Martinez but I would have accepted either of the trades. For what it's worth, I went with Altuve as I'm lacking some speed. I then got called out for it.
"JD Martinez will be a top-5 outfielder the rest of the way. He'll easily hit 20 homers at Chase Field. That's a sell-low if ever there was one." WHAT?!?!?! I just got the no.1 hitter on the ESPN Player Rater for him.
The assumption was and still is that the move to a better ballpark is automatically going to boost the hitter's numbers and inflate his value. And while we can crunch numbers all we want in a bid to prove ourselves, just remind yourself; it's no sure thing they'll launch into super-stardom.
Just take your time and assess your options before you move your biggest assets for someone with a new home.
Before we crack on, one more piece of advice is to monitor situations right up until first pitch. Trades can happen quickly and you don't want to be leaving someone in your lineup who got traded an hour after you set your lineup as the news caught you on the hop.
That's your warnings out the way. So without further ado, let's delve into week 16 and hope I don't get traded before I finish this thing.
Two Start Stars
There's three to go through this week, none of who I expect to be traded before the end of the month.
And first up is the New York Mets' Seth Lugo.
Lugo is schedule to have two road games in week 16, against the San Diego Padres and then the Seattle Mariners in an interleague matchup.
Starting with game one against the Padres. I wouldn't be a Two Start Star piece if someone wasn't facing the Padres. And there's very good reason for that.
In July, the Padres rank 5th highest in total number of strikeouts and 24th in runs scored. Across the course of the season, as a team they have the 3rd lowest OPS against right handed pitching. In fact, there's very little in the way of positives I can use to support the Padres offense right now.
Petco is still regarded as an elite pitching ballpark too. Admittedly, there's a lot of talk about Lugo's spin rate on his curveball and I'm not sure how that will play up in San Diego. But it's not something that'd scare me off at all.
Lugo's last two starts have each gone 6.2 innings, combing for 4 earned runs and 10 strikeouts. That was against the Cardinals and the Rockies, both considerably better offenses than the Padres right now.
Lugo has a lower ERA at home than on the road, but it's pretty small samples and we are still talking about the Padres.
Lugo's second start is in Seattle against a Mariners team averaging 4 runs a game since the All-Star break. They have been a pretty middling offense this month overall, ranking 18th in runs scored but with a pretty low amount of K's (ranking 23rd overall).
It's another example of the first start yielding the value and the second being gravy. But gravy is good, especially when it's poured on top of a start against the Padres.
Next up is someone venturing off the DL, so for the third week running I'm breaking my own rules. This time it's the Los Angeles Dodger's Hyun-Jin Ryu.
The Dodgers have done a great job keeping all their starters hurt at the right times so they never have them all healthy at once, not miss more than they can cope with.
I jest of course, but Ryu is climbing off the treatment table to take on the Minnesota Twins and the San Francisco Giants in two home games in week 16.
The Twins lineup does warrant some concern as they are 8th in total runs scored this month. But they have also struck out more than all but 6 MLB sides in July. They also hit right handed pitching better and currently rank 23rd in the Majors in OPS versus lefties on the year.
So there's reason for cautious optimism for Ryu.
The Giants hold are pretty much the opposite, as they don't score many runs but don't strikeout a lot either. In July, the Giants are 28th in total runs scored but rank 21st in the total number of Ks.
So what of Ryu? Well, his three starts before hitting the DL at the end of June all last between 5-6 innings, they all yielded 2 earned runs but he struck out a total of 18 hitters. All in all, pretty solid.
It's unlikely Ryu will provide a massive boost to help you win in Week 16, but the two match-ups actually pair up pretty well and given Ryu's seemingly new found ability to just be "alright", it could be the perfect time to run him out there for the week.
Last of the Two Start Stars is Arizona Diamondbacks' Patrick Corbin.
After starting on Thursday to replace Taijuan Walker (Paternity List), Corbin is lined up to pitch Tuesday and Sunday, firstly home to the Atlanta Braves then away against the St Louis Cardinals.
Remember what I said about Ryu's two match-ups evening out to give a nice solid week. Well you won't find much more middling that Corbin's week.
In July, the Braves rank 15th and the Cardinals 11th in strikeouts. Both middle of the pack almost. In terms of runs scored this month, the Braves are 12th and the Cardinals 13th; a smidgen above average.
How do they fair against left handed pitching though? On the season, the Braves have the 11th highest OPS and the Cardinals 18th. Between them, bang average.
What about Corbin then? Well, he has quite significant home and road splits this year, with an ERA of 3.15 at home and 6.19 on the road. Again, one home game and one away game to even things out.
Corbin hasn't given up more than three runs since June 02nd (a run of eight games) and during that run he's struck out at least 5 in each start. Just like Ryu, there's no reason to believe Corbin will blow up and destroy your week. But's enough there to believe he can be a valuable asset over the coming seven days.
Worthy hitter pick-ups
Last week, I went with a couple of speedsters to boost your stolen base numbers. As of Friday, they'd combined for one.
This week is taking a little turn and we're going to look at a source for possible power in the coming days.
The Texas Rangers have two home stands in week 16, three games against the Miami Marlins and three against the Baltimore Orioles. The pitchers they are in line to face are;
Adam Conley, Dan Straily, Jose Urena, Chris Tillman, Dylan Bundy and Kevin Gausman. Three of those guys have ERAs over six.
The Rangers have a hitter friendly ballpark.
The Rangers also have a pretty much secure everyday player who is hitting .381 since the All-Star break with three home runs. Yet he's less than 20% owned on ESPN.
If you haven't figured it out, I'm talking about Mike Napoli.
The Rangers appear to be sellers this month and whether Napoli sees out the week in Arlington is no sure thing. But while he's warming up at the plate, his ownership is only going to increase so now it the time to ride the crest of the wave.
That's your lot for this week. Remember to follow The Fantasy Fix on Twitter and you can reach out to me with any questions you have on there too. Until next week, happy fantasying.