2017 Fantasy Baseball, Week 9 Preview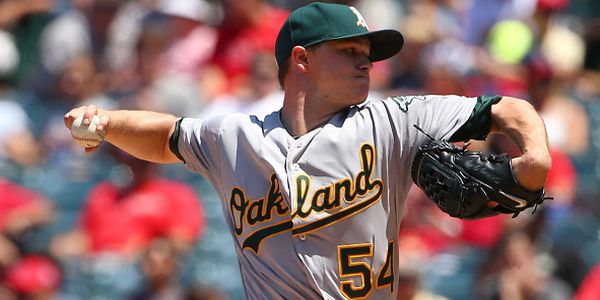 Week 9 is here and if you're reading this early in the week, June is on the horizon. If you're reading this later in the week, June is here.
And week 9 commences with Memorial Day for the majority of you readers. Back here in the UK, Monday is also a Bank Holiday, although it doesn't have any purpose other than being a day off work in ol' Blighty.
Memorial Day also means a full slate of games, resulting a slightly larger selection of two start pitchers for us to choose from. Hence why this week, you get the bonus of two honorable mentions. Aren't you all lucky.
So without further ado, let's dive into this.
Two Start Stars
All four this week are debutants to the list. But not for the first time, we're starting with a Rockies pitcher. Tyler Anderson is our first choice for week 9.
Starting off his week with a home game against the Seattle Mariners and Ariel Miranda, Anderson rounds off week 9 with a Sunday trip to the San Diego Padres to face off against Jarred Cosart.
Obviously, any time you pick a pitcher at Coors Field there's a risk. But the Mariners are struggling to score runs right now, averaging just over 2 per game in the last ten days. Anderson's last two home starts combined for 18 strikeouts over 11.2 innings, yielding 4 earned runs.
Pretty good going considering it was against the Dodgers and Diamondbacks. The Mariners could break out soon, but Anderson followed those two good home starts with two excellent road starts so he looks like he's turned the corner quicker than the Mariners' bats seem able to.
Anderson's next start is more of a banker, with a trip to Petco Park. The Padres are the only NL West side Anderson is yet to face and there's no reason to be thinking he'll do anything over than pitch well.
In fact, Anderson only faced the Padres once in his first season in the Majors last year and that was in Colorado. Given Anderson is averaging eight K's a game in his last four starts, week 9 looks to be his best opportunity to rid himself of the early season struggles.
Next Two Start Star is Detroit Tigers lefty, Daniel Norris.
Norris has two favourable matchups in week 9, with a Monday trip to Kansas City where the Royals are sending Jason Hammel to the mound. That's followed by a Sunday home game against the Chicago White Sox and Tyler Covey.
And that's where Norris' value will come. He's been a decent Major League pitcher in 2017 without being a fantasy asset. He's fresh off only his fourth quality start of the season, yet has an ERA of 4.38.
Despite not being a shutdown starter, Norris has not been seriously blown up either. He's failed to get through five innings on three occasions but has not given up more earned runs that innings pitched, which some guys have done more than once this year. I'm looking at you Tanaka!
Norris is yet to pitch 7 innings this year also and his WHIP of 1.62 is the big concern. Despite his 8 K/9 rate, his 4.2 BB/9 rate has been the most telling stat. He's yet to have a start with less than 2 walks.
But the White Sox and Royals rank 29th and 30th respectively in taking walks. The Royals also have the second worst batting average against lefties (.214) in the league. He's yet to face either week 9 opponent so far this year and there's no reason to expect either team to get the better of Norris this week.
As I said earlier, you get two honorable mentions for this week, with the first being the Cleveland Indians regular disappointer Trevor Bauer.
So why am I on board with Bauer this week? Well, for one he's only walked three hitters in total across his last three starts (17 innings), whilst striking out 22. Pretty good ratios.
Secondly, he's got two favourable starts also with a Tuesday home game against the Oakland Athletics and Sonny Gray before a trip to face the Royals in Kansas City and Jason Hammel. Let's hope Hammel doesn't put in a Two Start Star performance as we're facing him twice now!
We've already covered the Royals and how poor their offense is this year. And the Oakland Athletics aren't a whole lot better. Currently ranking in 27th for runs scored, 24th for batting average and 23rd for strikeouts, Bauer has many routes to success in week 9.
Your bonus honorable mention is Milwaukee Brewers veteran hurler, Matt Garza.
Garza had put together four straight quality starts following his disappointing season debut (on April 24th due to injury). But his last start against the Toronto Blue Jays was a mess, giving up six runs over 5.1 innings.
But that was on just seven hits and no walks. In fact, Garza has walked just 6 batters in his 35 innings of work so far this year. His pedestrian strikeout rate of 6.9 K/9 is about what you'd expect and he's only given up 34 hits, resulting in a measly 1.14 WHIP.
The problem has been six of those 34 hits have left the yard.
Garza faces the New York Mets away on Monday and will face off against Robert Gsellman (the same Gsellman who has burned me plenty this year). Then he returns home to have the Los Angeles Dodgers on Saturday who will be sending Rich Hill to the mound.
The Mets and Dodgers are tied in 20th for home runs hit in May so if that mediocre trend can continue, Garza should be able to ensure damage is kept to a minimum and keep his season's ERA its current figure of 3.60.
Worthy hitter pick-ups
From this week on, I shall offer up a name or two of hitters who can also be of benefit to your fantasy week.
Starting with Aaron Hicks of the New York Yankees.
Regular starting centre fielder Jacoby Ellsbury was placed on the 7-day DL with a concussion after slamming into the outfield wall. That should mean Hicks will start in his pace.
Despite only having 103 plate appearances so far this year, Hicks is currently ranked as the 19th best outfielder on the ESPN Player Rater. The Yankees have seven games in week nine, all on the road (three at Baltimore and four in Toronto). So batter friendly ballparks.
As a switch hitter, Hicks will also benefit from not being sat for a platoon mate and the Yankees only called up Rob Refsnyder as cover for Ellsbury, so Hicks shouldn't sit for him either.
Hicks has also seen himself batting second in the order when he does play so providing Ellsbury does miss a bulk of week 9 (and even if he returns after 7 days, Hicks should still get 6 starts) Hicks should be more than adequate cover for Ellsbury or any outfield deficiencies you may have.
Currently a 5 category contributor, Hicks is available in around 50% of leagues and is very rosterable for week 9.
That's your lot for this week. Remember to follow The Fantasy Fix on Twitter and you can reach out to me with any questions you have on there too. Until next week, happy fantasying.