2018 Fantasy Baseball: March Market Wrap-up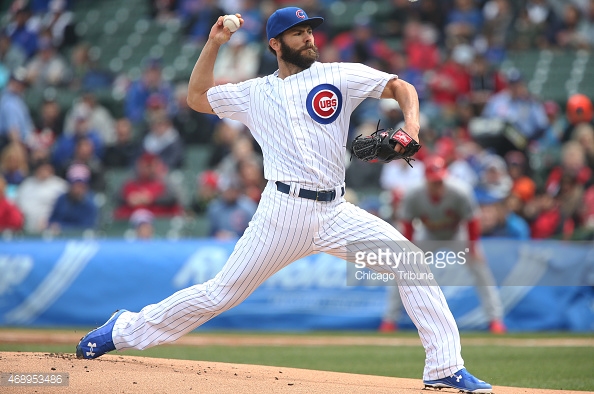 There have been a ton of theories that could could explain the realitive inactivity of the offseason. We have seen more significant deals in March than at any time in history. Personally, I tend to believe it has more to do with a market correction than anything else. Sure, there are always other factors and the MLBPA is certainly entitled to question the motives of some franchises, but the deals that were struck this past weekend probably have more to do with the correction of the market than anything else. We will look at the deals in the order of their impact on the pennant chase and fantasy drafts coming up.
Philadelphia Phillies Sign SP Jake Arrieta
The Phillies pulled the trigger on a three year, 75 million dollar contract on Arrieta. Sure, that would seem to be under market, but we have to remember that Arrieta is coming off of a down season (for him) and he has already turned 32. The idea that he was going to get a seven year, 200 million dollar deal was an invention that seemed to be dreamed up out of thin air by Scott Boras. Others thought he would get four or five years guaranteed, but given the history of long-term contracts for pitchers that seemed far-fetched as well. Just take a look at his last three seasons in Chicago.
2015: 22-6, 1.77 ERA, 0.865 WHIP, 236 SO
2016: 18-8, 3.10 ERA, 1.084 WHIP, 190 SO
2017: 14-10, 3.53 ERA, 1.218 WHIP, 163 SO
That's not the kind of trend that gets people a ton of money. The Phillies wisely front-loaded the contract to where he gets 30 million in 2018, 25 million in 2019, and 20 million in 2020. He is likely no longer a fantasy ace and has even been penciled in behind Aaron Nola in the Phillies contract. Still, the Phillies have a better offense than people give them credit for and they have a decent bullpen on paper. So, he could still win 15 games and have an ERA in the mid threes. He might be enough to put them in the wild card hunt. Give the Phillies some credit for waiting him out and bringing him in for a contract that makes sense for them and the market.
Oakland Athletics sign C Jonathan Lucroy
Why is Lucroy number two on the list? Simply put, he is probably still a top five fantasy catcher when all is said and done. He has had a way of rebounding from poor seasons in the past and Oakland was one of the few places where he could start 120 games behind the plate unfettered. In terms of the market, Lucroy's one year deal gives him an opportunity to reestablish himself as a top-flight catcher and doesn't tie the Athletics to a long-term deal with Bruce Maxwell waiting in the wings.
Maxwell has some legal trouble that could affect his availability this season and Lucroy gives the Athletics a veteran catcher that could help their pitching staff. Furthermore, his bat makes their lineup surprisingly deep. They aren't exactly a wild card contender, but given the uncertainty of the AL West (behind the Astros) they could make a run for second place in the AL West.
Minnesota Twins sign SP Lance Lynn
The prognosis on Lynn is pretty divided and his one year, 12 million dollar contract reflects that. He was holding out for a four year deal worth in excess of 60 million and that just wasn't going to happen. In five full big league seasons (discounting 2016) he has amasses a record of 61-46. So, penciling in 12 wins would seem to be easy based on the past. He's never had an ERA above 3.97 in any of those five seasons. So, even if he is at the north side of his past performance then it is a great signing for the Twins and could be enough to return them to the wild card game.
The downside is obvious. He had a 4.81 FIP last season largely because of a miniscule .248 batting average on balls in play. Very few pitchers had a positive gap between ERA and FIP much like Lynn and even fewer pitchers are able to repeat that kind of performance. It is fair to expect him to be better in his second season following surgery, but even then we are looking at an ERA somewhere between 4.00 and 4.50. That makes him a borderline fantasy fifth starter in standard mixed leagues.
Kansas City Royals re-sign 3B Mike Moustakas
There was arguably no bigger loser in free agency than Moustakas. His 38 home runs seemed to put him in prime position for a hefty long-term deal. Some might even argue that he should have gotten more than his former teammate Eric Hosmer. Unfortunately, his track record hasn't been as consistent as Hosmer. One analyst compared him to Mark Trumbo as a hitter and that comparison is pretty apt. When you look at the per plate appearance numbers it seems like a pretty apt comparison.
Trumbo: .327 wOBA, 106 wRC+, 35.5 wRAA
Moustakas: .315 wOBA, 96 wRC+, 2.2 wRAA
So, actually the analyst was being kind to Moustakas. Of course, Trumbo doesn't have a position he can play effectively while Moustakas is an average third baseman. So, the comparison is not completely fair, but the career numbers you see for Moustakas are not those that tends to get a huge long-term deal. So, you could point to collusion or something else, but this is responsible spending. While he will get picked in 5×5 mixed leagues, his signing will have zero impact on the pennant race.