2018 Fantasy Baseball: Midway Checkups– Third Basemen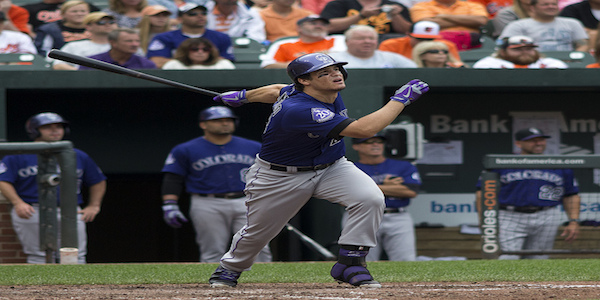 Third base is arguably the deepest position on the fantasy baseball diamond. If you just consider the number of prominent guys on the list that have spent considerable time on the disabled list and you have quite a list. We are focused on the top ten third basemen so far through the baseball season. Considering the distance in time between the first half and now, we have updated the numbers through July 4th. We are basing the rankings on total points. Total points is used for daily fantasy sports and in a growing number of full season leagues. The idea is to encompass everything positive and negative that a player does during the course of a season. Every site has their own formula, so we use the one below.
Total Points: TB + Runs + RBI + SB + BB + HBP – SO – GDP – CS
Jose Ramirez– Cleveland Indians
Total Points: 331 (1st)
Position: 5th
Ramirez is also eligible at second base. Of the four players drafted earlier, three are eligible at other positions as well. Ramirez has gotten better in each of the past three seasons. That is the old way for teams to get better. Each of the players on their roster find a way to get better. You could argue he is the AL MVP through the first half. If you argue for the player with the biggest gap between himself and the next best player at the position he could be the winner. The total also puts him in the top five in the AL.
Nolan Arenado– Colorado Rockies
Total Points: 275 (2nd)
Position: 1st
Three consecutive seasons of 130+ RBI is probably coming to an end, but he is tied for the lead in RBI in the National League after the fourth of July. He is becoming more and more disenchanted with life as a Rockie. He will be a free agent after 2019, so it is becoming more and more likely that he will be shopped. A deal this July would be a shock, but a trade during the offseason wouldn't be so shocking.
Alex Bregman– Houston Astros
Total Points: 275 (2nd)
Position: 8th
The big three in Houston is now officially the big four. The former second overall pick is taking his place amongst the best young players in the game. The unsung portion of his game is strike zone judgment. He leads the Astros in walks and has the highest hard hit percentage on the team. That includes the likes of Jose Altuve, Carlos Correa, and George Springer. His ability to improve has partially made up for others on the roster taking a step back.
Eugenio Suarez– Cincinnati Reds
Total Points: 228 (4th)
Position: 26th
Even when you consider the number of non-third basemen ahead of him, he started the season far too low. Like Ramirez, he has gotten better in each of the past three seasons. The Reds wisely extended him before he became way too expensive. The Reds are bad overall, but their offense is not bad. They have several high performing players in their lineup, so he is producing some good counting numbers.
Mike Moustakas– Kansas City Royals
Total Points: 211 (5th)
Position: 15th
Moustakas is the best trade piece the Royals have. The idea is for them to hit rock bottom. They are pretty darn close as it stands, but they can at least claim a few more prospects on their way down to the bottom. Moustakas is a flawed player, but he would be useful to a team that has a hole at third base. He needs other talented players around him because he can't carry the load on his own.
Matt Carpenter– St. Louis Cardinals
Total Points: 200 (6th)
Position: 20th
He is eligible at second and first base and has played all three positions this year. April was brutal for Carpenter, but his numbers are back to where they have been on the back of his baseball cards. So, you could argue that he would be better to pick up now because he has been better than normal since May. He could finish the season with an OPS well over 900.
Travis Shaw– Milwaukee Brewers
Total Points: 199 (7th)
Position: 12th
He may be a part of the most lopsided trade in history. Tyler Thornburg was barely activated this week for the first time in over a year while Shaw could be on his way to two consecutive 100 RBI seasons. He will need to hustle to get there, but anything is possible. He is a reasonably productive player that falls into the top ten because of some injuries to the guys on the top.
Kyle Seager– Seattle Mariners
Total Points: 186 (8th)
Position: 14th
He's the perfect punt candidate at third base. He's hit at least 20 home runs and driven in 80 RBI in every season he has been a full time player. This season he is on his way to another 25+ home run season and 90 RBI. He isn't quite the all-star performer, but he is pretty darn close.
Anthony Rendon– Washington Nationals
Total Points: 183 (9th)
Position: 7th
Teams like the Nationals don't underperform because players suddenly go in the tank. It's more insidious than that. You don't have one player suddenly turn to crap. You have a bunch of good players that just don't quite live up to expectations. In Rendon's case, he keeps missing a little bit of time. A little bit here and a little there adds up. Unfortunately, attendance matters.
Kris Bryant– Chicago Cubs
Total Points: 179 (10th)
Position: 2nd
Much like Rendon, Bryant has been a bit of a disappointment this season. It hasn't been a precipitous drop off. He's missed some time and he hasn't been quite as productive when he has played. The end result is that he is well off his career norms. As we have seen with Paul Goldschmidt, a disappointing player can suddenly get right back on pace after a hot week or two.