2018 Fantasy Baseball: Midway Grades– Shortstops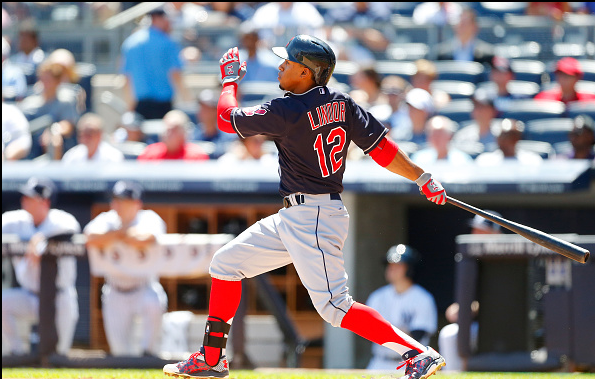 We have passed the halfway point of the season and are rapidly approaching the all-star break. That is always a good time to take a look at each position to check in and see how things are going. We have updated the numbers through July 4th according to total points. Daily fantasy sports are dominating the fantasy landscape and more and more full season leagues are utilizing it as well. Furthermore, total points encompasses more of what players do on a day to day basis than five or six category formats. Every site has its own formula, so we will use our own.
Total points = TB + Runs + RBI + SB + BB + HBP – SO – CS – GDP
Francisco Lindor– Cleveland Indians
Total points: 309 (1st)
Yahoo: 2nd
The Indians started off the month of April in a huge slump, but arguably have the best offensive infield in the big leagues. Jose Ramirez and Lindor are among the top five players in the game today. Lindor may be even more valuable than seen here because he also brings an elite glove to the table. Unfortunately, fantasy sports have not found a way to incorporate fielding yet.
Manny Machado– Baltimore Orioles
Total Points: 265 (2nd)
Yahoo: 3rd
The Orioles are in perfect position to get a truck load for Machado. They are terrible, but he is having the best year of his career. They will find some way to screw it up because they just can't work well with other teams. It's not Dan Duquette's fault. If Peter Angelos would just let him work he can probably get two top 100 prospects and a third solid prospect from someone (at least).
Jean Segura– Seattle Mariners
Total Points: 229 (3rd)
Yahoo: 8th
Segura has been one of the better offensive shortstops in four out of the last six seasons. Clearly, his last couple of seasons in Milwaukee were the outlier. Taijuan Walker is on the shelf while Segura and Mitch Haniger are probably going to be on the AL all-star team. It's clear that Jerry Dipoto won this one.
Didi Gregorius– New York Yankees
Total Points: 224 (4th)
Yahoo: 11th
He has been the regular shortstop in New York for four seasons and he is only 28 years old. He has seemingly gotten better every season. He is a flawed player, but he is a testament to the principle that if you are above average offensively and above average defensively then you are actually good overall. In many ways, he is superior to his predecessor and that is blasphemy in these parts.
Trevor Story– Colorado Rockies
Total points: 218 (5th)
Yahoo: 10th
Total points has a way of evening everything out. Story is heavy on the strikeouts, but he has more power than most of the other shortstops. He is third amongst shortstops in total bases and leads all shortstops in RBI. So, although he may be flawed (most strikeouts at the position) he is definitely worth the trouble. The question long-term will be what happens when Brendan Rogers is ready.
Andrelton Simmons– Los Angeles Angels
Total Points: 215 (6th)
Yahoo: 20th
Simmons is the Ozzie Smith of the modern generation. The defense is clearly there, but like Smith he has slowly gotten better offensively each and every season. The key for Simmons is an abnormally high contact rate. He combined for 25 strikeouts, caught stealing, and grounded into double plays. That's ludicrously low and maybe the lowest for any position player that has a full complement of at bats.
Trea Turner– Washington Nationals
Total Points: 203 (7th)
Yahoo: 1st
Turner had a two home run game with eight RBI after these numbers were compiled. If we take these numbers at the all-star game he might move into the top five. Turner is the whole package in terms of fantasy value. He brings some power and a lot of speed. Most of his team has been disappointing and his performance has been uneven, but overall he has been as advertised.
Eduardo Escobar– Minnesota Twins
Total Points: 193 (8th)
Yahoo: 19
Escobar began the season as a utility guy, but he's turned out to be better than both Jorge Polanco and Miguel Sano. He can play both third and short (in addition to second) which makes him a perfect add piece for some contender down the stretch. The free agent to be leads the AL in doubles, so he is sneaky good on total points when you start counting total bases.
Xander Bogaerts– Boston Red Sox
Total points: 188 (9th)
Yahoo: 6th
Daily fantasy sports obviously goes on a per game basis. In that department Bogaerts actually comes out looking a little better. He missed some time early in the season, so his overall numbers don't show how good he has been over most of the season. Plus, he has the added benefit of playing on the best offense in baseball. That is probably worth a few more runs and RBI.
Brandon Crawford– San Francisco Giants
Total points: 183 (10th)
Yahoo: 18th
Crawford is one of the underrated shortstops in the game. He usually lurks between the top ten and top 15 offensively and he has always been solid defensively. If anything he has been hurt by playing in AT&T Park and the Giants have not been competitive in recent seasons. He will likely drop out of the top ten when all is said and done, but that is nothing against him.