2018 Fantasy Baseball: PECOTA Projections– Outfielders Part III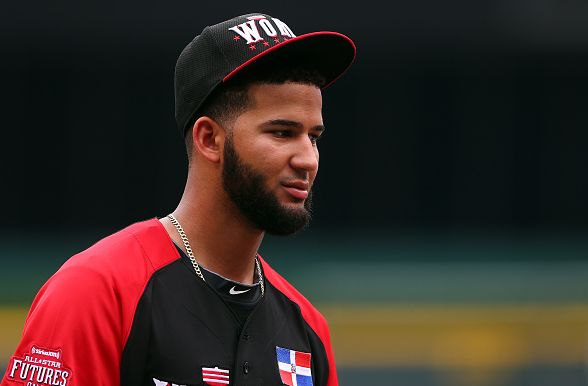 We have finally reached the end of our reboot on the rankings. One of the things you will notice about outfielders is that there is not a ton of separation between them. This is where we reach our concept of value. Some of these players might be better offensive players than their infield counterparts, but they become fourth and fifth fantasy outfielders. This happens because their skills are not particularly rare.
We are looking at the PECOTA projections for the six primary categories in fantasy baseball (walks are the sixth category). We are also looking at Baseball Prospectus' true average (TAV) in addition. We've seen more late movement this offseason than most. That alone is good enough reason for a reboot on the rankings. However, it is also important because the last rankings were based primarily on past performance. PECOTA looks to the future.
41. Nomar Mazara— Texas Rangers
PECOTA: .264, 22 HR, 79 Runs, 87 RBI, 2 SB, 54 BB
TAV: .257
Ah, the gap between real baseball and fantasy baseball can seem like a canyon in some instances. In real baseball, Mazara might not even make the top 75 outfielders, but he produces numbers because of a strong lineup and great home ballpark. They are empty numbers, but who cares?
42. Teoscar Hernandez— Toronto Blue Jays
PECOTA: .239, 22 HR, 91 Runs, 69 RBI, 20 SB, 47 BB
TAV: .251
Trades sometimes work out for both teams. The Astros traded a young outfielder that didn't fit into their future for a left-handed pitcher that could get key outs in October. The Astros got what they wanted (a World Series championship) and the Blue Jays got a useful outfielder that can play all three outfield positions. 20/20 potential is a nice value add at this point in a draft or auction.
43. Eddie Rosario— Minnesota Twins
PECOTA: .274, 22 HR, 73 Runs, 79 RBI, 10 SB, 29 BB
TAV: .257
Warts become much more noticeable at this point in a draft. Rosario is a nice complementary player for the Twins. He won't carry the team on his back, but he will contribute to one of the better offenses in the American League.
44. Jay Bruce— New York Mets
PECOTA: .244, 27 HR, 71 Runs, 84 RBI, 5 SB, 51 BB
TAV: .256
We've learned a lot about baseball and offensive production over the years. Jay Bruce is essentially an average performer, but he is a consistently average performer and a durable average performer. Plug in an average performer where one didn't exist and you get a certain level of added production. The Mets added three such players in Todd Frazier, Adrian Gonzalez, and Bruce. If all three remain healthy the Mets offense will be….average.
45. Matt Joyce– Oakland Athletics
PECOTA: .231, 21 HR, 86 Runs, 71 RBI, 4 SB, 81 BB
TAV: .259
Joyce is a perfect player for the Athletics. He is a marginal regular that gets overlooked because he is a low average, high OBP kind of guy. Add in 20 home run power and he is a very affordable option in the corner outfield.
46. Brett Gardner— New York Yankees
PECOTA: .251, 13 HR, 86 Runs, 61 RBI, 19 SB, 64 BB
TAV: .251
Gardner is a different sort of outfielder. He has been an average offensive player for nearly a decade, but he has been elite defensively. Like most players, that elite performance has since become good performance and then solid performance. Still, solid defense and average offense makes him a good player overall. Sadly, you only get the offense here.
47. Nick Castellanos— Detroit Tigers
PECOTA: .268, 20 HR, 80 Runs, 73 RBI, 3 SB, 41 BB
TAV: .263
Castellanos is also eligible at third base where he should spend the majority of his time. Castellanos is a butcher with the glove and that could catch up with him eventually in Detroit. As it stands now, they really don't have anything else to offer.
48. Kevin Kiermaier— Tampa Bay Rays
PECOTA: .258, 15 HR, 83 Runs, 60 RBI, 22 SB, 43 BB
TAV: 263
Kiermaier is the center field version of Andrelton Simmons. In three seasons in center, he has saved 42, 25, and 22 runs respectively according to the Fielding Bible. In other words, he is nearly a three win player defensively. Whatever he gives you offensively is gravy. All of this means nothing except that he will play everyday and produce counting numbers.
49. Byron Buxton— Minnesota Twins
PECOTA: .251, 19 HR, 77 Runs, 69 RBI, 24 SB, 41 BB
TAV: .252
In each of the past two seasons, Buxton has started slow and finished strong. The implication is that he is ready to take off as a player. Of course, another slow start and he will simply become a guy that gets off to slow starts. If there were a draft at the all-star break he would be a star.
50. Josh Reddick— Houston Astros
PECOTA: .267, 16 HR, 67 Runs, 70 RBI, 7 SB, 48 BB
TAV: .268
Again, we see the difference between fake baseball and real baseball. In real baseball, Reddick is a good overall player 80 percent of the time. That makes him more valuable than players that are average 100 percent of the time. Sadly, attendance matters in fake baseball.
51. Adam Duvall— Cincinnati Reds
PECOTA: .237, 32 HR, 79 Runs, 93 RBI, 5 SB, 38 BB
TAV: .260
More than a few of you will notice that Billy Hamilton won't make this list. Somehow, a .220 TAV just isn't that impressive. Duvall might make way in some games for Jesse Winkler, but that's not what should happen. This isn't Duvall's fault. Hamilton has become the white elephant gift they want to unload on someone. You don't unload it by keeping him bench.
52. David Peralta— Arizona Diamondbacks
PECOTA: .275, 16 HR, 79 Runs, 67 RBI, 8 SB, 40 BB
TAV: .264
Peralta is similar to Reddick, but Reddick's lack of playing time is by design. If Peralta can remain healthy and give the Dbacks 150 games then he shoots up the rankings. As it stands, we have to assume we are getting the 120 games we are accustomed to.
53. Carlos Gonzalez— Free Agent
PECOTA: .262, 24 HR, 66 Runs, 78 RBI, 2 SB, 46 BB
TAV: .258
So much depends on where he lands and whether he actually lands anywhere. You would think a perennial 20-30 home run threat would land somwhere by Spring Training, but it has been one of those seasons. If he winds up back in Colorado he becomes great value here. Elsewhere not so much.
54. Ian Desmond— Colorado Rockies
PECOTA: .259, 18 HR, 72 Runs, 70 RBI, 17 SB, 40 BB
TAV: .246
Who knows what the Rockies actually do with Desmond. They could throw him in left field everyday. They could play him at first base as they intended to do when they signed him. Heck, they could turn him into a very highly paid Marwin Gonzalez clone. Anything seems possible at this point.
55. Michael Brantley— Cleveland Indians
PECOTA: .294, 12 HR, 66 Runs, 63 RBI, 14 SB, 44 BB
TAV: .273
In his book "Diamond Dollars", Vince Gennaro talked at length about something he called the platoon advantage. There is no literal fantasy equivalent, but Brantley might be a close facsimile. The idea is that Brantley is a very good baseball player when he plays. Unfortunately, he only plays in 100 to 110 games a season. So, if you pair him with another mediocre outfielder you could work a kind of platoon based on health where you get good overall production.
56. Ender Inciarte— Atlanta Braves
PECOTA: .288, 8 HR, 81 Runs, 55 RBI, 20 SB, 40 BB
TAV: .255
Inciarte is the National League version of Kiermaier. Admittedly, there is only one Kiermaier, but Inciarte contributed 29 runs in 2015, 15 runs in 2016, and 5 runs a season ago. That's not quite elite, but it is certainly close. In other words, he will play and play a lot because of that defense. Counting numbers are nice and they form a nice companion with a player like Brantley who is in and out of the lineup.
57. Mark Trumbo— Baltimore Orioles
PECOTA: .242, 27 HR, 72 Runs, 85 RBI, 1 SB, 42 BB
TAV: .256
Again, we see a difference between real baseball and fantasy baseball. I wouldn't touch Trumbo with a twenty foot pole in real baseball, but as a fantasy producer you could do a lot worse. Every once in awhile, he gets on a role and produces home runs in bunches. A flier on him towards the end of your draft could be warranted.
58. Lorenzo Cain— Milwaukee Brewers
PECOTA: .281, 12 HR, 66 Runs, 62 RBI, 21 SB, 42 BB
TAV: .258
It's easy to get excited and buy into hype following a free agency signing. Cain is a very good overall player, but his value is likely to wain with age. Players that predicate their game on speed often fizzle out early. He has gone from 18, to 8, to 5 runs saved with the glove in the last three seasons. If he drops to average he could find himself losing playing time.
59. Dee Gordon— Seattle Mariners
PECOTA: .281, 4 HR, 89 Runs, 44 RBI, 54 SB, 33 BB
TAV: .245
People can become a slave to single categories. Whit Merrifield led the AL in stolen bases with a mere 34 last season. So, projecting 20 additional steals for Gordon seems like wishful thinking. PECOTA often projects individual numbers based on idividual track records. It makes sense most of the time, but some numbers are bent on strategy and not ability.
60. Adam Eaton— Washington Nationals
PECOTA: .283, 9 HR, 72 Runs, 52 RBI, 13 SB, 46 BB
TAV: .263
If you could predict injuries then a platoon between a Brantley, Peralta, and/or Eaton would be potent in the fifth outfielder slot. Eaton was healthy up until last season's ACL tear. I'm suspecting these meager numbers are based on the normal recovery period for players with that injury.