2018 Fantasy Baseball: PECOTA Projections– Starting Pitchers 21-40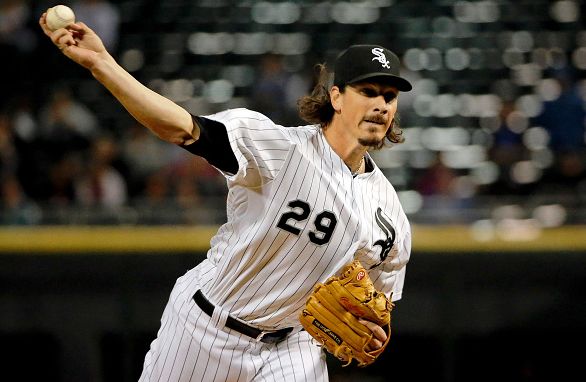 As we move through the starting pitchers we begin to see some separation. These rankings are based on PECOTA's 2018 projections. At best, these rankings should be taken in concern with the previous rankings that were based on past performance. When these two rankings are taken in concert then they take a lot more sense. In this article, we will be looking at the PECOTA projections for the four main statistics used to grade starting pitchers.
We also want to retrace the rankings because more of the starting pitchers are finally meeting their final destination. As of this writing, there are only two significant free agents left (Alex Cobb and Jake Arrieta) left unsigned. Obviously, it is a lot easier to project pitchers when you know where they are pitching. You know who the hitters and fielders are around them. You know how good the bullpen is. That has as much to do with the starting pitchers as the pitchers themselves.
40. David Price— Boston Red Sox
PECOTA: 9 Wins, 3.93 ERA, 1.35 WHIP, 144 SO
I'm not sure how much I agree with this one, but this is one of those cases where you might want to combine this ranking with his previous ranking based on his track record. PECOTA is projecting that he will suffer some more injuries this season. Otherwise, he would likely be in the top 20.
39. Rick Porcello— Boston Red Sox
PECOTA: 12 Wins, 4.05 ERA, 1.33 WHIP, 151 SO
In the grand scheme of things, seeing two pitchers in the top 40 is pretty good. Heck, when you throw in Chris Sale then you see that the Red Sox have a very underrated rotation. Porcello isn't the guy that won the Cy Young in 2016, but he is durable and with that offense that might be good enough.
38. Patrick Corbin— Arizona Diamondbacks
PECOTA: 9 Wins, 3.90 ERA, 1.34 WHIP, 166
I hate wins. It's one of the reasons why I hate rating pitchers. The folks at Baseball Prospectus are great people, but wins are merely a guessing game. Corbin would rate higher if he were projected to get more wins. Why are they projecting him to get only nine wins. Otherwise, he is better than this.
37. German Marquez— Colorado Rockies
PECOTA: 10 Wins, 3.93 ERA, 1.33 WHIP, 156 SO
Marquez came out of nowhere last season just like the Rockies as a whole. They've brought everyone back and added two prime time relievers to the bullpen. So, we can expect things to get better for Marquez, but that's usually when things go awry.
36. Gio Gonzalez— Washington Nationals
PECOTA: 12 Wins, 4.01 ERA, 1.34 WHIP, 164 SO
The Nationals might have the deepest bullpen in the National League and they have one of the better offenses. Gonzalez is one of the hardest pitchers to hit in baseball, but he led the league in walks last season for the second time in his career. That's leading the league for having the most walks.
35. Jose Berrios— Minnesota Twins
PECOTA: 11 Wins, 3.95 ERA, 1.32 WHIP, 173 SO
Berrios will be the staff ace for the Twins until Ervin Santana returns from the disabled list. Some people make too much out of the so-called number one, number two, or number three starter designations. Three out of the four categories are built on what you do against the opposing lineup. Whether you are the Friday night or Sunday afternoon starter makes no difference.
34. Taijuan Walker— Arizona Diamondbacks
PECOTA: 9 Wins, 3.73 ERA, 1.24 WHIP, 155 SO
Again, we see a Diamondback projected for nine wins. Granted, they lost their closer to free agency, but Fernando Rodney isn't exactly the best in the business. Archie Bradley is new to the role, but he will likely be as good or better than Rodney was. That's the only reason I can fathom for why the Dbacks starters are projected to win so few games.
33. Dallas Keuchel— Houston Astros
PECOTA: 13 Wins, 3.81 ERA, 1.29 WHIP, 144 SO
Keuchel suffers from the same disease as Jose Altuve. People look at his stuff and simply assume he is making it on smoke and mirrors. So, they always project him to be worse than he actually is. In this case, we get the added handicap of health. Unlike Altuve, he has had issues there, so we will side with PECOTA on this one, but don't be surprised if he outperforms this.
32. Johnny Cueto— San Francisco Giants
PECOTA: 9 Wins, 3.56 ERA, 1.21 WHIP, 126 SO
Here is another starter with injury concerns and he has been downgraded because of those concerns. The difference is that he has been more durable more recently than Keuchel. He also pitches in a much better environment in the non-DH leeague.
31. Shohei Ohtani— Los Angeles Angels
PECOTA: 8 Wins, 3.55 ERA, 1.19 WHIP, 148 SO
The Angels will be experimenting with a six man rotation. Add that to the fun of projecting any Japanese import and you can see the difficulty we have here. How long will this six man rotation last? The Rangers are also experimenting with it. It sounds good until you realize that your best pitchers are pitching once a week.
30. Jonathan Gray— Colorado Rockies
PECOTA: 10 Wins, 3.70 ERA, 1.33 WHIP, 165 SO
Gray has such a high pedigree that it was only a matter of time before he came into his own. That happened last season at the same time as the Rockies ascension to the wild card game. Growth is hardly ever linear, so he could take a step back or sideways before he takes another step forward.
29. James Paxton— Seattle Mariners
PECOTA: 10 Wins, 3.54 ERA, 1.27 WHIP, 156 SO
He looked like he was a potential darkhorse candidate for the Cy Young award at the half way point and broke down soon after. That seems to be a patter for Paxton. If the Mariners get 30 starts out of him they could be a wild card candidate.
28. Rich Hill— Los Angeles Dodgers
PECOTA: 10 Wins, 3.63 ERA, 1.23 WHIP, 155 SO
The daily fantasy sports universe has become a billion dollar industry. Those contests are obviously settled one start at a time. In that universe, Hill fares much better. You might get 25 starts out of him if you are lucky, but those will be 25 pretty darn good starts.
27. Trevor Bauer— Cleveland Indians
PECOTA: 13 Wins, 3.80 ERA, 1.34 WHIP, 174 SO
Do you believe in the carry over affect? If you do then Bauer might be ready to become a top ten fantasy starter. He was one of the ten best for the last two months last year. That happened to coincide with their huge winning streak last season. The carry over effect usually doesn't occur, but he may be the exception.
26. Kyle Hendricks— Chicago Cubs
PECOTA: 12 Wins, 3.76 ERA, 1.22 WHIP, 154 SO
Like others we have seen, his 2016 season probably elevated the expectations too high. 2018 seems to be more in line with what we can expect from him. Even on the Cubs he has settled in as a fourth starter. Numbered starter designations make little sense. On most teams he would be a number two starter.
25. Gerrit Cole— Houston Astros
PECOTA: 11 Wins, 3.62 ERA, 1.24 WHIP, 159 SO
These numbers are based on Cole pitching in Pittsburgh. Minute Maid Park is a better pitcher's park, the Astros have better fielders behind him, and they have a superior pen. Of course, he will have to contend with the DH, so maybe the numbers will even out. He should get more wins if everything else is equal.
24. Jon Lester— Chicago Cubs
PECOTA: 13 Wins, 4.01 ERA, 1.28 WHIP, 187 SO
We've seen teams avoid long-term contracts like the plague this offseason. Pitchers like Lester are the reason why. Yes, he is durable, but he is no longer the ace pitcher that the Cubs signed, but they signed Yu Darvish to another long-term deal, so maybe they didn't learn their lesson.
23. Jose Quintana— Chicago Cubs
PECOTA: 12 Wins, 3.74 ERA, 1.25 WHIP, 179 SO
Quintana languished for years on the White Sox. His middle name might as well been "no decision." Now he is pitching for one of the best teams in baseball. The natural assumption is that he will start seeing numbers that reflect his own ability.
22. Lance McCullers Jr.— Houston Astros
PECOTA: 12 Wins, 3.22 ERA, 1.28 WHIP, 169 SO
Here is another testament to the carry over effect. McCullers was one of the heroes of the ALCS and World Series. He has the best curve ball in the game and showed he could be a relief ace along the lines of Andrew Miller. It will be interesting to see what the Astros do if McCullers continues to show an inability to remain healthy as a starter.
21. Jeff Samardzija— San Francisco Giants
PECOTA: 13 Wins, 3.44 ERA, 1.22 WHIP, 175 SO
These numbers make Samardzija a top 20 pitcher. He isn't there because he never seems to live up to his peripherals. Usually, a pitcher's ERA and fielding independent pitching should match up. His FIP is more than a quarter run lower and nearly a run lower last season. Some people outpitch their peripheral and some never measure up.