2018 Fantasy Baseball: Pittsburgh Pirates Trade Gerrit Cole to the Houston Astros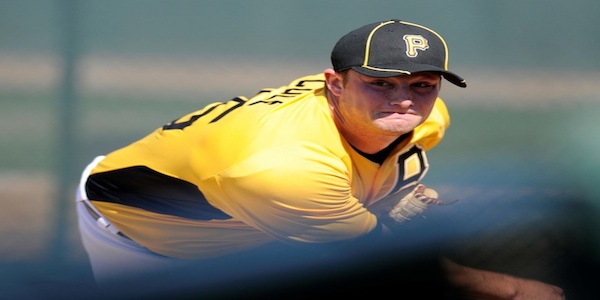 Usually this isn't the kind of deal we profile here at The Fantasy Fix. However, there are a few mitigating factors that make it necessary to profile. For one, the Astros had long been in search of another big time starter to add to their rotation. Gerrit Cole may not fit that bill for some, but the former number one overall pick has been that kind of pitcher in the past. His move to the Astros not only removes one team from the hunt for frontline pitchers, but removes one of the two primary trade targets from the starting pitcher group.
It has been the slowest offseason in recent memory, but often it takes one deal to break the floodgates open. We've had some movement this week. Addison Reed signed with the Twins and Jay Bruce signed with the Mets. However, neither of those deals are likely to break up the logjam of big time pitchers or outfielders that seem to be available. The Cole trade might.
Why the Astros make this trade
This trade has more to do with economics than pure baseball. Yes, Cole gives the Astros one of the deepest rotations in baseball and it provides them with a bit of a buffer if the injury bug hits. However, the bigger impact comes after 2018. Dallas Keuchel and Charlie Morton will be headed for free agency, so they will need that extra depth at that point. Furthermore, it helps clear out of glut of young players that were going to have difficulty cracking the 25 man roster.
Joe Musgrove likely would have stuck in middle relief, but the Astros have plenty of relievers to take his slot. The same is true of Michael Feliz as well. The biggest loss potentially was Colin Moran. The Astros need a left-handed designated hitter and he was their best internal candidate coming into January. Jason Martinez is blocked behind Derek Fisher and Kyle Tucker, so his loss is not a big time loss for the Astros.
Why the Pirates make this trade
While those four players may not be valuable to the Astros, they could become valuable to the Pirates. The name of the game here is volume. If Musgrove and Feliz give them anything next year it could be equal to what Cole gives this Astros. Moran could end up being an upgrade at third base in the short term. However, for the Pirates this has more to do with economics than it has to do with baseball. At least directly that is.
The Cubs, Cardinals, and Brewers are all making a run at the NL Central. The Bucs will not be making a run at the division. Why hold on to a guy like Cole at this point? Is fourth place really that important. The club could trade Andrew McCutchen as well and likely get a similar package. If you get six or seven decent prospects for those two players then you begin preparing for the future.
What this trade means for you
A lot of people in Houston are big believers in Brent Strom and his ability to work with pitchers. I don't want to burst that bubble, but there are plenty of statistical reasons to be bullish on Cole. For one, his home run to flyball ratio was abnormally high last year as he gave up a career high 31 home runs. A return to career norms might bump him back to 20 on his own. Secondly, Minute Maid Park has played to a three year 90 park factor (with 100 being average). PNC Park played to a 99 over that same span.
More importantly, being an analytic organization, the Astros have been amongst the league leaders in runs saved because of aggressive shifting. That has made them one of the better fielding teams in baseball the past three seasons. Their aggregate defensive efficiency rating (Bref) has been .688 over the past three seasons in comparison with the Pirates .678. One percentage point may not seem like much and by itself is not much, but when coupled with the overall park factor and his likely regression on flyball luck could see his ERA drop back down into the mid threes.