2018 Fantasy Baseball: Position PECOTA Projections– Shortstops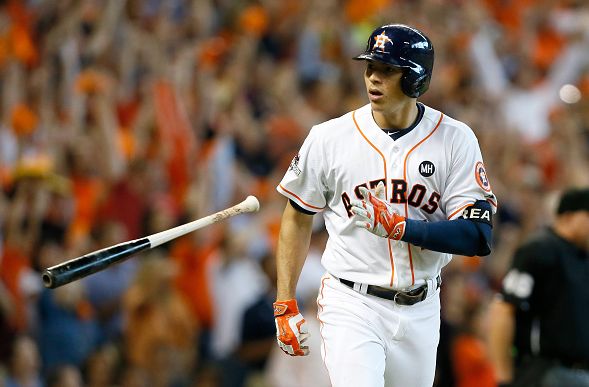 Spring Training games are in the books. When that happens it is usually high time to reboot the rankings at every position. Players have changed uniforms later this offseason than most and the first round of rankings took a beating. They always do because they are usually based on past performance. This time, they are based primarily on Baseball Prospectus' PECOTA projections.
We are taking their projections in the six primary categories (adding in walks) as well as their true average statistic. TAV takes all of a hitter's contributions and calculates it into a statistic that looks like batting average. Unlike the other statistics, it is normalized to account for the different positive and negative impacts of home ballpark. It helps us provide a decent guess should a player be dealt or sign elsewhere.
Carlos Correa—Houston Astros
PECOTA: .285, 26 HR, 87 Runs, 91 RBI, 11 SB, 64 BB
TAV: .302
A freak injury may have kept Correa from winning the MVP award last year. If we presume he is healthy, he will tear through these numbers like a cheap sack. He isn't the best position player in baseball, but he's pretty darn close.
Corey Seager—Los Angeles Dodgers
PECOTA: .284, 24 HR, 93 Runs, 83 RBI, 4 SB, 54 BB
TAV: .289 
Like we said about Justin Turner in the third base article, players from the losing team in a classic World Series often get overlooked. Seager is one of the best in the business and just a shade underneath Correa.
Manny Machado—Baltimore Orioles
PECOTA: .282, 27 HR, 97 Runs, 86 RBI, 8 SB, 46 BB
TAV: .277
Machado will man shortstop for the Orioles this season. It remains to be seen what playing at a more demanding defensive position will do to his offensive output. He finished the season hot, so he is foremost in people's minds. The fact that he is an impending free agent can cut both ways.
Trea Turner—Washington Nationals
PECOTA: .292, 19 HR, 105 Runs, 70 RBI, 51 SB, 43 BB
TAV: .278
Turner could be the most important player in the National League. If he and Bryce Harper remain healthy all season, the Nationals can punch their ticket into the playoffs. Add in a healthy Daniel Murphy and Anthony Rendon and they might have the most dynamic offense in the league.
Alex Bregman—Houston Astros
PECOTA: .271, 23 HR, 95 Runs, 79 RBI, 13 SB, 58 BB
TAV: .281
Watching an amazing playoff performance can warp your thinking. Is Alex Bregman really a star? He sure looked like one and since he played short when Correa was hurt last year he ends up being eligible at both spots. This might ultimately be an ambitious ranking for him, but many think he is ready to take the next step.
Francisco Lindor—Cleveland Indians
PECOTA: .288, 21 HR, 100 Runs, 81 RBI, 17 SB, 55 BB
TAV: .276
Perhaps someday we will forget out a way to get fielding runs (DRS?) included as a fantasy category. Overall, Lindor is a better shortstop than most of the guys above him, but we can't count his fielding contributions yet. He could easily flip flop with Bregman, but we are predicting Bregman outperforms the projections.
Trevor Story—Colorado Rockies
PECOTA: .245, 25 HR, 72 Runs, 79 RBI, 9 SB, 45 BB
TAV: .262
The Coors Field decoder ring says his true average would look more like a .272 mark if he produced these numbers outside of Denver. Yes, the average is low, but he gives you everything else you are looking for.
Paul DeJung—St. Louis Cardinals
PECOTA: .258, 29 HR, 78 Runs, 93 RBI, 1 SB, 36 BB
TAV: .265
The real danger in fantasy sports is what we might call "magical thinking." It happens when you take a player like DeJung and assume you can extrapolate his numbers out based on a full season of at bats. It hardly ever works that way. Pitchers get a book on you and you have to prove you can adjust too. He hasn't proven that yet.
Elvis Andrus—Texas Rangers
PECOTA: .276, 10 HR, 81 Runs, 68 RBI, 27 SB, 52 BB
TAV: .249
The Ballpark at Arlington creates its own need for a decoder ring. It has a way of inflating offensive numbers. Andrus flashed 20 home run power last year. Even if that is a mirage, he is still giving you 20+ stolen bases and a decent OBP. The Rangers will still score runs next season even if their pitching is tragically mediocre.
Jean Segura—Seattle Mariners
PECOTA: .271, 11 HR, 83 Runs, 56 RBI, 25 SB, 30 BB
TAV: .250
If healthy, Segura should be better than this. It will be fascinating to watch Segura and Gordon at work. Teams haven't operated with multiple speed demons since the 1980s St. Louis Cardinals. Will they be able to swipe bags in a league that favors walks and the long ball? Will it be successful?
Marcus Semien—Oakland Athletics
PECOTA: .248, 20 HR, 84 Runs, 68 RBI, 12 SB, 56 BB
TAV: .261
Semien represents what might be the biggest middle finger to baseball's conventions. He commits errors by the bushel and hits for low average. Yet, he is one of the more valuable players at the position because offense and defense isn't measured by batting average and fielding errors.
Xander Bogaerts—Boston Red Sox
PECOTA: .280, 12 HR, 83 Runs, 63 RBI, 11 SB, 48 BB
TAV: .263 
I naturally assumed like most people that he would continue to grow from his 2016 season and become a superstar. It didn't happen and that season is likely to stand as a career season when it is all said and done. He has settled in as a very good shortstop, but just a cut below the very best.
Top Bench Options
Addison Russell—Chicago Cubs
PECOTA: .246, 20 HR, 70 Runs, 76 RBI, 4 SB, 49 BB
TAV: .252
Sometimes fielding matters in the fantasy world. When you have two players that are equally productive you have to have a tiebreaker. Russell is a borderline Gold Glove shortstop where Javier Baez just isn't. Baez may end up sticking at second base. Russell is batting average away from being a top five overall shortstop.
Didi Gregorius—New York Yankees
PECOTA: .262, 18 HR, 71 Runs, 77 RBI, 5 SB, 38 BB
TAV: .253
Crazy as it sounds, Gregorius hit cleanup for most of last season. It just goes to show how much the Yankees probably overachieved in reaching the ALCS. Adding in Giancarlo Stanton and Brandon Drury will only help everyone else in that lineup.
Troy Tulowitzki—Toronto Blue Jays 
PECOTA: .265, 19 HR, 63 Runs, 69 RBI, 1 SB, 45 BB
TAV: .267
I really wanted to leave off Tulow. I took a ton of heat for having him higher on my earlier shortstop list. I get it. He spends a ton of time on the disabled list. I'm not going to apologize this time. He is in a good value spot. You can add another middle of the road shortstop for when he goes on the disabled list. The combined production will be equal to a more established regular.
Javier Baez—Chicago Cubs
PECOTA: .255, 22 HR, 71 Runs, 74 RBI, 13 SB, 30 BB
TAV: .253
Between second base and shortstop, Baez should get enough starts to make this worth your while. Heck, he could even get in ten or so games at third base. The combination makes him a solid pick even if he isn't quite good enough to start here.
J.P. Crawford—Philadelphia Phillies
PECOTA: .240, 15 HR, 69 Runs, 63 RBI, 5 SB, 71 BB
TAV: .256
I generally like guys that draw walks. It plays up in total points and six category leagues, but even in five category leagues it helps. In a lineup that features a surprising number of very good hitters, he could be a dark horse for the rookie of the year award.
Tim Anderson—Chicago White Sox
PECOTA: .265, 16 HR, 81 Runs, 64 RBI, 19 SB, 19 BB
TAV: .241
Simply putting him on this list goes against everything I believe as a baseball fan. I hate guys that don't draw walks, but I have to admit that the rest of the numbers are in line with what you want out of a fantasy shortstop. He'd be very good as a companion pick for Troy Tulowitzki.