2018 Fantasy Baseball: Three Starting Pitchers on the Move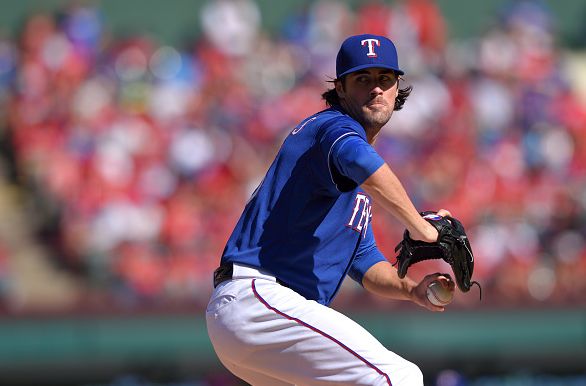 Usually, we see the kind of activity we saw on July 26th on deadline day. In total, five trades were consummated. Our job here is to pinpoint which ones actually impact you. With all defefence to Martin Maldonado, I don't think that move really moves the needle much. Joakim Soria goes from being a closer on a bad team to being a setup guy on a good one. That's not a huge change in value right there, but three starting pitchers went from sellers to playoff contenders, so we will take those deals in order.
Nathan Eovaldi traded from Rays to Red Sox
First of all, kudos to the Rays for walking the line between selling and tanking. They've sold off numerous pieces this year and are still right around .500. Eovaldi has ten starts on the season and is sporting a 3-4 record with a 4.26 ERA. That alone screams fourth or fifth starter and fortunately, the Red Sox have three pretty good ones firmly in front of him. Yet, anyone that has watched Eovaldi pitch sees something else. He throws consistently in the high 90s and has a devastating split finger fastball. How in the hell does that translate into a 41-50 career record with a 4.22 ERA?
Well, this year he has been stung by the home run ball to the tune of a 18.3 home run to fly ball percentage. It was 18.7 percent in 2016 with the Yankees. That translates to a 3.50 xFIP and 3.47 SIERA this season. So, there is reason for hope on the statistics front and there is also a decent chance that maybe something clicks in Boston where it didn't click before.
J.A. Happ traded from the Blue Jays to the Yankees
Teams sometimes earn an identity. The Blue Jays seemed to go into the season determined to field a group of solid players in the hopes that they would add up to something more. Without Josh Donaldson, there hasn't been a geniune all-star in the bunch. The Jays have traded Happ (10-6, 4.18 ERA) to the Yankees for another decent infielder in Brandon Drury. Sure, he's a nice depth piece, but he will never move the needle in the ultra-talented AL East.
Happ has won 40 games since the beginning of the 2016 season. So, he would appear to be an upgrade over Sonny Gray and others, but looks can be decieving. He's pitched to a 7.41 ERA in 17 July innings. He has 24 strikeouts in those innings, but he's also given up four home runs. He's surrendered 17 home runs total and he's moving to a park where home runs are plentiful. Fortunately, he doesn't have to be brilliant as the Yankees just wanted depth at the end of the rotation, but it might not be the kind of boost your roster needs.
Cole Hamels traded from the Rangers to the Cubs
Take my wife, please? The Cubs might have gotten the biggest steal here as they trade little to essentially take on a portion of Hamels remaining contract. Hamels has a 2.93 ERA away from Arlington, but it was the 6.41 ERA in Artlington that torpedoed his value. Sixteen home runs at home will tend to do that to a guy. The Ballpark at Arlington has become one of the best hitter's parks in baseball (number one in dingers), so anytime a pitcher moves out of there it should be good for his overall value.
Let's forget about dingers and look at some of the more complex numbers. His xFIP and SIERA are better than his current 4.72 ERA, but he's giving up a ton of hard contact (44.9 percent) and his groundball rate is the lowest it has been since 2013. Put him in a league where pitchers hit and in a park that is more neutral and he should be better, but he isn't your older brother's Cole Hamels. He should be good for more wins given the Cubs' good offense and the fact that he is leaving the dumpster fire that is the Rangers bullpen.