2019 Fantasy Baseball: Total Points– Outfielders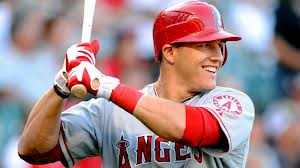 The all-star break is just in the rearview mirror, so it is always a good time to take a look back at each position and see where we are at. Total points is a relatively new format normally seen on the daily fantasy sports scene, but some full season leagues are utilizing it as well. It has several advantages over the normal five and six category formats, but really there are two primary advantages that we work with.
First, since it includes more events it is more accurate in representing the true value of a player. For instance, including total bases in place of just home runs helps those hitters proficient at hitting doubles and triples. Since it includes negative events (strikeouts, caught stealing, and GIDP) it rewards contact hitters. So, what you see in the rankings more accurately reflects our perceptions of the player overall.
That brings us to the second primary advantage. Since each event is awarded a certain weight, we don't end up chasing home runs or stolen bases in choosing players. We choose the best players overall with those factors baked in. The total points aspect also gives us an idea of how much better one player is than another. So, it isn't enough to simply rank them. Each platform has its own formula, so we have created one of our own. It closely resembles most of them, but I'm sure there are some differences. (statistics through July 12th)
TB+Runs+RBI+SB+BB+HBP–SO-CS-GIDP= Total Points
Mike Trout– Los Angeles Angels
Games: 88
Points: 369
PPG: 4.19
Trout is the king, but before the break he wasn't on top of this list. A six RBI and home run tends to push a guy forward on these lists. Notice the first AL guy you see won't come for awhile. It's sad to say that after this season Trout could easily have five MVP awards if the voters voted for the best player. It reamins to be seen if he will beat out to the two top NL guys considering the lack of talent around him.
Cody Bellinger– Los Angeles Dodgers
Games: 89
Points: 361
PPG: 4.06
Fantasy ranking articles and awards articles dominate the sites these days. With total points outfielders we cover both at the same time. The top three will in all likelihood win both awards. The difference between Bellinger and the other two are the +19 defensive runs saved on top of the offensive numbers. Add in the fact that he can also play first base and he just has versatility on top of the extreme production. He leads the NL in OPS+, total bases, runs, and on base percentage, Not half bad.
Christian Yelich–Milwaukee Brewers
Games: 83
Points: 351
PPG: 4.23
Considering he has played six fewer games you could claim he is a better offensive player than Bellinger or Trout. He has more dingers, a higher slugging percentage, and the highest OPS in the NL The reigning NL MVP could have been the single greatest trade dividend of the 21st century. It's hard to call it a steal with so many prospects involved, but it sure does look like it at this point.
Charlie Blackmon– Colorado Rockies
Games: 74
Points: 285
PPG: 3.85
Alan and I did a podcast in May and we talked about how disappointing Blackmon was. That was only two months ago. From that point on he just went nuts. I accept my crow with a side of okra and rice. Of course, that comes with a life of being a fantasy lightening rod where great players get hurt or struggling players rebound at my word. Blackmon scores 100 plus every year, so it can't be too surprising that he is here.
Mookie Betts– Boston Red Sox
Games: 89
Points: 273
PPG: 3.07
Betts leads the AL in runs scored. That would seem surprising given the fact that he hasn't been nearly as good this season as he was last season. He probably has had the same amount of success he had in 2017. He was still really good that season. Add in really good fielding and he is still a really good player. He just isn't MVP level.
Ronald Acuna– Atlanta Braves
Games: 91
Points: 261
PPG: 2.87
He is still only 21 years old. He is one of those guys in five or six years that people will mention in the same breath that they mentioned Trout in at the beginning of this decade. Luckily for the Braves he is signed there through as long as 2028. The key for him in this format will be limiting the strikeouts. Otherwise, he does just about everything else.
Max Kepler– Minnesota Twins
Games: 82
Points: 257
PPG: 3.13
Kepler had 316 points all of last season. If that doesn't give you any idea of where the Twins are in general and where Kepler is specifically I'm not sure what will. Maybe Kepler isn't an elite player, but he is right at that next level and so are many of the other Twins players this season. Of course, having that many good players around him doesn't hurt.
Michael Brantley– Houston Astros
Games: 86
Points: 248
PPG: 2.88
For most of us, the biggest question mark was going to be attendance. Brantley has been a model of health and production for the Astros this season. He was born for the total points format. He has decent patience, good power to tall fields, and he hardly ever strikes out. Add all of that up and you have yourself a top ten outfielder.
Juan Soto– Washington Nationals
Games: 80
Points: 246
PPG: 3.08
Notice who we haven't seen yet. I wouldn't say total points encompasses all of offensive value, but it probably comes closer than any other single metric. Notice we haven't seen Bryce Harper yet. I hate to spoil anyone's fun, but you aren't going to see him in this article. In all fairness, it's the strikeouts. Soto has more patience than most kids his age and that helps his power play up.
Eddie Rosario– Minnesota Twins
Games: 75
Points: 238
PPG: 3.17
The Twins took the same kind of approach to their lineup that the Houston Astros used prior ro 2017. They didn't add superstars, but instead added three or four good players. Nelson Cruz, Jonathan Schoop, and Marwin Gonzalez plugged holes while the young players continued to grow. The combination has been pretty specatacular. Rosario has always been good. He's just a little better than before.
Nick Markakis–Atlanta Braves
Games: 92
Points: 234
PPG: 2.54
In total points it is all about making contact and getting on base. Markakis does that in spades. He doesn't hit dingers, but total points is about total bases and he consistently does that. He also plays and plays every day. Add in all of those elements and a seemingly average player can look very good.
Marcell Ozuna–St. Louis Cardinals
Games: 78
Points: 224
PPG: 2.87
The further down the top ten you go the clearer the flaws come into focus. Ozuna produces runs, but the strikeout to walk ratio isn't what you would like. It isn't terrible, but he's just a cut below elite. He's almost as good as he was in 2017, so the Cards finally got the guy they traded for. If only they could say the same about Paul Goldschmidt.