2019 Fantasy Baseball: Trade Deadline Primer– Starting Pitchers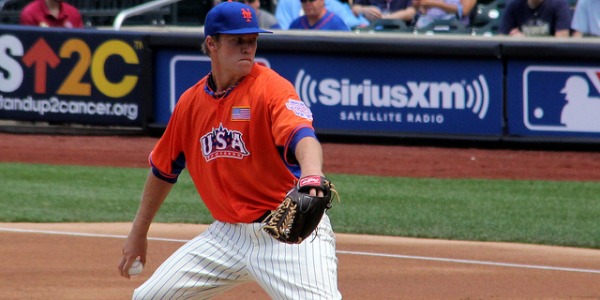 The trade deadline is six days away. For regular baseball fans this is the most exciting day on the baseball calendar. For fantasy baseball fans it is not quite as significant, but there are always players that will see their fortunes change one way or another around that time. Contenders and pretenders are always in a state of flux around this time. Names listed are based purely on speculation. We are focusing on teams well out of the wild cad race, but we will see some guys move on teams that are still competing. We will try to find a likely home for each player in addition to talking about possible fantasy impacts on their potential move.
Chris Archer– Pittsburgh Pirates
Numbers: 3-7, 5.40 ERA, 112 K, 1.417 WHIP
Archer might be the single most disappointing pitcher in the game today. He was likely a borderline fantasy second starter coming into the season, but he is available in most leagues now. This is a perfect buy low candidate for any middle market team. He has two club options that pay him a combined 20 million in 2020 and 2021. Each season comes with a reasonable buy out. For a pitcher of his pedigree that's a decent gamble.
He's given up a league high 24 home runs through July 25, but much of those have come on his sinker. He just hasn't gelled with Ray Searage for whatever reason. He seems to be healthy and if he just tweaks his mechanics a little and his pitch selection a little he could become the Archer of old. The question is whether the Pirates really want to sell low with him right now considering all they gave up to get him.
Best Fit: Oakland Athletics
Matthew Boyd– Detroit Tigers
Numbers: 6-8, 4.07 ERA, 168 K, 1.135 WHIP
Some teams are cooling on him because his last month has been brutal. He's surrendered 22 home runs which is already five away from all of last season. He's also increased his strikeout rate and lowered his walk rate. His 3.56 FIP indicates that he could end up being better if he went to a better team. He certainly would win more games. The question with Boyd is whether the 2019 version is truly better or whether he will turn back into the pumpkin that he was before this season.
Even during his cold spell in the last month (1-2, 5.55 ERA in last 28 days) he was still averaging six innings an outing and had 39 strikeouts in 24 innings. He would be a guy a pitching coach would love to get his hands on. He might end up being paired with Shane Greene, so that complicates his market some. From there it is simple guess work as to who will pay the hefty price to bring both in.
Best Fit: Philadelphia Phillies
Mike Leake– Seattle Mariners
Numbers: 9-8, 4.25 ERA, 98 K, 1.234 WHIP
Leake is not what you would call a prime deadline type of player. Granted, he is 102-95 in his career and he has a decent 4.04 career ERA, but he is not the kind of pitcher teams want to put in their playoff rotation. He just doesn't miss enough bats and for every brilliant outing he has (eight perfect innings the other night) he has nights where the other team hits him hard. In a perfect world, he would be a fourth or fifth starter on a really good team. In that environment he might be worth picking up to close out a decent fantasy rotation.
Best Fit: Milwaukee Brewers
Lance Lynn– Texas Rangers
Numbers: 12-6, 3.93 ERA, 152 K, 1.230 WHIP
Lance Lynn has a sparking 93-62 record since 2012. He won't blow up anyone's skirt, but he has been a solid pitcher for a number of years. His 5-4 postseason record isn't brilliant, but he could coax someone into thinking he's good enough to be a playoff third or fourth starter. He's signed for a combined 20.66 million through 2021, so he has some club control along with him. His 3.00 FIP might make him more marketable in fantasy circles should he get moved. Combine that will getting out the banbox that is Arlington and you might have something here.
Best Fit: Oakland Athletics
Mike Minor– Texas Rangers
Numbers: 8-6, 3.00 ERA, 136 K, 1.178 WHIP
Minor and Lynn are similar in that they are performing well in a difficult place to pitch in and they are signed through next season for reasonable money (9.83 million). The difference is that Minor is outperforming his peripherals by a considerable margin (4.19 FIP). Still, he would look good on a number of different teams. Get him in a better pitching environment and he may continue to produce the numbers you see above.
Best Fit: New York Yankees
Caleb Smith– Miami Marlins
Numbers: 6-4, 3.30 ERA. 110 K, 1.022 WHIP
This is a longshot, but he has four years of club control left and he is making slave wages for now. If the Marlins are smart they will hold out for two top 100 prospects and simply hold onto him if no one meets that price. Smith has missed some time with injuries, so the K numbers don't reflect how dominant he has been. Stick him on a good team and watch him turn into an ace. A team like the Astros could take him and get him to the next level in terms of performance.
Best Fit: Houston Astros
Marcus Stroman– Toronto Blue Jays
Numbers: 6-11, 2.96 ERA, 99 K, 1.227 WHIP
Stroman is an interesting case. He has one more season of club control, so this is the perfect time to get him. However, in a data rich world, he isn't the pitcher that casual fans think he is. The 3.52 FIP is one indication of that, but he just doesn't miss enough bats to be a top of the rotation arm. The Blue Jays will almost certainly sell him as such and they may try to attach Ken Giles to any deal sending him out of town. The two together could fetch two or three top prospects. He certainly would win more elsewhere, but you have to wonder when the batted ball luck will turn around.
Best Fit: Minnesota Twins
Noah Syndergaard– New York Mets
Numbers: 7-5, 4.33 ERA, 126 K, 1.263 WHIP
Every year there seems to be that one guy that underperforms for most of the season, gets dealt, and then shoots out like a rocket. Syndergaard just might be that guy. Flushing, New York seems to be one of those spots where no one seems to live up to their potential. Thor is 44-27 overall in his career with a 3.21 ERA. He is a fantasy ace waiting to happen. He just needs to go to the right spot where a pitching coach can unlock that stuff and turn him back into the ace he used to be.
Best Fit: Houston Astros
Zack Wheeler– New York Mets
Numbers: 6-6, 4.69 ERA, 130 K, 1.277 WHIP
Unlike most of the other guys, Wheeler is a rental. That being said, he is another perfect buy low candidate. His 3.67 FIP indicates he has had some pretty bad luck this season, so just a return to the aggregate makes him a middle of the rotation arm. This doesn't even include what a pitching coach might be able to do with him. The question is who would want to surrender the prospect capital necessary to get two months of his services. The upside is that you only have to pay the prorated version of 5.975 million, so he might be a perfect addition for a middle market trying to throw themselves over the top.
Best Fit: Tampa Bay Rays