2019 Fantasy Baseball: Value Starting Pitchers to Target Using K%+IFFB%-BB%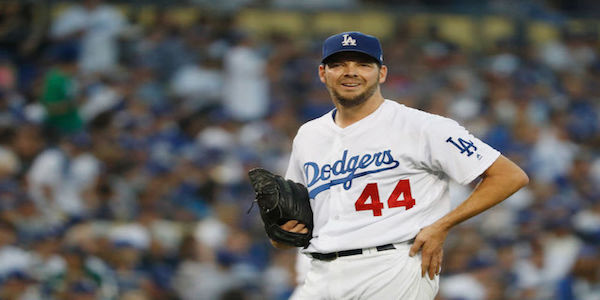 In a recent article I shared the K%+IFFB%-BB% metric that I used to evaluate pitchers. As discussed, the combination of strikeouts and the ability to induce weak contact on infield fly balls — the batted ball with the highest probably of turning into an out — while limiting free passes are skills we like to target when selecting players for our game. Using that same theory and data, I've identified three you're currently able to land in snake drafts outside of the top-100 players selected in qualified NFBC drafts.

The purpose of this particular metric and all of the K%+IFFB%-BB% data is taken directly from my analysis here and my spreadsheet here. All of the NFBC ADP data used in this analysis are for 15-team "Draft Champions" drafts between 01.01.19 and 02.19.19.
Starting Pitchers to Consider
Rich Hill | Dodgers | K%+IFFB%-BB% Rank: 27 | NFBC ADP: 182
Entering his age 39 season, Rich Hill is the most senior hurler you'll come across on this list. For that reason, along with the fact that Hill appears so frequently on the disabled list (now referred to as injured list) that MLB charges him rent there, many analysts dropped the Dodgers' southpaw down their player pool lists.
It's not for the lack of production when healthy and on the hill, though. The ADP penalty is more likely attributed to the lack of innings from year-to-year. Just once over the course of his lengthy career has Hill been on the bump for more than 150 innings. And that was way back in 2007 as a member of the Chicago Cubs. 12 years and 9 teams later Hill has only logged more than 100 innings three times, with the peak being in 2017 with the Dodgers at 135.2 IP. Projection systems believe he'll pitch anywhere from 124-to-159 frames in 2019.
With that said, you're drafting Hill based on value and the fact that he pitches in the NL West for the Dodgers. You're also drafting Hill due to the spectacular second-half of 2018. Here's a look at pre- and post-ASB splits for Rich Hill versus his career:

There is definitely some BABIP luck noise going on there in the second half split, but it's hard to ignore the spike in K% and IFFB% and dip in BB%. Hill's second half K%-BB% is eighth-best in the first division among qualified arms behind the following: Justin Verlander, Max Scherzer, Jacob deGrom, German Marquez, Patrick Corbin and Gerrit Cole. Those seven arms are elite company and guys who all have ADPs in rounds 1-4 of 15-teamers. And of those names, only deGrom (0.83) and Scherzer (0.93) posted a better WHIP than Hill's 0.94.
The lack of innings is surely a concern. So if you're going to target Hill somewhere between rounds 8-12, you should already have a pair of aces or 200ish inning arms in tow to supplement. He's a bit older and a bit injury prone, but if he can give you 85% of his second-half effort as a pick in the 120-200 range, he's going to be a fine value for your number three or four starter and should provide a decent amount of wins, strikeouts and fine ratios so long as he's on the bump.
J.A. Happ | Yankees | K%+IFFB%-BB% Rank: 41 | NFBC ADP: 143
Happ is back in the Bronx on a 2-year/$34 million pact with the Yankees following a late-season deal to New York from Toronto. Between two teams in '18, the veteran left-hander posted 17 wins, a 3.65 ERA (3.98 FIP) and career-bests in WHIP (1.13) and K%-BB% (19.4%). He came in at #41 amongst qualified hurlers on our K%+IFFB%-BB% chart with slight blemishes in the ERA, FIP and BB% departments.
Projections such as Derek Carty's THE BAT believe that Happ will continue to be an above average starter going forward with his ERA inching a bit towards his 2018 FIP and the WHIP moving from '18's 1.13 to 1.22, closer to his career mark of 1.31.
With that in mind, Happ is currently being taken about pick 143 in qualified NFBC drafts which makes him roughly the 37th SP off the board. To compare, Happ was taken today in the 15-team Tout Wars Draft & Hold league with the third pick in the 12th round (183 overall) by Ariel Cohen. For a guy that eats a good amount of innings (THE BAT '19: 168IP) and may fan close to 200 batters (THE BAT '19: 175K, 193K in '18) a target of round 10-12 in 15-team formats will provide a ton of value teams looking to add arms late following  two early aces strategy to start.
Nathan Eovaldi | Red Sox | K%+IFFB%-BB% Rank: 43 | NFBC ADP: 172
Twenty-nine year-old Nathan Eovaldi inked a 4-year/$68 million deal to return to the Boston Red Sox this offseason. The right-hander is coming off a season that wasn't his best but finished strong as a crucial piece to Boston's World Series victory.
For the entire 2018 campaign Eovaldi paired a 22.2% K% with an excellent 4.4% BB% for a 17.8% K%-BB%. Once in Boston, Eovaldi posted a 3.33 ERA, a 1.28 WHIP and fanned 48 batters in 12 appearances (11 GS, 54 IP). The addition of a cutter really seemed to make the difference for the veteran righty. Innings may be an issue — Eovaldi's highest two innings totals came in 2014 with the Marlins (199.2 IP) and 2015 with the Yankees (154.1 IP), so we'll want Eovaldi to be a supplemental piece to our starting rotation similar to the way we'll be approaching the aforementioned Rich Hill.
Eovaldi has a current ADP of 172 in NFBC leagues and was drafted at 12.2 (182 overall) in the Tout Wars Draft & Hold, one pick before J.A. Happ. Gun for him in the same round range as you would Happ.
To see more values from this list, please click on the link above to visit the chart. Be on the lookout tomorrow for our reliever edition of values using this same strategy.