30 Prospects in 30 Days: Steven Matz, New York Mets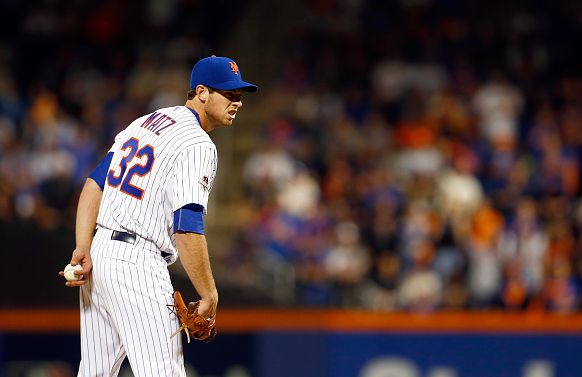 Profile
Steven Matz has already played baseball at the highest level there is. The 24 year-old left handed starting pitcher was given the ball for game four of the 2015 World Series and took the mound for the team he grew up rooting for, the New York Mets. It's hard to believe that Matz is still considered a prospect already having already made three postseason starts, but with just 35 ⅔ regular season big league innings under his belt, he could very well be an early frontrunner for the National League Rookie of the Year.
The Mets selected Matz in the second round of the 2009 MLB ametur draft, but he underwent Tommy John Surgery shortly after signing. Matz didn't make his pro-debut until 2012 with the Kingsport Mets in the Appalachian League, but he quickly rose through the farm system and flew up the Mets top-prospect list. The 6'2" lefty has a loose arm and a long, lanky frame but is also very athletic, as he displayed in his historic debut at the plate with three hits, four RBI and a double. Matz also features two plus pitches with his fastball and changeup and has seen a great deal of improvement in his big breaking curveball as well. He normally sits in the mid to lower 90s with his fastball, but can touch 96-97MPH, and he gets both ground balls and strikeouts thanks to some late sinking movement.
Pundits
Baseball America and MLB Prospectus both had Steven Matz ranked as the number 33 prospect in all of baseball before the 2015 season. Matz jumped from number 66 to number 15 on MLB.com's prospect list from 2015 to 2016 and is currently their third ranked left-handed pitching prospect as well. Matz throws a lot of strikes, has good command over all his pitches, and he could potentially see his curveball become a plus pitch as well. If Matz continues to improve at the rate he currently improving, he profiles to be a top of the rotation type of starting pitcher and may even draw some comparisons to the great Clayton Kershaw with his similar pitch arsenal.
Production
Although it took Matz three years to finally make his professional debut after being drafted in' 09, he was able to make it all the way through the minor league system in three years as well, and the young lefty has proved to be well worth the wait thus far in his career. Matz has dominated at every pro-level he's pitched and has shown an inherent knack for limiting runs.
With the exception of the 3 ⅔ innings he pitched in high-A Port St. Lucie in 2015 while rehabbing, Matz has never posted an ERA above 2.62 at any level in his professional career, which includes six regular season starts with the Mets last season. He went 4-0 with a 2.27 ERA with the big league club. Matz also accumulated 393 strikeouts in 380 ⅔ minor league innings with a 1.145 WHIP and has nothing left to prove at the minor league level.
Projection
It is safe to assume that Matz will take a bit of a step back in 2016 but that natural regression is bound to happen to the majority of young players who've enjoyed productive debuts like his. Injuries had slowed his overall development in the minors, and he struggled to stay on the field last year as well with a lat strain. The most innings he's pitched in a season so far in his pro career was the 141 he through between four different levels of baseball in 2015, which was just one more inning than he threw in a full season in 2014. Still, the Mets will occasionally feature a sixth starter to take some of the load off their starting rotation, and they should be able to keep the lefty fresh over the course of a full major league season.
With a 2.25 career ERA and continued improvement possible, Matz can most definitely throw upwards of 160-170 innings in 2016 and should have his ERA somewhere in the mid to low threes. Being the low-man on the Mets starting rotation should also take some of the pressure off Matz in knowing that he won't necessarily be viewed as the "losing-streak stopper." And as seen by deep pitching rotation in the past, Matz could actually thrive by trying to keep up with the studs at the top of the Mets rotation because of his fiery and competitive nature.
Due to prior big league experience and getting the rare opportunity to pitch in October with about 15 innings left before exceeding his rookie status, Matz shouldn't be intimidated by the big stage and should be a top candidate for the 2016 National League Rookie of the Year award if he can stay healthy.