45 Prospects in 45 Days: Atlanta's Tommy La Stella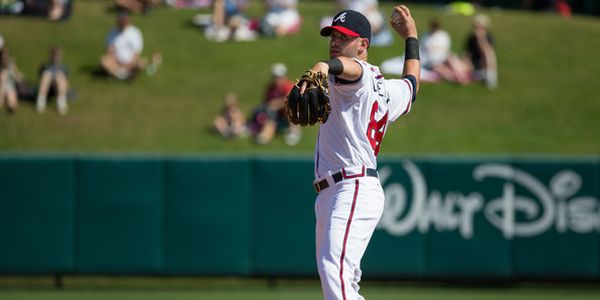 Profile
To put it simply, Tommy La Stella is a hitter. His defense projects be around average; maybe a little below. His arm isn't very good. But he can hit, and that's probably the best aspect of the game to have as your calling card.
La Stella has hit – and hit well – at every level since being drafted by the Braves in the 2011 MLB Draft. During his junior year – his last before he was drafted – La Stella threw up a .398/.476/.690 line in 64 games for Coastal Carolina. That was good enough to impress the Braves scouts, who have been pretty good at finding talent in their own backyard.

After being drafted, La Stella has hit above .300 at every level he's played at (disregarding his five game rookie ball sample in 2012 and the Arizona Fall League in 2013, during which he hit .290). La Stella's high averages haven't been completely empty, despite the fact that he doesn't possess much home run power. His gap power has allowed him to throw together a fairly good amount of doubles during his minor league time.
Pundits
La Stella is the type of prospect that doesn't get a ton of love by evaluators. It's understandable given his limited defensive ability and age (25). La Stella doesn't show up on any top 100 lists, but most scouts agree that he can be a productive major league player – especially at the plate.
Baseball Prospectus' Jason Parks rated La Stella sixth in Atlanta's system and wrote the following:
La Stella is the type of player that evaluators will discount, and despite his strong Double-A performance in 2013, I'm still not sold on the profile. The 25-year-old can swing the bat and knows what he can drive and what he can't, but he lacks power and speed, and his defensive profile is fringe-average at best, mostly on the strength of his fundamental glove and overall feel for the game. The hit tool has to really shine against even better arms for La Stella to emerge as a major-league regular, but as one source aptly stated, " give me a guy with a plus hit tool and baseball instincts over a guy with elite tools and no clue how to use them."
Not exactly a glowing review, but for fantasy purposes, the bat is really all we care about. And that's the carrying tool here.
Minor League Production

As stated earlier, La Stella has done nothing but hit. It's always worrisome about how walk rates will translate for players that do not possess good power once they reach the major leagues, but there are no signs to worry about yet. Considering his O-swing% at AA last season was 10 percent below league average, it's fair to say he isn't going to get himself out, no matter which level he calls home.
Projections

I've added in the Fans' projections, which are just what they sound like. Readers of Fangraphs input their projections and then they are placed alongside the major projection systems. I've included them because Fan projections are usually optimistic – especially when it comes to prospects – but in this case they don't look too different than their counterparts.
On the plus side, La Stella's walk/strikeout rates are largely intact from his stellar AA campaign, saving for 3-4 percentage points on his walk rate. Slugging around .400 seems doable and reasonable in my opinion. There might even be a little room for growth in that department.
wRC+ (weighted runs created plus), which is a park adjusted statistic where 100 is considered league average, is my favorite judge of a hitter's contributions. It doesn't matter much to fantasy players because raw fantasy stats aren't park adjusted. Nonetheless, La Stella is projected to be above average by every projection system.
Most projection systems are conservative by nature, so the fact they're buying into La Stella's bat is definitely a good thing going forward.
Prediction
By all accounts, the second base job in Atlanta is Dan Uggla's to lose. But, if last year was any indication, he can definitely lose his job at some point during the season.

Projection systems are down on Uggla for a multitude of reasons. He's on the wrong side of the aging curve. His strikeout rates are climbing. And his power and contact rates are declining. If Uggla throws up a line like 2013 or similar to the Oliver or Steamer lines above, he's likely losing his job.
La Stella isn't going to win you a league, even if he is provided with ample playing time. Much like players of his ilk (Matt Carpenter, for example), La Stella's value will be tied to his spot in the batting order which ties into his ability to score/drive in runs.
I view La Stella as a lighter version of Matt Carpenter. Perhaps, slightly closer to Omar Infante with more upside/on base ability. Infante was the 13th best second baseman in all of fantasy baseball last season. Seriously, look it up. La Stella's bat will play. He won't win a category for you, or even provide a huge category in one, but above replacement level production in AVG/OBP, HR, and perhaps other categories isn't out of the question. Playing time, as always, is the question.
Last, but not least, a piece regarding La Stella wouldn't be complete with this gif.