45 Prospects in 45 Days: Chicago's Erik Johnson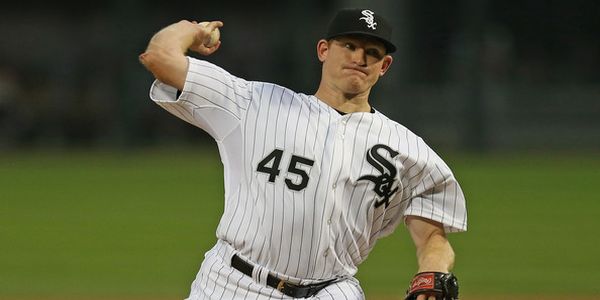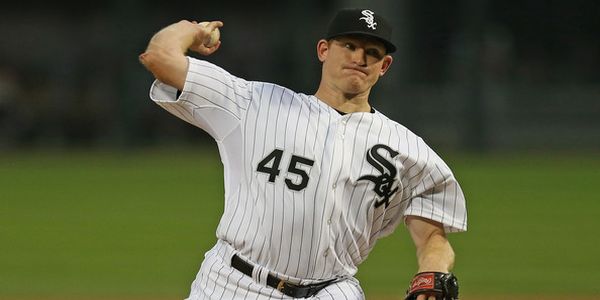 Over the next 45 days the staff here at The Fix will profile and predict the fantasy fates of prospects that could – should, in some cases – be closely monitored on the waiver wire or even in the draft room.
For the projection portion of the article, we will try our best to give you projections from all three major projection systems. Those projection systems are: ZiPS, Steamer, and Oliver. Oliver varies from the other two by projecting what a player would accomplish over 600 PA. Obviously, most prospects won't reach 600 PA, due to various reasons. It can help to pay more attention to the rate stats that are included in order to get a clearer idea of what you're dealing with in a particular player.

Profile
Erik Johnson might as well have rolled off an assembly line. At 6'3" and 235 pounds, he has prototypical size for a front line starter. Featuring a fastball that reaches the mid-90's, a slippery cutter, and a knee-buckling slider, he has the prototypical arsenal of a right-handed power pitcher. He dominated through high school and college in Southern California, then was drafted in the second round of the 2011 MLB draft by the Chicago White Sox. Like I said, assembly line.
His fastball gives Johnson an excellent base to work from; his breaking pitch has a sky-high ceiling, but is still a bit of a work in progress. He threw a big-bending curve in college at Cal, but he's since scrapped it for a potentially excellent slider, a pitch that'll undoubtedly evolve into a plus offering. The big question mark with Johnson, as with many young right-handed power pitchers, is his changeup. Last year in the minors, lefties tuned up Johnson for a .737 OPS, a full 300 points higher than his mark against righties. In his limited big league action, lefties pounded their way to a .594 slugging percentage.
Johnson will be tough on righties as is, but until he can develop even an average changeup, he'll be vulnerable to lineups stocked with lefties.
Pundits
The prospect pundits agree that although Johnson isn't quite polished, he's taken some very positive steps over the last year. Aside from the occasional mention of Jose Abreu, Johnson is nearly universally regarded as the top prospect in the White Sox system.
Keith Law ranks him 59th overall:
His stuff was better most of the year than what you might have seen from him in September, but when he isn't overthrowing his slider, he gets more depth to the pitch and misses a lot of bats with it. The slider is new to Johnson since his college days at California, replacing the mid-70s curveball that had a sharp break but was less effective against better hitters. He sits best at 92-93 mph, able to throw harder but with less life and command. His main developmental need is to improve his changeup, which looks good out of his hand but has not been effective enough against left-handed hitters since he reached Double-A.
Baseball America has Johnson ranked 63rd overall. Baseball Prospectus' Jason Parks likes Johnson as the 67th-best prospect in baseball but thinks he has the potential to develop a changeup that rates as a 6 on the 2-8 scouting scale. That kind of growth would go a long way toward eliminating his issues against left-handed hitters.
Minor League Production
| | | | | | |
| --- | --- | --- | --- | --- | --- |
| Level | IP | K% | BB% | ERA | FIP |
| 2013 – AA | 84.2 | 22.6% | 6.4% | 2.23 | 3.19 |
| 2013 – AAA | 57.1 | 25.0% | 8.3% | 1.57 | 2.59 |
Johnson was damn near untouchable in the minors last season. He displayed an excellent combination of power and control, and he kept his ERA consistently below his FIP by both limiting baserunners and limiting home runs. Keeping the ball in the park will be essential as Johnson moves to U.S. Cellular Field, just as important is his ability to keep the bases clear is limiting the impact of whatever homers he does allow.
However, these numbers should be taken with at least a medium-sized grain of salt. Johnson's greatest vulnerability, talented left-handed hitters, isn't exactly an abundant resource in the minors. The type of guy who can really put the hurt on Johnson doesn't tend to stay on the farm for long.
Projections
| | | | | | | |
| --- | --- | --- | --- | --- | --- | --- |
| System | IP | GS | K% | BB% | ERA | FIP |
| Steamer | 163 | 28 | 17.0% | 9.1% | 4.82 | 4.43 |
| Oliver | 122 | 21 | 17.0% | 9.6% | 3.84 | 4.43 |
| ZiPS | 129.7 | 25 | 7.56* | 3.96* | 4.58 | 4.57 |
Though the projection systems all generally agree on Johnson's FIP, Oliver likes him to continue the trend of delivering a better-than-expected ERA. While I do expect Johnson to keep his WHIP and homers down, his struggles against lefties will make it very difficult for Johnson to maintain an ERA below 4.00.
Prediction
Unlike many of the other pitchers we've profiled, Johnson won't have to worry about securing a starting spot. He hasn't yet spent a full season in either Double-A or Triple-A, but Johnson was dominant at both levels. With little proven depth in their big league rotation, the White Sox have almost no choice slot their top prospect into a starting role from the get-go.
For fantasy purposes, Johnson is a lot like a younger Justin Masterson. Johnson doesn't have Masterson's ground ball tendencies, but both thrive on sliders that are really only effective against right-handers. Masterson had a mammoth platoon split when he first moved into the rotation full-time; while he had the stuff and the stamina to post double-digit strikeouts on any given night, a lefty loaded lineup could just as easily send him to the showers early. I expect nothing less from Johnson.
He's a strong late round pickup in AL-only drafts but not a draft day consideration in mixed leagues. In shallower formats, he's an excellent streaming option both on the road and against right-handed heavy lineups. He'll post strong strikeout numbers and limit base runners enough to keep his WHIP and ERA at manageable levels.