45 Prospects in 45 Days: Colorado's Jonathan Gray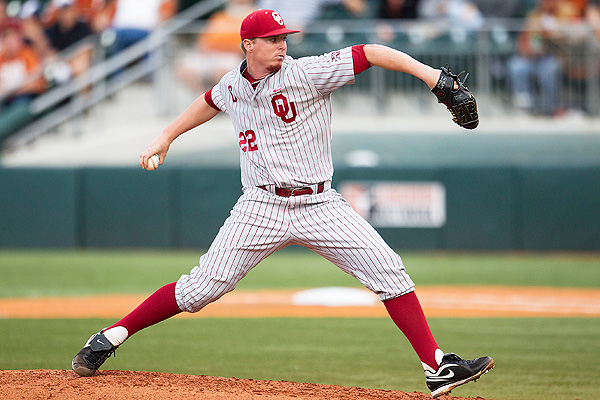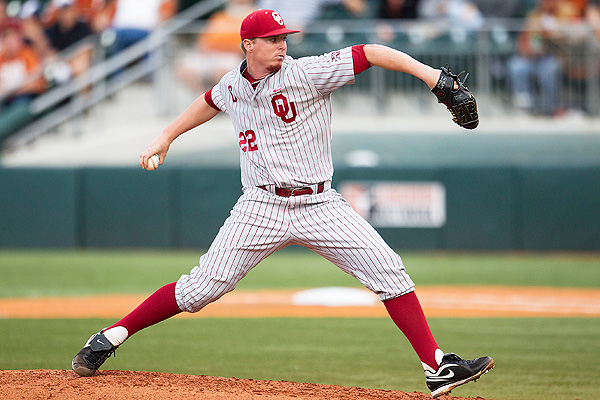 Profile
Jonathan Gray may be the guy we've all been waiting for. The guy who tames Coors Field on a regular basis. Sure, some pitchers have fared well in Coors, Ubaldo Jimenez comes to mind pretty quickly, but the spacious high altitude field ultimately always seems to win. Gray's power arsenal seemingly should help domesticate the Rockies' unfriendly home.
Gray, considered the best pitching prospect available last June, is armed with a fastball that touches triple digits, a wipeout slider, and a quickly improving change-up. According to scouting reports, Gray didn't have much use for a third pitch in college because his main two – fastball and slider – were so dominant. But, two pitches will not get you by as a starter in the major leagues for very long, and both Gray and the Rockies know that. To combat that reality, he began working on a change-up soon after being drafted, and the strides that were made are phenomenal.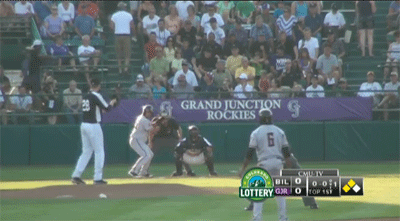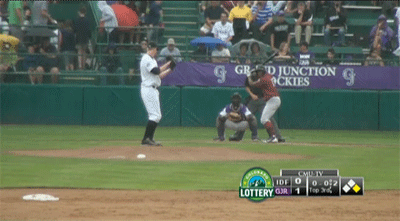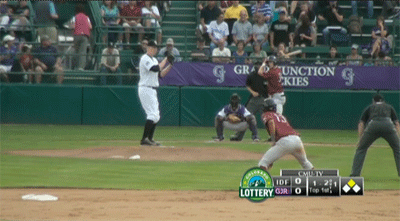 The gifs above were taken from a wonderful article written by Doug Thorburn at Baseball Prospectus. The article delves deeply into Gray's mechanics, so if you have a subscription, read the article. But, as you can see, Gray packs a mean punch.
Much like Archie Bradley, who I profiled earlier, Jonathan Gray is what scouts dream of. He's big, strong, and has good/great mechanics. It's no surprise the Rockies snatched him off the board gleefully in 2013.
Pundits
As I alluded to above, scouts love Jonathan Gray. Jason Parks and Keith Law, both of whom you should be familiar with at this point, wrote glowing reviews and seemed to have trouble finding actual weaknesses in Gray's game. In fact Mr. Parks actually was forced to write the following, after ranking Gray 16th overall: "not many weaknesses," into his report. The meat of the report is just as interesting:
Gray is a top 20 prospect in baseball, and that is probably going to look foolishly conservative by mid-season, as Gray has the size, stuff, and pitchability to develop into a legit frontline starter at the major-league level. The fastball is elite, the slider is plus-plus and scary as all hell to both lefties and righties, and the changeup –the pitch I suggested could be a 6+ offering—might end up exceeding those lofty projections and developing into his separator pitch at the highest level. If the command stays strong and the stuff stays sharp, it won't take long for Gray to emerge as one of the best young arms in baseball.
Mr. Law was just as complementary, ranking Gray 12th, and writing the following:
Gray's a physical presence on the mound, with a lightning-quick arm, taking a long stride toward the plate with moderate hip rotation and accelerating his arm quickly after a slightly stiff landing. Other than the changeup, which is coming along faster than expected, his main issues are fastball command and maintaining his delivery when working out of the stretch.

He's a potential No. 1 starter with a very high floor as long as he stays healthy, as even fringy command will still lead to a ton of swings and misses on his primary two pitches.
Law noted a few more areas of concern, but the song remains the same, Gray could very well be a number one starter, and he could arrive there very, very quickly.
Minor League Production

I usually weight the opinions of scouts more than minor league production because some things can get lost in the numbers. Scouting reports are especially important when players have such limited track records. Due to the fact that he was drafted last year, Gray hasn't thrown many professional innings.
On a negative note, it doesn't give us much data to look at. But, on a positive note, he was never going to need much seasoning, and the arm has a finite number of bullets in it anyways, so it's nice to know his will be in use at the major league level sooner rather than later.
Projections

Unfortunately, due to the lack of data, projections aren't readily available on Gray at the moment. It's unfortunate, but given how much free information we receive from the men behind the projection systems often cited here, it's tough to form a complaint.
Prediction
It remains to be seen how quickly Gray will join the Rockies. The team's current rotation has a ton of question marks – Brett Anderson's health, Juan Nicasio's mediocre performance, Franklin Morales control problems, Jhoulys Chacin's health, etc. The Rockies could be a stealth contender if their offense performs at the levels it is capable of performing at, but they're going to need some help on the mound.
Despite being invited to Rockies' camp, Gray didn't stand much of a chance of making the Opening Day roster, but he could be up in short order. Gray is one to watch on the waiver wire, or perhaps draft late if you're in a deep league, because his strikeout ability makes him a fantasy asset immediately upon arrival.