45 Prospects in 45 Days: Minnesota's Alex Meyer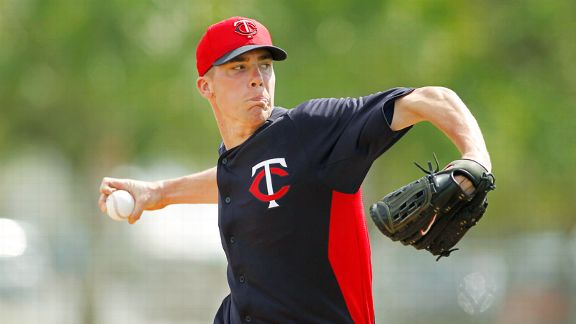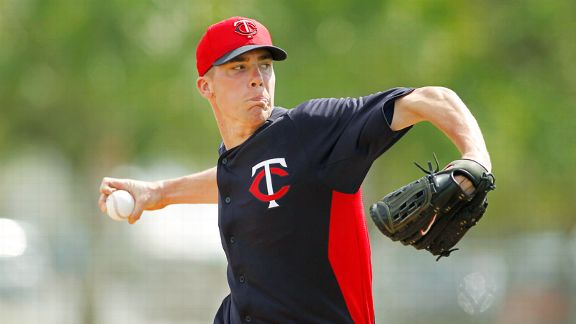 Profile
When the Twins decided to move towards a rebuild and began trading their more experienced players, it was a fair assumption that they would be able to get a fair return, considering the value of the assets they were dealing – namely, Denard Span. In exchange for Span's services the Nationals sent Alex Meyer, a tall, lanky, hard throwing righty to Minnesota.

The trade was viewed through different lenses. Some viewed the deal as a steal for the Nationals, considering the fact that Meyer had never pitched above high-A and Span was coming off a ~5 WAR season, according to Baseball Reference. Others felt that Meyer had bundles of potential and agreed that the Twins needed to target the Meyer's of the pitching world, instead of the Correia's.
Fast forward one season. Meyer's stuff and stat line exploded and it appears that Span is more good than great.
None of the major scouting services – except for ESPN's Keith Law – ranked Meyer better than 83 as we entered 2013. Entering 2014? Meyer's arsenal vaulted him into the top 40 on many lists.
Pundits
Meyer was surrounded by a few questions headed into 2013. One question in particular, was his height. On one hand, his height allows him to get great downward plane on his offerings; on the other, there are a lot of very large parts to get moving in unison.
Keith Law wrote about these concerns, and a few more in his February 2013 scouting report:
Meyer was ninth on my board heading into the 2011 draft but slid to the 23rd overall pick due both to concerns about his price tag and whether he could get his 6-foot-9 frame under control enough to remain a starter in pro ball.

I can understand the motivation to put Meyer in the 'pen, where he's going to be 96-99 or so with a 70 slider (on the 20-80 scale). But the potential for a high-strikeout starter, even if he walks a few more guys than you'd like, is too much to ignore. Meyer works from a low three-quarters arm slot and is more 92-97 as a starter with great life, and that slider is still plus with hard, late tilt, a pitch he can even use against left-handers. His changeup has improved since college but is still usually too hard, and command will probably always be his Achilles' heel even if his control gets to average.
Once again, let's fast forward a calendar year to Law's most recent update:
When Meyer is on, he looks like a top-of-the-rotation guy, sitting in the upper 90s with sink and a slider sharp enough to sever someone's femoral artery on its way to the plate. He doesn't throw his changeup enough yet, and it's a grade-45 on bad days and a 50 (average) to 55 on good days, just something he needs to throw more and more to improve his feel for it, since his low-three-quarters arm slot gives left-handed hitters a nice long look at the ball out of his hand.

He is very lanky, and long-levered pitchers don't have a great history in MLB, as they often take more time to learn to repeat their deliveries and seem, anecdotally, to be injury-prone; only Randy Johnson and J.R. Richard have reached 20-plus WAR among pitchers 6-foot-8 or taller, and only Johnson has made 250 starts.

Meyer does have exceptional stuff, however, and there's not a lot of effort involved in him throwing 97 mph lawn darts, so there's cause to believe he can be a starter and potentially a No. 2 given enough time and patience.
Despite the fact that he actually moved down a spot, to 62, Law is still extremely complimentary and, at times, glowing in regards to Meyer.
Baseball Prospectus' Jason Parks is higher on Meyer, ranking him 32nd, but has the same concerns going forward:
Industry sources continue to offer mixed prognostications about Meyer's long-term role, and I can honestly say that I don't have a strong feeling either way. The body is a paradox, with length you dream about but length you struggle to control over the course of a game. The arm strength is elite, and the fastball grade could reach that status with improved command. The slider is of the knockout variety, and even the changeup, which graded below-average coming into the season, now has some sources putting a plus grade on its future. In a rotation, he has the stuff to stand out, but the command and mechanical inconsistency could lead to erratic production; a gem one start and an early exit the next.
It's apparent that Meyer's an impact arm, no matter the role. What's less apparent, is if he'll actually be able to stick in the rotation. His arm slot is worrisome, given the platoon splits often seen by pitchers that throw from a lower arm slot, and the critiques above, and his lack of a decent change-up. Nonetheless, the velocity is unteachable and filthy.
Minor League Production
The pitchers we have chosen for this series have been chosen for a reason. Meyer is no different, except for his slightly elevated walk rate.
Meyer performed admirably in 2013, although he did only manage to throw a little over 100 innings. Hopefully the Twins will be able to get him up around the 135-140 mark in 2014.
Despite concerns about Meyer's arm slot causing a platoon split, Meyer's had no trouble disposing of left handed batters so far. Granted, minor league hitters aren't as talented as major leaguers, but it's still nice to see.
Projections

Even though Meyer has limited experience above the lower levels of the minors, both Oliver and ZiPS are optimistic about his production, if he were to spend a fair amount of time in Minnesota. Meyer is actually projected to be Minnesota's second best starter, behind Ricky Nolasco. Although, that probably says more about the state of the Twins roster than about Meyer.
Prediction
Meyer isn't likely to make an impact in 2014. The Twins have no reason to rush him, unless they want him to get a small cup of coffee before becoming a permanent fixture in 2015.
Much like Marcus Stroman, Meyer's role is to be determined. He should make a fantasy impact regardless. If Meyer is able to further harness his control this season he could become a prime target in 2015 drafts given his ability to punch out opposing batters and the park he'll call home.