A Look Back at the 2013 Draft: AL Right Fielders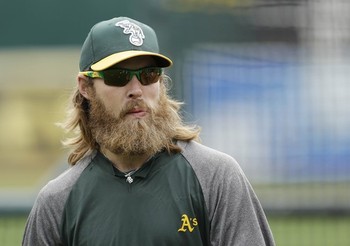 We finally get to the end of the line with our position players (American League at least) and it isn't soon enough. We are approaching the time when 2012 stats become more or less irrelevant. At least they become a lot less relevant in the face of what is going on in 2013. So, with these last two position player profiles, we focus an equal amount of attention on what is going on this year with what went on last year. Even with this season's early returns in, we still see some areas where there is inefficiency.
The original intent of the series was to highlight those areas where fantasy players either overvalue or undervalue guys. You have to get back into the mode of what people were thinking on draft day. The difficulty is that percentages owned have been forever altered by those that have either dropped or added guys along the way. It's an inexact science, so we proceed the best way we know how.
[am4show have='p4;p7;p3;' guest_error='Front Office' ]
Josh Hamilton– Los Angeles Angels
This is the part where present realities and past performance meet to make for one heck of a mess. When healthy, Hamilton has been among the top five hitters in baseball for about six years now. 2013 has shaped up to be something of an enigma for him. I profiled him a couple of weeks ago and the issues are still there in front of God and everybody. Hamilton swings at way too many pitches and swings and misses at a hefty percentage of those. Eventually, the pitchers begin to figure out that you will chase. Once that happens it's game over.
What would be interesting to know is what percentage of original owners have already traded him. Beyond that, we might want to look at the percentage of owners actually starting him. Much like Albert Pujols a year ago, Hamilton is one of those players you don't want to give up on too quickly, but he's also a guy you don't want torpedoing you completely either.
Shane Victorino– Boston Red Sox 
I suppose in one sense, Victorino's ranking makes some sense here. If you are ninth among AL only right fielders then you should rank in the bottom half overall. Bottom half represents a pretty accurate description of Victorino. He ranks 13th among AL only right fielders in batter runs (BR) and 11th among right fielders in total average (TAV). That represents a mild separation between reality and where fantasy players drafted him. Sadly, we can't as hardly say that anything in 2013 can change the landscape for him.
There is nothing quite as incidiary as the memory of a good player. That memory often betrays us and gets us to do things we wouldn't otherwise do. As recently as 2011, Victorino was a very underrated player capable of pushing your fantasy team into the playoffs. Now, it's pushing teams in different directions. If you bought into the past you can count yourself among hundreds including Ben Cherington.
Josh Reddick– Oakland Athletics
It might seem presumptious to count Reddick amongst the list of guys that were under drafted. I'm sure a heftier percentage drafted him than what we see above, but his sluggish start has persuaded a ton to drop him. That's understandable in a what have you done for me lately world, but we also have to consider where this puts Reddick in the grand scheme of things. He is a backup outfielder on nearly every fantasy team. It could be said that he played above his head in 2012 and that may well be. Still, he is a backup outfielder on most fantasy teams.
In real life he will still get the majority of starts in right field because of his defense. Much like Jeff Francouer, that means he will put up some numbers by sheer volume. That may not be worth a lot to the real team, but fantasy teams can enjoy somewhere around 15 home runs and 70-80 RBIs and runs. You don't want to make a living off of that, but having that on your bench makes some sense.
Drew Stubbs– Cleveland Indians
When we get to the point of diminishing returns we get to great philosophical question every fantasy owner must ask themselves: would I rather have an effective part-time player on my bench or a flawed everyday player? Stubbs qualifies as flawed, but he has the added benefit of being eligible in right field and centerfield. 2012 was a nightmare for him and the main reason he is in Cleveland, but now that he is in Cleveland, he is beginning to show why the Reds loved him in the first place.
Stubbs offers the delicate combination of power and speed in a world that craves both. The problem for him has always been that he struggles to find first base. Yet, like most hitters he will go through periods of torrid production and for those periods alone he is worth a bench slot. You could make a lot of hay starting him for several days at a time during those periods of great production.
[/am4show]