Avisail Garcia is on the Way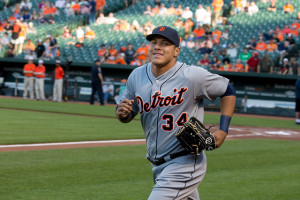 Avisail Garcia was recently traded from the Detroit Tigers to the Chicago Whitesox.  Alex Rios was just traded from Whitesox to the Texas Rangers.  Together, these two trades gave fantasy baseball owners a new commodity.  This is even more significant than usual because it is the middle of August.  Adding talent to your fantasy team can be a challenge this time of year.  In many leagues, trade deadlines have passed and most of the game's top prospects are already on fantasy rosters.  So when a player like Avisail Garcia, who was considered a top five prospect in the Tigers' farm system, gets called up to the majors, you have to take notice.
During most of this season, Garcia beat up Triple-A pitching to the tune of a .950 OPS.  But the corner outfielder did have some struggles when at the big league level.  Still, 88 MLB plate appearances this year shouldn't drastically change your opinion.  And neither should Garcia's successful MLB stint of 51 plate appearances in 2012.  What we should look at is what he can bring to your fantasy baseball team.  Garcia has hit nine homers and stole six bases so far in 2013.  He has slugged doubled digit dingers in 2012 and 2013 while stealing double digit bases.  So there is potential here for a little pop and a little speed.
The main issue with Garcia is his free swinging ways.  He doesn't walk much and he has shown some strikeout issues.  He has a 20% K-rate in Triple-A, and while that isn't good, it isn't devastating either.  He could actually have success at the major league level with that strikeout rate.  The question is will Garcia's strikeouts go up facing tougher competition?
The simple answer is yes.  But that doesn't really tell us anything.  I tried to look for some trends to see if the young hitter is improving his plate discipline.  In his last 13 minor league games, accumulating 40 at bats, he has struck out only six times.  This comes after a four strikeout game.  It is a small sample size, but we are looking for trends.  Garcia is still a young, developing player.  In that same timeframe, he has walked eight times.  So these are good signs.  I also find it interesting that this happened after a four strikeout game.  Maybe it ticked him off?  Flicked a switch?  Maybe he and the coaches made an adjustment?  No matter the answer, the results are promising.
When looking at Garcia's splits, it shows he crushes lefties.  He is a right-handed hitter, so this makes some sense.  He also hits well against right-handed pitchers, so there doesn't seem to be a platoon concern.  Garcia's batting average is .370.  But this is fueled by a .450 BABIP, so it may be best to ignore that stat.  I wouldn't expect him to give your team a batting average boost in the long-term.
However, Garcia has enough pop and speed to deliver double digit homers and steals over the course of a full season.  I believe he can deliver a handful of homers and a couple of steals this season, but also keep him in mind for the future.  It helps that U.S. Cellular Field is the place he calls home, since that tends to increase home runs for right-handed hitters.  So maybe the power can translate more quickly.  We aren't yet sure what we are getting with Avisail Garcia, but he deserves to be on a fantasy roster in all deep leagues, including A.L. and dynasty leagues.
Thanks to Fangraphs.com and Baseball-Reference.com for the data.