Brett Lawrie Has a New Hangout Spot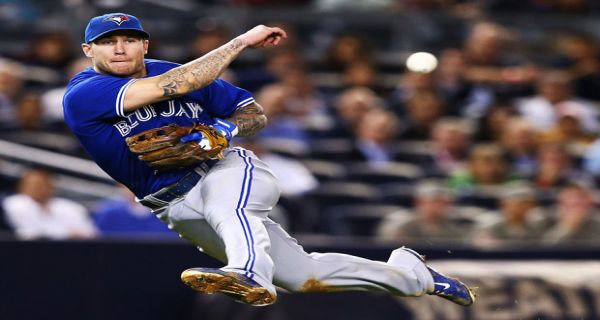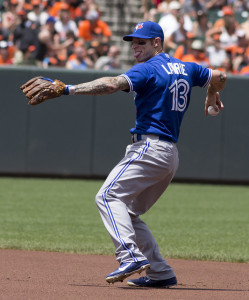 Brett Lawrie is a heartbreaker.
The other night I came across Stephen King's wisdom on opening lines.  Written above, in italic, is my opening line.  It's simple, to the point, and for most of Lawrie's fantasy baseball career, emphatically true.  I applied this same line when I wrote about him earlier this season.  King would say this opener, like any other, is supposed to pull you in.  That remains to be seen.  But what we have seen is how Lawrie pulled in many admirers because of his 2011 MLB debut.  Unfortunately, he proceeded to break their hearts.  Then in rather quick fashion, he broke hearts again in 2013.  As a result, many left Lawrie's Heartbreak Hotel, leaving it on the verge of complete abandonment.  But there may be a saving grace, as the Hotel just moved to a new hangout spot.  And like with any business, fantasy baseball can be all about location, location, location.

In case you haven't heard, the Toronto Blue Jays decided to make Lawrie and Reyes their new double play tandem.  [am4show have='p3;p4;p7;p9;' guest_error='Front Office' ]At least for enough games to matter.  Those who play in a standard Yahoo! format can already take advantage of his new 2b eligibility.  Since this seems like a long-term plan, he should gain 2b status in the near future for other formats.  And although he is struggling to stay above the dreaded Mendoza line, Lawrie could end up being a useable fantasy asset because of the duel eligibility.
(Update 7/26/2013: The Toronto Blue jays will  play Brett Lawrie at third base for the remainder of the season.  He has 2b eligibility in Yahoo! leagues that use the default games played setting because he started at least five games at second base.)
On May 31st, I wrote how Lawrie could still be useful in deeper leagues.  It wasn't exactly the most ringing endorsement, but there was enough evidence that the right-hander wasn't completely broken, despite being on the disabled list at the time.  I felt he could deliver 10 to 12 homers and about 10 steals when he got off the DL.  Helpful, but not what many have hoped for the youngster.  Of course, his DL stint went longer than expected, so those numbers now seem optimistic.  Still, he has gained 2b eligibility, and that changes things.  But does it change things enough?  Is there a realistic chance Lawrie could sneak into the top-12 for second baseman the rest of the way?
The answer is "kinda".  Steamer projects Lawrie to hit six more dingers and steal five more bases.  ZiPS is projecting the same.  And when you look at the rest of the season projections for his second base peers, Lawrie would rank in the top-12 of each category.  Unfortunately, we are talking about a player who has underperformed projections in the recent past.  But even adequate second baseman can be hard to find in deeper and AL-only leagues.  There is a sensible scenario where Lawrie is at the very least a solid MI contributor.
If you are starting a Marco Scutaro type in your 2b or MI spot and Lawrie is on your waiver wire, make the switch.  If you play in a dynasty league, see if you can obtain the Blue Jay at a low price.  That's not to say you should be expecting any miracles.  Lawrie has a few issues to sort out, such as a high groundball rate.  However, potential and pedigree at a thin position don't always come cheap, so keep an open mind.  And he is still just 23 years of age, so keep that 2b status in mind for next year too.  This season, Brett Lawrie as a waiver pickup or an inexpensive buy has less of a chance at breaking your heart…again.
Thanks to Fangraphs.com for the data.  Thanks to TheAtlantic.com for the Stephen King article. [/am4show]