Cleveland Indians Sign Edwin Encarnacion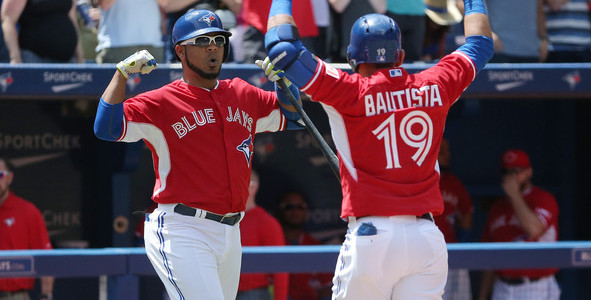 The biggest remaining free agent went off the board on Thursday when the Cleveland Indians agreed to a three year, 65 million dollar contract with first baseman/designated hitter Edwin Encarnacion. The deal technically pays him 20 million per season for three years and offers a fourth year option at the same price. The extra five million comes in the form of a buyout if the Indians don't want to give Encarnacion the fourth season.
Why the Indians make this move
The Indians came within one game of winning the World Series this past season. Usually teams in that situation love to play it safe. Of course, that usually ends up being a mistake. Pennants are often won on the backs of players enjoying out of context seasons. The Indians gambled on Mike Napoli in 2016 and they hit the equivalent of black jack on him this past season, but he is a free agent himself. They could have re-signed him and brought the the band back together. That likely would have been a losing bet for them.
The Indians have the added benefit of having Michael Brantley returning from injury. Adding him back into the offense makes the Indians one of the more dangerous offenses in the American League on paper. Unfortunately, championships aren't won on paper. If everyone is healthy, the addition of Encarnacion makes them the odds on favorites to repeat as AL Central champions.
Real baseball and fantasy baseball are different. Runs and RBI aren't portable. While Encarnacion led the league in RBI last season, he did that playing for the deepest offensive attack in the American League. Still, for the Indians, all he needs to do is produce what Napoli produced this past season and they will be in very good shape. Add Brantley back into the equation and they could be even better than last season.
What this deal means for you
Like we just said, it is easy to get caught up in runs and RBI from a fantasy perspective. We hate to get overly technical, but those statistics are what we would call opportunity statistics. Even in a good offense, it is impossible to predict how many opportunities a player may get. Even though Encarnacion led the league in RBI, there is no guarantee he will even drive in 100 runs next season. That's assuming he is completely healthy and just as productive.
Steamer's has Encarnacion projected to hit 32 home runs, 85 runs, and 97 RBI. Of course, that projection came before he signed with the Indians. The Blue Jays were set to lose not only Encarnacion, but also Jose Bautista, and Michael Saunders. So, those projections might have been based on that or based on the uncertainty of where he was going to end up. Still, even if we give him a little bump, he is going to come nowhere near the 127 RBI he had last season. Still, 30 home runs and 100 RBI is nothing to sneeze at. It also isn't as rare as we would like to believe.