Daily Fantasy Baseball Strategy: June 25, 2015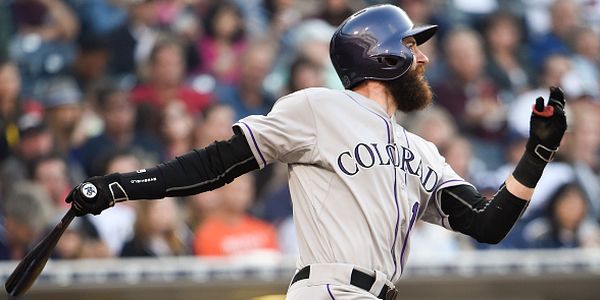 We have 11 games on Thursday, but just three of them take place tonight. The majority of action is during the day, so I'm going to make this preview for the early eight-game slate, and discuss the top plays and values for today's contests on DraftKings. I'll give you my thoughts on the slate, and at the bottom we have rankings of the top plays at each position. If you're on Twitter, you can find me @RyNoonan.
Forecast
It's difficult to nail down weather hours and hours before first pitch, but there could be some rain and high winds in the mix this afternoon. Given how often forecasts change between the time this post is written late the night before and when games actually start, make sure to follow @KevinRothWx for updates.
Pitching Perspective
There are four top shelf options today in terms of pricing, with a few value plays to sprinkle in. The highest priced arm today is Jacob deGrom ($10,100), who's slightly over-priced but gets a bump with his matchup against Milwaukee. The Brewers (27th in wOBA and wRC+ against RHP) hit well at home, but the ball park's not enough to scare me away on an eight-game slate. deGrom has improved on his impressive debut season, and his ability to dominate lefties (.269 wOBA-against) is a big part of his success this season. Vic Carapazza will be the home plate ump here, and he's one of the more 'pitcher-friendly' umps in the game.
James Shields ($9,900) has enjoyed his transition to the National League, and it's been a boon to his fantasy value, particularly on DraftKings where his strikeouts are so valuable. He's in one of the best run-suppressing environments in the game today, but the Giants are 8 percent better than league average (108 wRC+) against right-handed pitching, and Shields has really struggled to retired left-handed bats (.375 wOBA-against). The Giants are a left-handed dominant lineup with a low strikeout rate, which doesn't bode well for Shields.
Sonny Gray ($9,500) has been a pleasant surprise this season. His strikeouts aren't the elite totals that other big name pitchers post, but they're improving. He has raised his strikeout rate this season by about 2 percent, while seeing his walk rate dip by the same amount. He's essentially eliminated any platoon advantage against him as well, leaning on his slider a lot more (and his curve ball a lot less). Arlington can become a launching pad as we move in to late June which is the only reason to give pause on locking Gray into all of your lineups.
The last $9K+ starter is Jon Lester ($9,300). Lester has yet to really get rolling this season, but his overall numbers don't look much different than his previous few seasons. I've been staying away from him of late, but as the cheapest of the elite today, I expect his ownership levels will be elevated. It's not a terrible matchup either, as the Dodgers aren't nearly as explosive against left-handed pitching (23rd in wOBA) as they are against right-handers.
Some other pitching quick takes:
Stack Options
According to Vegas, our best bets today are the Rockies (5.4 implied run total), Diamondbacks (4.8), and A's (4.6).
With two strong offenses going head-to-head in Colorado, we have to start here. Rubby de la Rosa gets the ball for the Diamondbacks, and he has some major platoon splits to exploit here. He's been so good against right-handed bats (.242 wOBA) that I wouldn't advise a huge Rockies stack, but Rubby has been shellacked by southpaws (.410 wOBA), so load up on Rockies' left-handed bats.
The Diamondbacks are in a similar situation, as the de la Rosa Bowl will be in full effect. Rockies left-hander Jorge de la Rosa toes the rubber for Colorado, who possesses some of the best hitters in the league against lefties. These pitchers have such sharp platoon splits that it's difficult to truly 'stack' them, but getting a fair share of exposure to both clubs is highly recommended.
The A's are in Texas against Colby Lewis, and it's time to pay up, Colby. The regression police are here, in gold and yellow, and I want a first row seat to the action. It's not as if Lewis has pitched well, but his 5.28 xFIP against left-handed hitter's tells us that he's due to be even worse than he's been. The A's are able to matchup up here and go extremely left-handed. So, Colby Lewis and the Bad News, basically.
Some offensive quick takes:
Today feels like a day to get multiple small stacks in both your cash and GPP's. Add the Giants to your list. In the pitching breakdown I spoke of James Shields struggles against left-handed hitters, so give me all the Brandon Belt ($3,700) today. Joe Panik ($3,200) and Brandon Crawford ($3,600) both have some reverse split action in their game, but hit right-handed bats well enough to fire them up for cheap.
I like the A's lefties, but Marcus Semien ($3,800) is better against right-handed pitching than he is against lefties, so don't shy away from him if you're using A's in your lineup.
Getting some exposure to Coors is important, and looking at the end of the lineups can be a nice way to do so. Guys like Ben Paulsen ($3,500), Aaron Hill ($3,700), and Wellington Castillo ($3,400) are great ways to get in on the Coors action.
Player Rankings
Catcher
1. Stephen Vogt -$4,300 Oakland Athletics
2. Wellington Castillo -$3,400 Arizona Diamondbacks
3. Michael McKendry -$3,500 Colorado Rockies
First Base
1. Brandon Belt -$3,700 San Francisco Giants
2. Paul Goldschmidt -$6,600 Arizona Diamondbacks
3. Ben Paulsen -$3,500 Colorado Rockies
4. Anthony Rizzo -$5,300 Chicago Cubs
Second Base
1. Ben Zobrist -$4,700 Oakland Athletics
2. D.J. LeMahieu -$4,000 Colorado Rockies
3. Joe Panik -$3,200 San Francisco Giants
Third Base
1. Miguel Cabrera -$5,700 Detroit Tigers
2. Aaron Hill -$3,700 Arizona Diamondbacks
3. Yasmany Tomas -$4,300 Arizona Diamondbacks
4. Kris Bryant -$5,000 Chicago Cubs
Shortstop
1. Marcus Semien -$3,800 Oakland Athletics
2. Jose Iglesias -$3,300 Detroit Tigers
3. Brandon Crawford -$3,400 San Francisco Giants
4. Andrew Romine -$2,400 Detroit Tigers
Outfield
1. Charlie Blackmon -$4,800 Colorado Rockies
2. A.J. Pollock -$4,800 Arizona Diamondbacks
3. Josh Reddick -$4,400 Oakland Athletics
4. Billy Burns -$4,700 Oakland Athletics
5. Bryce Harper -$5,800 Washington Nationals
6. Rajai Davis -$4,100 Detroit Tigers
Starting Pitcher
1. Jacob deGrom -$10,100 New York Mets
2. Chris Heston -$7,500 San Francisco Giants
3. Sonny Gray -$9,500 Oakland Athletics
4. Jon Lester -$9,300 Chicago Cubs
5. Eduardo Rodriguez -$7,500 Boston Red Sox
*Rankings are price sensitive