Daily News; Call-Ups – Grandal, Wacha, Franklin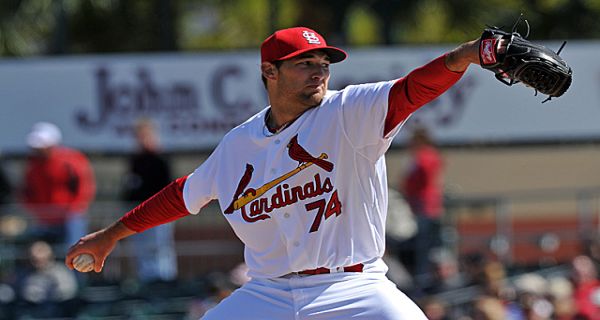 As the season trudges along owners must be in tune with the daily goings-on in Major League Baseball. Three potential impact players enter the player pool picture today: Nick Franklin (SS, Seattle), Michael Wacha (SP, St. Louis), and Yasmani Grandal (C, San Diego).
Nick Franklin- Shortstop/Second Baseman- Seattle Mariners: Nick Franklin offers the Seattle Mariners a desperate change-of-pace option in the middle infield. Both Dustin Ackley and Brendan Ryan have been absolutely deplorable so far in 2013. Nick Franklin is a "bat-first" player, offering very little in terms of defense. Fortunately for fantasy owners, we care about his offense. Franklin has hit .324/.440/.472 in Triple-A so far, and given the Mariners "Mendoza-Line" duo of Ryan and Ackley, Franklin adds much needed on-base skills to a team struggling with offense.
Franklin should hit for a decent average (.275?), and get on base a lot. He won't offer much power, but he should provide enough extra-base pop to drive in a handful of RBI. Where he hits in the lineup will be essential to driving his counting stats, but if he hits anywhere other than 7th, 8th or 9th, he'll be helpful to mixed-leaguers. With the dearth of second base options thanks to injuries to Aaron Hill, Ian Kinsler, Chase Utley, and the otherwise lack of general depth at the position to begin with, Franklin should be added in all AL-Only Leagues and most mixed leagues. Most importantly, he likely will stick with the club the rest of the year while Dustin Ackley licks his wounds in Triple-A.
Michael Wacha- Starting Pitcher- St. Louis Cardinals: Perhaps best known for his last name, thanks to its resemblance with the sounds from the Ms. Pac Man game, Wacha is a pitcher to take notice of – effective immediately. In 52.2 innings in 2013 for Triple-A Memphis, Wacha sports a 4-0 record with a 2.05 ERA; somewhat concerning is a 34:15 K/BB ratio over those nine starts. However, what Wacha lacks in peripherals this season, he makes up for in who he plays for. The St. Louis Cardinals have an excellent track record with young players – really just all players in general. They let go of Albert Pujols at exactly the right time, they got great value in the Matt Holliday and Carlos Beltran deals, and they have Allen Craig and Matt Adams who are up and coming stars. If that's not good enough for waiver trolls, consider the Cardinals track record with pitchers Lance Lynn and Shelby Miller, even Trevor Rosenthal who has excelled in the bullpen.
Wacha should be added in all formats for his MLB debut on Thursday against the hapless Royals.
Yasmani Grandal- Catcher- San Diego Padres: It would seem asinine to say that after a 2012 "breakout?" season for the young Padre catcher, that he would be the most unknown commodity in a group involving two rookies who have yet to appear in a major league game. However, that is precisely the case. Grandal without question has the most upside in this bunch, but without question the most downside. He has power, and can hit for a good average, but coming off a 50-game suspension for performance enhancing substances it would behoove fantasy owners to be skeptical. Everyone remember Carlos Ruiz's magical run last year? Yeah, he's been absolutely horrendous thus far in 2013. If Grandal is off the juice, he could be empty batting average. His downside is .306/.342/.389 line from Triple-A Tuscon, pro-rated to MLB levels would mean .275/.315/.360? That's pretty atrocious; though he's also got Top-15 catcher upside the rest of the way. He needs to be owned in all NL-Only leagues and two catcher mixed-leagues. He's likely to be a waste of time in shallower mixed formats.