Daniel Murphy the GOAT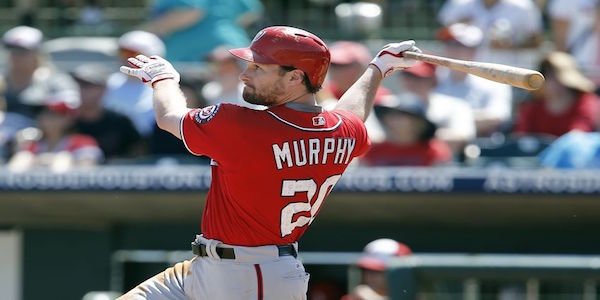 The G.O.A.T. is a pretty polarizing term in the world of sports. On the one hand, it's an acronym for  "the greatest of all-time"; which is a bit overplayed with hot-take culture and social media these days, but an accolade all the same. On the other hand, it's also an abbreviation of the word scapegoat, the opposite of a hero. It's the person who takes a brunt of the blame when a team fails or loses.

In October of 2015, then-Mets second baseman Daniel Murphy was first deemed "the goat" thanks in part to some Chicago baseball history, and eventually went on to embody both the positive and negative connotations of the word. Murph had a historic postseason in 2015, homering six games in a row and seven times total between the National League Division and Championship series. He hit .529 in New York's four-game sweep over the Cubs with an astronomical 1.294 slugging percentage (seriously, calling them video game numbers doesn't even do it justice). Murphy's performance was so otherworldly that he completely outshined New York's stellar pitching staff, and was credited with single-handedly beating the Cubbies and carrying the Mets to the National League Pennant.  
The comparison was easy. Not only did Murph turn in one of the greatest postseason performances of all-time against Chicago, he also happens to share the name, Murphy with the infamous billy goat that has cursed the Cubs organization since 1945. In just that one playoff series alone, this league-average player became a hero for one fanbase and a scapegoat for another, but the story doesn't end there…
Murph's slashline in the World Series looked as is the Monstars had stolen his powers right after they rolled out the champagne in the NLCS. He hit just .150/.320/.150 in five games against the Kansas City Royals, and made a crucial error in Game 4 that all but sealed his club's fate in the Fall Classic. Mets fans can attest to these "Oh Murph" moments being a common phenomenon, which is likely why the team let him walk despite that magical postseason run. He'd always been a gifted hitter, but anyone who remembers Murphy's left field experiment will tell you that he was a positionless player very prone to the occasional brain fart on the bases. For real, David Wright once said that Murph thinks he's invisible out there sometimes.
Anyway, the Mets extended Murphy a qualifying offer that offseason with the thought that he'd return to the player he'd always been in Flushing the following season; an above-average hitter with modest power and shaky defense. Instead, Murphy signed a 3-year deal with the Washington Nationals and carried his 2015 playoff performance into the 2016 regular season. It was as if the World Series never happened and he went back to being the positive version of "the goat" we were all acquainted with in the Divisional and League Championship rounds the previous year.
Murph was unbelievable in 2016. He was Wade Boggs with pop. Murphy went from being a .755 OPS guy with the Mets to the league leader in that stat at .985 (over 170 points better than his teammate and unanimous 2015 NL MVP, Bryce Harper). He also took the race for the National League batting title down to his final at bat, and will likely finish in the top-3 of the NL MVP voting.
No one expected this; not even the Nationals, who were more interested in trying to pry Yoenis Cespedes away from the Mets than Murphy. They settled for Murph. He was their second choice at best behind an aging Brandon Phillips. The Nats lucked out and ended up with one of the best pure hitters in all of baseball, but what's next for Daniel Murphy?
It's hard to say what kind of player Murph will be in the years to come following the 2016 season. I mean, this monstrous spike in production can't be sustainable, can it? History says no, but all other signs point to yes.
The safe bet would be to say that Murphy settles into the mean next year. Somewhat like Matt Carpenter, who averaged about 10 home runs a year through his first two full seasons, then jumped to nearly 30 in 2015, and settled into 20-homer territory this past year. Carpenter sold out for that power stroke, which added about 40 strikeouts and cut down his walk-rate, before correcting the problem and putting up his most consistent season yet at 30 years-old. Murph, who will be heading into his age 32 season, saw a power did dip in the second half (dropping from 17 homers before the All Star Break to just 8 after), which could mean he'll average somewhere between his 109 wRC+ in 2015 and his 156 mark in 2016; however, that was the only noticeable change in Murph's game and he did spend a nice chunk of time on the DL in late-September/October.
It'd be one thing if Murphy coasted to some great numbers on hot April following his heroic playoff performance, but he's proved his numbers this year are anything but a hoax no matter how you look at them. Murph hit over .340 before and after the All Star Break, .347 on the year, and .329 against lefties. He earned his hits with a .349 BABIP while leading the National League in slugging percentage at .596. Murph also struck out in only 9.8% of his ABs, and was worth about 5.5 wins despite costing his team about seven runs on the defensive side of the ball according to Fangraphs' calculations.
The least likely outcome for Daniel Murphy's 2017 season is a complete free-fall from grace, and I believe his days of being the negative definition of "the goat" are long behind him. This recent success for Murphy can be attributed to a new approach at the plate, which saw him tracking pitches early in the count and hunting balls in specific zones that he knew he could really drive. Murph's hard contact jumped from 31% to 38% between 2015 and '16, and his HR/FB ratio go from 8.3% to 12.4%. He is, by all measures, a completely different player and one of the most talented hitters in the MLB. Murph is still a goof, and an absolute liability on defense and on the basepaths; but get used to referring to him as the positive form of "the goat" rather than the negative one.