Erasmo Ramirez is Here to Help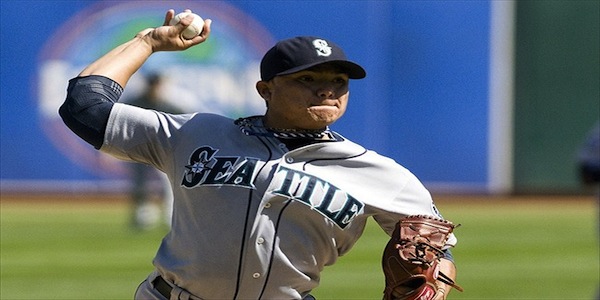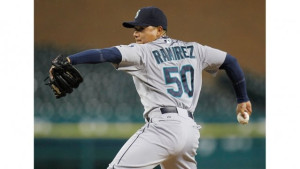 This Thursday, Erasmo Ramirez gets his first major league start of the season against the Boston Red Sox.  If you remember, the right-hander developed into a bright spot for the Seattle Mariners' rotation, and may have even helped out fantasy owners down the stretch.  Still, even with 2012's success, this match-up isn't ideal for any young pitcher's first start of the season.  And because of this, some fantasy owners may opt to use the 'wait and see' tactic for Ramirez.  This gives others the opportunity to strike, and if you wait too long, you could cost yourself a key piece to your fantasy rotation.
During his time in the minors, Ramirez always had strong control and solid FIPs, but at times had mixed results.  In 2012, he started turning the corner.  He started the season with the Mariners as a reliever, but was demoted to the minors on two separate occasions where he was stretched out.  The bouncing back and forth didn't seem to affect his performance, and finally, Ramirez made it back with Seattle at the end of the year and finished with 59 major league innings under his belt.
When Ramirez came back and had success, one of the big reasons was his change-up.  It has become his primary out pitch, as it generates a lot of swings and misses.  Last season, his change-up delivered a 27% whiff rate and batters swung at the pitch 55% of the time.  His fastball and change-up have a ridiculous 12MPH difference.  His fastball average is about 93MPH, so it isn't as if Ramirez doesn't have much of a fastball.  He also mixes in a two-seamer, a curveball, and a slider.
The concerns with the Seattle right-hander revolve around his early season triceps injury, the small sample size of success, and the potential to deliver mediocre results in the strikeout category.  But there is good news.
Ramirez hasn't had any notable setbacks since returning from his injury.  So hopefully, at least for this season, those injury concerns are behind him.  Next, he gets to pitch in Seattle, which is still a friendly park for pitchers.  And finally, over 43 innings at Triple A this year, Ramirez has struck out almost a batter per inning.
If he could carry over those strikeout results, we could have a top 25 fantasy pitcher for the second half of the season.
We don't have much of a profile on Ramirez quite yet, but despite the small sample size, he has been an effective pitcher both in the minors and majors since 2012.  When looking for a sleeper or breakout candidate, he fits the profile.  Good velocity, strong control, generates swings and misses (11% swinging strike rate), and calls a pitcher's park home.  All to go along with recent success that includes a surging K-rate and a solid ability to keep the ball in the park.  In your fantasy leagues, Erasmo Ramirez is the kind of addition that can help get you over the top.
Thanks to Fangraphs.com, MinorLeagueCentral.com, BrooksBaseball.net, and Baseball-Reference.com for the data.