Evan Longoria: 2013 American League MVP Candidate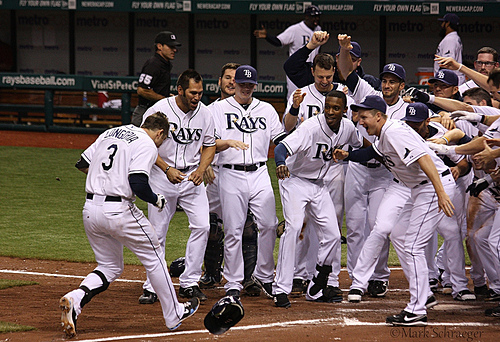 There is no player more valuable to his team in the American League than Evan Longoria is to the Tampa Bay Rays.  He is the stand alone star player on a team that is mostly filled with solid, but young, and often inexperienced players.  Year after year a revolving door to Tropicana Field sees more exits that entrances, but one thing remains constant, and that is Evan Longoria batting third and playing third base.  If you compare Longoria to any of the other perennial AL MVP candidate, the main difference is that the rest of them have other star players backing them up.  Pujols has Trout and Hamilton, Cabrera has Fielder and Victor Martinez, Cano has had Teixeira and Granderson, you get the picture.  Longoria more often than any of these other candidates puts his team on his back and carries them from the middle of the pack, to division contenders on a consistent basis.  Through his clutch hitting with 2-outs or late in the game, his excellent defensive play, and the fact that he is only 27 years old and may actually get better, I am making the case that Evan Longoria will be the American League MVP in 2013.
There is arguably no more pressure situation than hitting with 2 outs and runners in scoring position.  Even some of the most elite players in the game struggle in these situations.  Longoria gets better.
| | | | |
| --- | --- | --- | --- |
| | BA | OBP | OPS |
| CAREER   AVERAGES | .276 | .361 | .876 |
| CAREER   w/ 2 OUTS AND RISP | .285 | .409 | .965 |
Evan Longoria certainly has a flair for the dramatic.  There is no clearer example than September 28, 2011 in a "win or go home" final game of the season against the Yankees.  With the Red Sox having just lost to the Orioles, the Rays found themselves in extra innings where a win would vault them into the playoffs, and a loss would jettison them to the golf course.  With all of this on the line Evan Longoria hit that famous frozen rope that cleared the left field fence for a homerun to win the game and the AL Wild Card spot.  It's this and other moments similar to this in late, big game situations that make Longoria such a valuable player.  There is nothing more important than getting the big hit when your team needs it.  Sure you can put up gaudy numbers by hitting three run bombs off of a fifth starter in the fourth inning of a game in May, and your year-end stats may look nice, but that doesn't make you an MVP.  Longoria gets it done when it needs to get done.  His career 9th inning and extra inning stats prove this. To have some fun I will also show the career 9th inning and extra inning stats of a mystery player to be revealed later, as a comparison.
EVAN LONGORIA
| | | | |
| --- | --- | --- | --- |
| SITUATION | BA | OBP | OPS |
| 9th INNING | .273 | .371 | .923 |
| EXTRA INNINGS | .286 | .432 | 1.003 |
MYSTERY PLAYER
| | | | |
| --- | --- | --- | --- |
| SITUATION | BA | OBP | OPS |
| 9TH INNING | .260 | .327 | .788 |
| EXTRA INNINGS | .282 | .378 | .883 |
Longoria beats the mystery player in all three stats, and quite easily in both late game situations.  What makes the argument that much better is that our mystery player in none other than the 2012 AL MVP and Triple-Crown Winner Miguel Cabrera.
Longoria missed a significant amount of time last year with a hamstring injury that limited him to only playing in 74 games.  He wound up hitting .289 with 39 runs scored, 17 home runs, and 55 RBI.  If you pro-rate that to a full season that gives you a stat line of 85 runs, 39 home runs, and 120 RBI.  Longoria in the early going in 2013 appears to be completely healthy again.  The two time Gold Glove winner made two incredible diving plays on opening day as testament to that.  At 27 years old, the scary part is that he may actually not have peaked yet.  A full season from him this year yields unlimited potential to what numbers he can put up.
When it's all said and done, Longoria's value spans the entire arc between tangible and intangible elements.  In 2012 the Rays were 43-45 without him, and 47-27 with him.  All of these wonderful discussions and tweets about how exciting the Rays are, how quirky and great Joe Maddon is, and how they make or come close to making the playoffs every year with a low payroll simply do not exist if Evan Longoria isn't on this team.  He is the definition of a franchise player, and come November, the definition of the American League's Most Valuable Player.
stats provided by: baseballreference.com