Fantasy Baseball Daily Fix: May 22nd, 2013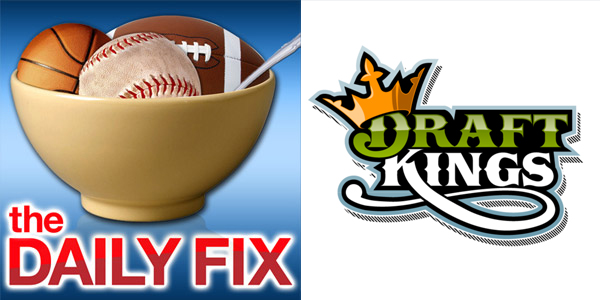 I still remember the first time I went to Las Vegas like it was yesterday. I had pretty good success at playing video poker and I did decently at the blackjack tables. My undoing ended up being a new game called "Let it Ride." My young and foolish heart saw the big winnings I could get with one really good hand. My mind had yet to catch up. The problem is the long odds made winning such a hand rare. My money went as quickly as I could put it down.
Similarly, playing daily baseball can be much the same. I am in no position to tell anyone how to spend their money, but I like the odds as even as I can find them. Therefore, I'm playing in a Double Up! contest. Don't forget to get your deposit bonus here. You can make your odds even better than even if you make it a practice to pick the right pitching. My methadology is pretty simple. I'll try to narrow the field to no more than ten pitchers on a full day's slate and then pick from there based on matchups.
Before we get to the lineup of the day, please take note of this SPECIAL OFFER. For any FIRST-TIME depositor at DraftKings, if you deposit at least $25, you will receive an extra $10 from DraftKings. That's right. Click on this link, deposit a minimum of $25 and receive a bonus $10. Please allow for a few days for the extra money to be processed to your account.
My Lineup
Pitcher: Hiroki Kuroda vs. Baltimore Orioles
Kuroda profiles under what we might call the middle class of pitching. However, this is a case where the match-up is the most important aspect of the selection. As I said above, I try to select the top third of the starters to make a selection. Of course, I do the reverse to see who to start on the offensive end. When you have a top tier starter going against a bottom tier starter you are looking at a good opportunity for an easy victory. Winning pitchers earn five points for your team.
Pitcher: Cliff Lee vs. Miami Marlins
If you can't face a struggling pitcher you can face a struggling team. As the dust settles on the first quarter of the season, one thing is for certain: the Miami Marlins have the worst offense in baseball. It would be unfair to even compare the next worst offense to them. Kevin Slowey has been solid enough for them, but Cliff Lee hardly ever beats himself and it looks like the Marlins are not going to be capable of beating him.
Catcher: Chris Iannetta vs. Brandon Maurer
The Angels are in terrible shape right now and Iannetta has not played regularly, but provided he is in the lineup he has a fair chance to do well against Maurer. So far on the season, Maurer has done just enough to stay in the rotation. We invested heavily in pitching on this day, but good pitching should earn you roughly half of your points.
First Base: Mitch Moreland vs. Jarrod Parker
This is another opportunity to save and still get good value. Moreland has quietly reached double figures in home runs and Parker has struggled for much of the season. Many complained of the Rangers letting Michael Young go via trade, but Moreland has more than solidified first base for them while Lance Berkman serves as an able DH. Look for Moreland to have more success today.
Second Base: Kelly Johnson vs. Mark Buerhle
Save. Save. Save. Jurickson Profar is also a decent play for those that want to roll the dice. I like to go with some semblance of a track record, so I went with Johnson. Johnson has become the Rays' 2013 version of Jeff Keppinger. He has found the fountain of 2011 as he seems on pace to hit 20 home runs. He plays a lot of left field, but he is also eligible at second base. Mark Buerhle is very hittable these days.
Third Base: Alberto Callaspo vs. Brandon Maurer
Going with economy options can be challenging. There are productive part-time players on the board, but the worst thing you can do is earn zero points with your guy on the bench. Callaspo plays almost every day is normally somewhat productive in favorable match-ups like today. He won't bust out for 20 points very often, but he is a steady 5-10 point producer on good days like today.
Shortstop: Erick Aybar vs. Brandon Maurer
This is a tough position to pick from these days. I tend to follow my rules on picking match-ups as following a set formula tends to work out better than playing hunches. Aybar is a lot like Callaspo in the sense that he won't bust out with 20 points very often, but he is a steady 5-10 point producer. Andrelton Simmons and Elvis Andrus are solid plays as well, but I was looking for the economy option.
Outfield: Andre Ethier vs. Wily Peralta
The young hurler has had some good outings, but most of them have been sub-par. Meanwhile, the star right fielder has finally begun to pick up the production some. Therefore, you might be able to get all-star production for less than all-star prices. I always look out for gaps between perception and reality when it comes to pricing. Ethier is a relative bargain these days.
Outfield: David Murphy vs. Jarrod Parker
David Murphy is like the left field version of Mitch Moreland. He was under appreciated coming into the season because of the departure of Josh Hamilton. Through roughly a quarter of the season, he is on pace to hit 20 home runs and drive in more than 60 runs. In the last two weeks he is hitting .353/.410/.676 as he looks to be headed closer to 25 home run and 80 RBI territory. Not bad from a player at this price.
Outfield: Nelson Cruz vs. Jarrod Parker
I find myself double and tripling up against certain pitchers. I don't always do that intentionally and this is one of those instances where it was a happy coincidence. The problem is that you want to strike the balance between an elite outfielder (who is expensive) with someone that won't produce. Cruz may be somewhat cold in his last two weeks (.190/.217/.476) but the slugging percentage is a key indicator that he is still doing some damage (4 HR). So, take this as an all or nothing play.
Yesterday's Action
Of course, every game is important to every player and every team, but to fans there are only so many match ups that can pique your interest on any particular day. In this case, we usually look to the intradivision match ups that will have some effect on the playoff races. Every game holds equal value, but you can't win any divisional championships in May. You sure can lose them though.
Oakland Athletics vs. Texas Rangers
This one was a pitcher's duel between Yu Darvish and Dan Straily. Straily won this one 1-0. Darvish is obviously the Cy Young candidate and he didn't disappoint on this afternoon. Unfortunately, the Rangers attack managed only three hits against three Athletics' pitchers. The Rangers still hold a 4.5 game lead in the division, so the contest only served to keep the A's in the division race.
Philadelphia Phillies vs. Miami Marlins
No, the Marlins aren't in the race. The Phillies might be in the race if they can take care of business in Miami. Ryan Howard was the star of the show on this night going three for five with three runs batting in. Delmon Young also hit his second home run on the season.
Tampa Bay Rays vs. Toronto Blue Jays
This was a battle of two divisional foes trying to hold on. The Rays want to hold on long enough until they can call up Wil Myers and until David Price returns from the disabled list. The Blue Jays are waiting for Jose Reyes and Josh Johnson to return to health. Obviously, the Rays have been a lot more successful and it is due to the efforts of guys like Alex Cobb (5-2, 2.73 ERA). Kelly Johnson hit his eighth home run to help the Rays edge the Blue Jays 4-3.
New York Yankees vs. Baltimore Orioles
The Yankees are still in first place, but the Orioles continued their magic in extra frames by beating the Yankees 3-2. The common denominator seems to be Jim Johnson and his brilliant pitching in the late innings. His performance this year hasn't been quite as good this year, but it was on this day. Meanwhile, Tommy Hunter continues to pitch well in relief. Former Yankee Chris Dickerson did the damage with two home runs.