Fantasy Baseball Final: April 24th, 2016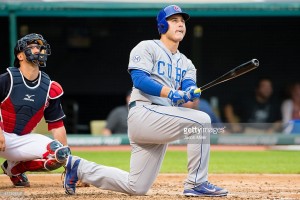 Even when given the arbitrary Sunday off, Bryce Harper can't seem to keep his name out of these Fantasy Baseball recaps. Harper came to the plate as a pinch hitter in the bottom half of the ninth inning with the Nationals down 4-3 to the Twins, and promptly launched a homer over the right centerfield wall to send the game into extras. The home run was Harper's ninth on the young season, and helped him reclaim the major league lead in that categories from Rockies rookie Trevor Story. After using Harper in the 9th, manager Dusty Baker ran out of position players on his bench and was forced to use starting pitcher Joe Ross as a pinch hitter in the 10th, and reliever Oliver Perez in the 15th. Both pitchers came through, Ross with a single and Perez with a successful bunt, to keep the Nats in the game. Washington went on to pull off the improbable win thanks to a 16th inning walk-off homer from Chris Heisey in what proved to be the longest game of the 2016 season so far.  
IF YOU ONLY READ ONE THING…
Jacob DeGrom last pitched for the New York Mets back on April 8th in the team's home opener, but left the game in the sixth inning due to some back discomfort. Along with battling the injured lat muscle, the 27 year-old was also dealing with family issues following the birth of he and his wife Stacy's son, Jaxson. After a few extra days in the hospital, the couple were able to take their newborn home on April 18th, and deGrom finally returned to the mound for the Mets this afternoon to help the ballclub complete their weekend sweep of the Atlanta Braves. DeGrom has been dealing with some diminished velocity this year since Spring Training, down a full three miles per hour on his fastball as compared to his average velocity last year of 94.9-mph; however, the righthander has been effective nonetheless. DeGrom gave up just one earned run in his 5.2 innings of work today, striking out three along the way without walking a single batter en route to the W. Even with his radar gun issues, deGrom posted one of the best Spring Training ERAs in 2016 and trails only Clayton Kershaw, Jake Arrieta, and Zach Greinke in ERA since his first Major League season back in 2014. In addition to deGrom's return, the Mets have got to be happy with the consistent production from sophomore outfielder Michael Conforto. Conforto drove in two of the Mets three runs today, and has been hitting 323/.400/.613 since being moved into the three-hole. Today's win for the Amazin's came with both David Wright and Yoenis Cespedes out of the lineup as well.
JUST AS WE EXPECTED…
After Saturday's 13-5 loss to the Cincinnati Reds, the Chicago Cubs were able to get back in the win column Sunday behind righty Jason Hammel. Hammel got plenty of run support in today's 9-0 win, but appeared not to need it by tossing six innings of scoreless ball to improve his ERA on the year to 0.75. Hammel also recorded seven strikeouts in today's contest, and didn't walk any to improve his record to 3-0 on the year. He only pitched with a lead today thanks to a first inning homer from Anthony Rizzo over the right center field fence. The first baseman added another one his following time up in the third to bring his home run total to six on the year. Off to a bit of a slow start, Rizzo seems to be finding his power stroke as of late, going deep in three of his previous four games prior to today's two homer display. Rizzo's 2-4 effort this afternoon raises his batting average above the dreaded Mendoza Line to .203, and his four RBIs bring his total to 21 on the year. Jason Heyward also had a nice day at the plate for the Cubbies, going 4-for-5 and swiping his fourth base of the season.
WHAT WE DIDN'T EXPECT…
Not known for being a particularly offensive inclined team, the Tampa Bay Rays had a bit of a power surge this afternoon in the Bronx. The Rays hit four long balls off Yankee starter Michael Pineda, and added a fifth homer later in the game as well. Steven Souza Jr. celebrated his 27th birthday with a pair; and Corey Dickerson, Steve Pearce, and Logan Forsythe also got in on the action with homers of their own. Tampa's eight runs were more than enough for starting pitcher Drew Smyly as the lefty continues to impress in his 2016 campaign. Smyly struck out six in his seven innings of one-run ball and only walked one to finally earn his first win of the season. He's posted a 2.51 ERA with 33 strikeouts in his four starts this year and seems to be heading for a breakout season.
SAVE CHANCES
Jeremy Jeffress (6)
Jeurys Familia (5)
Cody Allen (6)
David Robertson (8)
Roberto Osuna (6)
Nick Vincent (1)
A.J. Ramos (3)
INJURIES
The Cleveland Indian's talented starter Carlos Carrasco left today's game in the bottom half of the third inning with an ugly left hamstring injury. Carrasco was 2.1 innings into a scoreless outing when he hurt himself covering first base on a ground ball. The righthander recorded the out, but seemed to suffer a pretty bad strain as he immediately went to the ground in serious pain. Manager Terry Francona stated after the game that Carrasco will head in for an MRI and will likely be placed on the 15-day disabled list. The injury to Carrasco can result in the reinstatement of Trevor Bauer to the Indian's starting rotation, though the move has not been officially announced as of yet.