Fantasy Baseball Final: August 12, 2016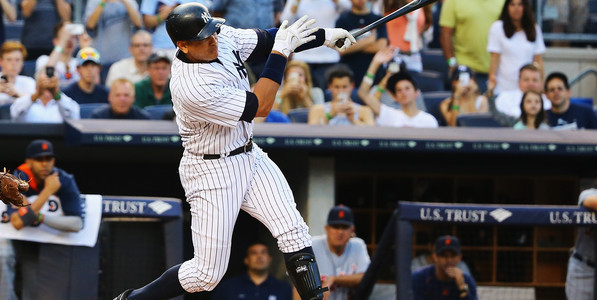 Friday night was a historic night in baseball. Alex Rodriguez's Yankee career has come to an end. ARod has been a force in the game like no other since he came up back in 1994. Of course, no player has been more hated in quite some time and most of that comes naturally. Rodriguez has always come off as self-absorbed and his history surrounding performance enhancing drugs is well documented. However, no one can argue that he exited his Yankee career in a dignified way as he went one for four with a double and RBI.
There are rumors that he still might try to resume his career and his hometown Marlins might consider adding him once he clears waivers. That seems doubtful at this point. He hit 33 home runs with an .842 OPS in 2015, but struggled to keep his head above the Mendoza line this season. Other greats in the game have had similar endings. 2016 will mark the end of several well-documented careers including Mark Teixeira, David Ortiz, and Prince Fielder. Only one of those players is truly going out on his terms.
You can't help but feel a little older today when watching all of this go down. For many of us, ARod is a star we grew up with. He came up when I was in college and it seemed he would play forever. No matter how many drugs you pump in your veins, Father Time will always go unbeaten.
If you read one thing
The AL East is shaping up to be an exciting race with the Boston Red Sox, Baltimore Orioles, and Toronto Blue Jays fighting in a three-way race for the top. Hanley Ramirez appears to be heating up at the right time. He hit two home runs on Friday night with six RBI. He now has 16 home runs and 70 RBI. He largely has been labeled a disappointment, but he appears well on his way to 20 or more home runs and 90 or more RBI.
We kind of expected
The Cubs had their period of lackluster play, but they have distanced themselves from the NL Central pack after beating the Cardinals 13-2 on Friday night. They have a 14 game lead over the Cardinals and 14.5 game lead over the Pirates. Barring an utter collapse they will be one of the teams in the NLDS. Jake Arrieta moved to 14-5 and appears to be in good position to defend his crown as Cy Young winner. He has a few heavy contenders to hold off, but if he finishes 2016 like he did 2015 he will be the clear cut winner.
We didn't expect
Degenerate gamblers would probably bet on the Pro Bowl and both NBA and MLB all-star games until they ran out of money. Betting on single baseball games is about as stupid a play as those games. Stephen Strasburg was going against the worst team in baseball. Easy win right? Instead he gave up six runs with the big blow coming from Freddie Freeman in the fifth. The first baseman has 22 home runs, but only 53 RBI. Sometimes life just isn't fair.
Save Opportunities
Ryan Madson (25)
Brandon Maurer (5)
David Robertson (28)
Dellin Betances (4)
Jim Johnson (10)
Will Harris (12)