Fantasy Baseball Final: July 23, 2015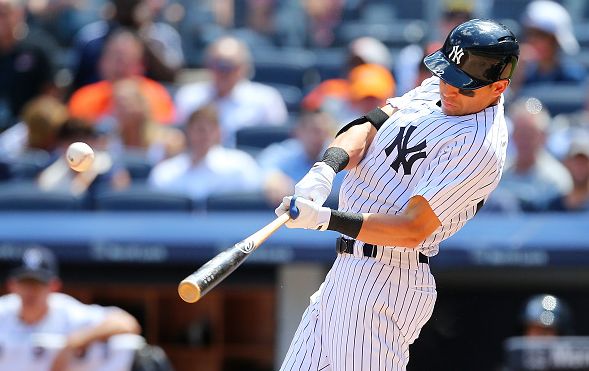 Welcome to the TheFantasyFix.com's nightly fantasy baseball recap, where you'll find updates on bullpen usage, lineup construction, injuries, and transactions. No matter the format, we have everything you need to know to help you win your league.
It was all Yanks Thursday afternoon as the team improved to 53-41 on the season, completing their three-game sweep over the Orioles. Baltimore starter Ubaldo Jimenez lasted just 2 ⅓ innings as the Yankee offense tagged him for seven earned runs including a bases clearing, three-RBI double by Chase Headley in a four-run bottom of the first. New York also got a big game out of center fielder Jacoby Ellsbury, who went 3-for-4 with a home run, double, and four RBI.
The O's were able to scratch out three runs off of Yankee starter Masahiro Tanaka, all coming in form of solo home runs. Aside from the second inning shot from Chris Davis and the two eighth inning homers from J.J. Hardy and Manny Machado, Baltimore had just one other hit the entire afternoon and virtually no momentum the whole game. The loss drops the Orioles seven games back of the top-seeded Yankees, putting them in fourth place in the AL East as they hope to add a valuable player or two before next week's Trading Deadline.
IF YOU ONLY READ ONE THING…
The Pittsburgh Pirates continue to breathe down the neck of the first place St. Louis Cardinals with an impressive 7-3 tonight over the Washington Nationals. After acquiring Aramis Ramirez this afternoon, the Pirates proceeded to bang out 13 hits and crush three long home runs, an opposite field shot from Pedro Alvarez and two to center from Francisco Cervelli and Andrew McCutchen. Pittsburgh also got a very strong outing out of veteran left-hander Francisco Liriano. Liriano had 11 strikeouts after the first five innings tonight and gave up just one run in and three hits over the course of his six-plus innings of work. The Cardinals survived in a 4-3 over the Kansas City Royals tonight, but the Pirates remain just 5.5 games back with a 3.5 game advantage in the wild card race.
JUST AS WE EXPECTED…
After joining the White Sox as part of a slew of free agent signings and other acquisitions this past offseason, righty Jeff Samardzija could very well have made his final start as a part of Chicago's south side team. The Sox were the 28th ranked offensive team in baseball last year, and even after adding more bats such as Melky Cabrera and Adam LaRoche for the 2015 season, the ball club has actually gotten worse.
The White Sox finds themselves tied with the Red Sox for the fewest wins in the American League entering the day, and 17.5 games back in their division. It seems like the pieces they've put together are not quite fitting as well as anticipated so as the July 31st deadline approaches, Chicago seems in a likely position to clean house.
Samardzija is making roughly $9.8M this season before becoming a free agent after this year so the Shark seems like he will be on the move out of Chi-town, just like last season on the north side. Just 30 years-old, Samardzija has averaged 199 strikeouts a season since 2012 and has pitched a great deal better as of late. Samardzija tossed eight innings of one-run ball against Cleveland tonight. only letting four men reach base. He had only three strikeouts tonight but has been averaging seven K/9 over his last six starts.
WHAT WE DIDN'T EXPECT…
Much like Samardzija for White Sox, it appeared that Oakland left-hander Scott Kazmir would be making his potential last start for his current club as the MLB Trade Deadline looming a week away; however, the A's were able to strike a deal with the Astros to send Kazmir to Houston mere hours before he was scheduled to take the hill for Oakland against the Toronto Blue Jays.
Kazmir has recreated himself in his year and a half in Oakland and is currently performing at a level he hadn't even reached in his All-Star seasons in Tampa Bay. The 31-year old has posted an ERA of 3.12 over the course of 300 innings since joining the A's back in 2014, including a 2.38 ERA this season which is good for 10th best in the American League. The drastic improvement of Kazmir's ERA this season can be attributed to his 2.89 K/BB ratio and his 45.9% groundball rate.
No one expected Houston to play the role of buyers come July prior to the 2015 season, but with the team's surprising success, the "rental" of a player they've coveted since his free agency back in 2014 seems worth the two prospects, Daniel Mengden and Jacob Nottingham. The Astros will not be able to offer Kazmir a qualifying offer come winter so it will be interesting to see how the organization proceeds with resigning their new hometown pitcher. Regardless, Kazmir is a very nice piece to add to a starting rotation that features AL Cy Young favorite, Dallas Keuchel.
SAVE CHANCES
– Glen Perkins (29)
– Tom Wilhelmsen (1)
– Bo Schultz (1)
–Trevor Rosenthal (30)
INJURIES
National's third baseman Yunel Escobar left Wednesday's game against the Mets in the second inning after collapsing in visible pain on an ugly check-swing. Escobar, who had been battling a wrist injury, lost his bat trying to hold up on a tight 96 MPH pitch from New York starter Noah Syndergaard and laid on the plate clutching his wrist for some time. Escobar tried to shake off the injury, but walked directly back to the dugout after hitting the next pitch fairly hard foul.
The Nats have not quite been able to distance themselves from the second place Mets as much as they'd like due to numerous DL stints for key players such as Denard Span, Ryan Zimmerman, and Anthony Rendon. Escobar had been hitting .321 with a .785 OPS before going down Wednesday, and losing him in the middle of a career year and heated playoff race could mean a few things for the ball club.
The Nats may have to speed up Anthony Rendon's rehab process in order to properly fill the whole left at third base by Escobar. Washington has been extremely cautious with Rendon to this point, being it is his second time on the disabled list this season; however, Rendon has steered clear of any setbacks in his recovery process this time around and has hit very well in his rehab games with High-A Potomac. Though it's unlikely Rendon will rejoin the big league club this weekend, the best course of action for the Nats would be to speed things up with Rendon's return.
RUMORS & TRANSACTIONS
Recent developments in the trade market and some buzz surrounding the possibility of Detroit being in "sell-mode" has caused the Chicago Cubs to reach out regarding the availability of Tigers' ace David Price. With free agency just around the corner for Price, it appears he will jump to the top of most teams' wish list of player rentals for the 2015 playoff push. Though Chicago was just one of the first what should be many teams to ask about Price, there are quite a few reasons why the Tigers could be the perfect trade suitor for the Cubs' needs.
Detroit had been playing  .500 ball entering the day, and could potentially be in a position to sell on a majority of their free agents t0 be for a quick rebuild. The Tigers will be losing Yoenis Cespedes, Rajai Davis, Joakim Soria, and Alex Avila come offseason; and with an injured Miguel Cabrera, it seems unlikely they have what it takes to jump both the Twins and Royals in the standings.
Chicago is roughly a year ahead of schedule and currently hold the second Wild Card spot in the National League. The Cubs can feasibly rent Price to round out a solid playoff staff that also includes Jon Lester and Jake Arrieta, without having to give up one of their prized prospects as they certainly would if they went the Cole Hamels route. The move would also reunite Price with his long-time Tampa Bay manager, Joe Maddon.