Fantasy Baseball Final: May 22nd, 2016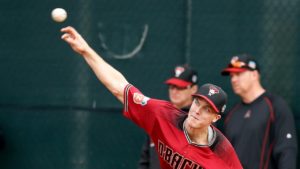 Sunday's deck of games was stacked with aces as some of the best arms in baseball toed the rubber to close out the weekend. Noah Syndergaard, Max Scherzer, Marcus Stroman, Chris Archer, Cole Hamels, and Zack Greinke all took the mound for their respective clubs, and a good handful of those aces finished out the day with wins.
Mad Max Scherzer got the ball for Washington as the first place Nationals looked to take three of four in Miami against the Marlins. Scherzer sat second in the league with an 11.73 K/9 entering play today, and was coming off a two-start stretch in which he accumulated 30 strikeouts. The Nats' rightie continued racking up the K-count in today's 8-2 win over the Fish, striking out eight batters over his eight innings of work with just two earned runs. Scherzer's stuff was electric once again in this start, which kept Miami from getting much of anything going offensively; however, the two runs Scherzer did surrender came on a long ball from Marlins' first baseman Justin Bour. The home run continues to be a bit of an issue with Scherzer, who is otherwise having a solid start to his 2016 season. Although he is second in all of baseball with 81 Ks, he has also given up more home runs than any other pitcher this year with 14. Scherzer's 3.80 ERA will likely come down considerably if he can figure out a way to keep the ball in the park as the year unfolds. The Nats will head home to Washington to being a three-game series with the second place New York Mets at Nationals Park. The club took three of four from the Mets this past week and currently hold a 1 ½ lead over New York.
IF YOU ONLY READ ONE THING…
The Mets turned to their imposing lightning thrower, Noah Syndergaard this Sunday to finish out a three-game sweep of the Milwaukee Brewers. Thor had pin-point command of his MLB's best fastball today, and dominated Milwaukee with 11 strikeouts and no earned runs over the course of his seven strong innings. With his performance today, Syndergaard became the first Mets pitcher since Dwight Gooden with 10+ Ks and no walks in back-to-back starts. He is currently ranked in the top-10 in ERA and K/9, top-five in BB/9 and WAR, and second in FIP just behind Dodgers' ace, Clayton Kershaw. Syndergaard earned his third straight win to improve to 5-2 on the year, and has posted a miniscule 0.84 ERA with 27 Ks throughout his three-game winning streak.
Ryan Braun made his return to the lineup for the Brew Crew today after missing the last four games with back stiffness. Braun is a bat that Milwaukee has sorely missed during this three-game skid, and the 32 year-old veteran was able to collect a hit and stolen base in his first game back from injury. Braun is enjoying a quietly stellar season through these first two months of play with a .364/.429/.576 slashline on the year. Even with their slugger back in the lineup, the Brewers are still among one of the worst offensive teams in all of baseball. The are ranked 23rd overall in terms of offensive WAR, and the next highest batting average on the team behind Braun's .364 is Jonathan VIllar at .293.
JUST AS WE EXPECTED…
It's hard to look at Zack Greinke's ever inflated 4.59 ERA and not immediately point to the home-road splits. Greinke has looked a lot more comfortable as of late, winning four of his last five outings entering the day, but owns one of the most drastic set of splits of any starting pitcher in baseball. Last year's runner-up for the National League Cy Young award, Greinke has looked much more like the elite pitcher he is on the road this year than he has at his new home in Arizona. Since joining the Diamondback this past offseason, Greinke has posted a 2.25 ERA on the road in 2016, but has an abysmal 6.63 ERA back at Chase Field. The 32 year-old was tasked with one of baseball's best offenses this Sunday, but went on to continue his recent groove and road-warrior reputation with a strong pitching performance. Greinke gave up just one run on a Brandon Moss fourth-inning homer, and scattered six total baserunners over eight innings of work with seven strikeouts. The St. Louis bats had been leading the National League in runs, doubles, and slugging, but were shut down today with only five hits and one walk against Greinke.
Stephen Piscotty collected one of the five knocks off the Arizona ace today, and continues to be a pleasant surprise in the Cardinal lineup. After a very solid first big-league season in which he finished sixth in the NL Rookie of the Year voting, Piscotty has improved his batting average, on base, and slugging percentage, bringing his OPS up nearly 75 points from .853 to .927. The 25 year-old outfielder from California has been especially hot hitting third in the Cardinals' order on this homestand with 10 hits in last in his last five games including four doubles and five runs scored.
WHAT WE DIDN'T EXPECT…
Although the influx of young starting pitching has been one of the narratives of the past few years, perhaps the most prevalent storyline for the 2016 MLB season has been struggling aces. Talented young arms such as Matt Harvey and Sonny Gray have yet to get it going through their first 10 starts or so this season, and two of the American League's very best continued to have problems in their outings today.
Two Southpaws for opposite Texas teams took the mound in Houston as Dallas Keuchel looked to right the ship against Rangers' Cole Hamels. Coming off a year in which he won the AL Cy Young award and posted an undefeated 15-0 record at home, Keuchel has continued to put up the most severe splits between his home and road stats without being particularly effective in either scenario. Keuchel came into the day with a 3.26 ERA at home in Minute Maid Park before he was tagged for seven runs on nine hits in six innings of work, bringing his overall ERA up to 5.92. Keuchel has always been a guy who relied heavily on control and getting called strikes as more of a soft tosser, but the Houston lefty has seen his BB/9 go up from 1.98 to 3.99 this year and his K/9 drop down to 7.51 as well. Keuchel has also given up an AL most 73 hits and 41 runs, and has been winless since April 15th.
Another Cy Young candidate from a year ago that has been struggling mightily this season is Rays' starter, Chris Archer. Archer got knocked around by a dangerous Detroit Tigers lineup today and gave up six earned runs in this three innings pitched. The Tampa ace has not had command over his wipeout slider, and gave up at least one run in each of his three innings of work today. Archer has yet to make it seven innings in any start this season, and has seen his ERA rise up to a 5.16 on the year.
SAVE CHANCES…
Jeurys Familia (15)
Steve Cishek (12)
Craig Kimbrel (12)
David Robertson (11)
Roberto Ozuna (9)
Aroldis Chapman (6)