Fantasy Baseball Final: May 24, 2015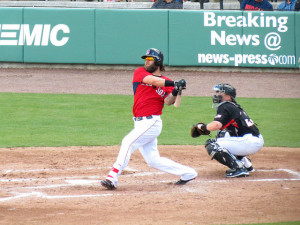 Welcome to the TheFantasyFix.com's nightly fantasy baseball recap, where you'll find updates on bullpen usage, lineup construction, injuries, and transactions. No matter the format, we have everything you need to know to help you win your league.
If you read only one thing…
Over the last two days of Memorial Day weekend, the middle of the Red Sox lineup has woke up from the dead. With a new lineup, including Xander Bogaerts in the five spot and Mike Napoli moving down to sixth, the Red Sox have totalled 14 runs over the last two days. Bogaerts collected four hits today and Napoli continued his tear with four runs batted in. With a home run on Sunday, Napoli now has three straight games with a home run. As a whole, the Red Sox offense has been a big disappointment of late but all signs indicate that the offense may be turning the corner.
Just as we expected…
Trevor Bauer continued his hot May with a strong start on Sunday in a win over the Cincinnati Reds. Bauer went seven and two thirds strong innings with four strikeouts and no walks. Over his last three starts, Bauer has now gone over seven innings and has only given up one earned run in each start. Bauer's next start comes in Seattle at pitcher friendly Safeco Field and will garner heavy consideration in all daily formats.
Francisco Liriano came up big for the Pirates and daily owners on Sunday with a twelve strikeout game. Liriano dominated the Mets in a nearly unhittable performance giving up one run over six innings. After taking the loss in his last three starts, Liriano was expected to bounce back against the limited Mets offense and he delivered at home. Liriano's next start comes against the Padres at PETCO and owners will hope that he gains the momentum from his high K outing today.
But we didn't see this coming…
Carlos Frias had his first blow up after delivering four solid outings for the Dodgers. Frias was hammered by the Padres for ten earned runs over four innings. Frias also did not register a single strikeout over the outing. This comes a day after Mike Bolsinger shut down the same Padres offense. Frias had been fighting to keep his spot in the rotation after a number of injuries to Dodgers' starters. Frias next start will be a difficult one on the road against the Cardinals.
THE REST OF THE DETAILS
SAVE CHANCES
-Luke Gregerson, HOU (12)
-A.J. Ramos, MIA (1)
-Drew Storen, WAS (14)
-Jason Grilli, PIT (12)
-Brad Ziegler, ARI (2)
LINEUP CHANGES
-Collin Cowgill was scratched from the starting lineup today with a right hand injury.
-Matt Holliday was also scratched from the starting lineup with a left forearm contusion.
INJURIES
-Sonny Gray – right ankle contusion – day-to-day
-Yasmani Grandal – concussion – placed on 7-day DL
-Jose Bautista – right shoulder – removed from starting lineup, considered day-to-day
-Jason Heyward – left hip tightness – day-to-day
-Lucas Duda – right hamstring – day-to-day
-Asdrubal Cabrera – mild left groin strain – day-to-day
-Jose Iglesias – left knee contusion – day-to-day
-Carlos Beltran – flu-like symptoms – day-to-day
-Kyle Lobstein – 15-day disabled list
RUMORS & TRANSACTIONS
-Giants designated Casey McGehee for assignment.