Fantasy Baseball Final: May 6th, 2016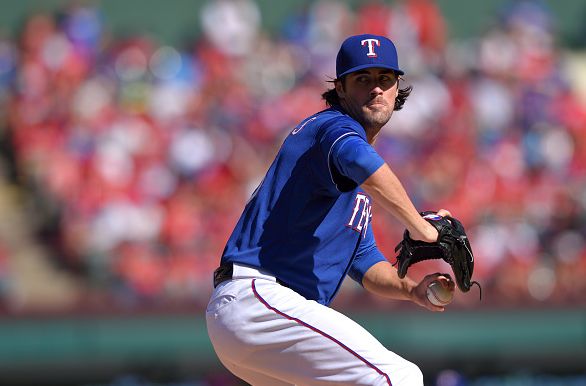 In college baseball, they have an expression known as the "Friday night starter." The idea is that most college teams reserve their best pitchers for the first game of the series on Friday night. On Friday night, there were a number of marquee matchups. The biggest matchup might have been Cole Hamels against Jordan Zimmermann. Neither disappointed as both turned in quality starts. Hamels ended up with the win to move to 4-0. He is still undefeated as a member of the Rangers (in the regular season). John Lackey vs. Max Scherzer and Danny Salazar vs. Yordano Ventura were the other marquee matchups of the evening, but neither lived up to their advanced billing.
If you read one thing
Baseball is a unique game. Unlike the other major sports, getting through a baseball season requires far more than the 25 guys you start with. So, the teams that win, win because they get lucky with good health, but also because they have more depth than the other teams. This is one of the many reasons why the teams that get picked to win it all often don't get to the playoffs in the end.
ESPN's Keith Law said that the Angels farm system was the worst in baseball and the worst he has seen in at least the last decade. So, when Garrett Richards went down with a torn UCL (requiring Tommy John surgery) the faint hopes of the Angels seemed to die with his season. A lineup that features baseball's best player (arguably) and arguably the best player in the past 20 years is likely dead on arrival. In the NBA (in particular), if you have the game's best player you always have a puncher's chance. Not so in baseball.
We kind of expected
The aforementioned Danny Salazar pitched a gem to lower his ERA to 1.91. Speaking of puncher's chances, the Indians will always have a punchers chance as long as they keep that rotation together. With Michael Brantley back from injury, they might have enough offense to carry through. In particular, Francisco Lindor seems to have picked up right where he left off last season. He is hitting .317 on the season after three hits on Friday night.
We didn't expect
We knew Jung Ho Kang was going to come back eventually, but we didn't know he was going to come back like this. He started at third base on Friday night and hit two home runs for the Pirates. He also drove in three runs. This creates a bit of a conundrum for the Pirates as David Freese, Jordy Mercer, and Josh Harrison are all playing well in the early going. Who do the Pirates sit to play Kang and will Kang be able to break into the regular lineup like he did last season? It bears watching.
Save Opportunities
Luke Gregerson (converted #7)
Tony Cingrani (converted #1)
Drew Storen (converted #2)
Andrew Miller (converted #6)
Hector Rondon (converted #5)
David Phelps (converted #2)
Mark Melancon (converted #8)
Injury News
As was mentioned earlier, the Angels discovered that ace Garrett Richards has a torn UCL and will need Tommy John surgery. The normal recovery time is twelve months. This is a huge blow for a team that has already been dealing with the loss of C.J. Wilson and has seen Jered Weaver lose whatever velocity he had left. Andrew Heaney also has a damaged UCL. The Angels season may be ended before it has really begun.
Devin Mesoraco will be missing most of the season for the second year in a row. This time, he has a torn labrum in his left shoulder. Last season, it was a hip problem.
C. Sabathia becomes the second high profile Yankee to land on the disabled list this week as he has a strained groin. The Yankees are hoping he will only miss the minimum amount of time.