Fantasy Baseball Final: May 9th, 2015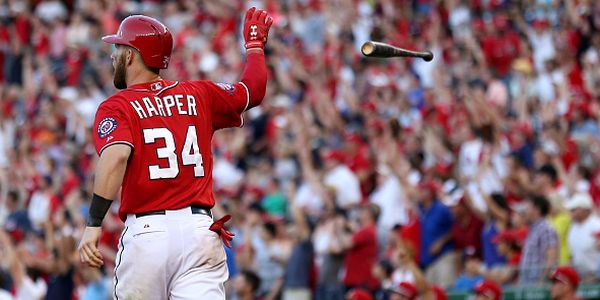 If You Only Read One Thing…
Bryce Harper continues to rake for the Washington Nationals. In his past three games, Harper has homered six times while driving in 12 runs, including a walk-off two run home run to beat the Braves Saturday night. Harper is now hitting .292 and has 11 home runs on the season and has an OPS at 1.084 (Stats via MLB.com). The scariest part about Harper's hot streak and apparent breakout in 2015 is that he is STILL younger than Joc Pederson, Mookie Betts, and Jorge Soler.
Just As We Expected…
This just in….Mike Trout is extremely good at baseball. He does everything; hits for average, hits for power, steals bases, drives in runs, scores runs, and, outside of fantasy, he is tremendous in the outfield defensively. Trout hit his third home run in the past four games Saturday and is showing once again why he is the best player in baseball.  This comes as no surprise, however, which is why it is just as we expected.
But We Didn't See This Coming…
Finally, Alexei Ramirez! The White Sox shortstop has been horrendous so far in 2015, and there is no other way to sugarcoat that fact. He was at the top of the league in spring training in RBI, which led many to believe that he was going to get off to another hot start on the south side. Coming in to Saturday hitting .202 with zero home runs and only nine runs batted in, Ramierz was more than due. He delivered on Saturday in the doubleheader against the Reds, going a combined 5/8 on the day with three runs scored, two home runs and four RBI. Hopefully this is the spark that Ramirez needs to get himself going like he was in 2014 and in spring training this season.
Save Chances
Chad Qualls, Glen Perkins, Mark Melancon, Zach Britton, Brad Boxberger, and Jeurys Familia all converted their save opportunities on Saturday. Craig Kimbrel was hit yet again for the Padres on Saturday, blowing the lead against the D'Backs in the ninth inning. His teammate that came over with him from Atlanta, Justin Upton, bailed him out in the 12th inning, however, by hitting the go-ahead home run that would eventually lead the Padres to the victory.
Injury Report
The Tampa Bay Rays received some bad news late Saturday night, as it appears that their young left hander, Drew Smyly, will likely need surgery to repair a torn labrum in his shoulder and will miss the rest of the season. The report is not official and they could decide to rehab the shoulder instead of doing the surgery, but it appears likely that he will indeed choose the surgery and will be out for the rest of 2015. This comes as horrible news for the Rays and for fantasy owners, as Smyly was having a great start to the season. An injured shoulder made him miss the first three turns in his rotation, but in his next three starts the young left hander threw 16.2 innings and struck out 21 batters and held a 2.70 ERA (stats via ESPN.com).