Fantasy Baseball Final: September 23, 2015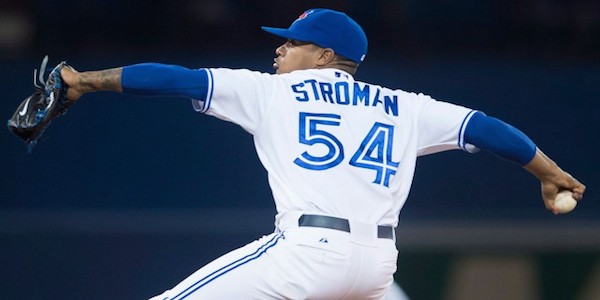 Welcome to The Fantasy Fix's nightly fantasy baseball recap, where you'll find updates on bullpen usage, lineup construction, injuries, and transactions. Whether you play season-long or daily fantasy, expect to see the best coverage from every team, every night, all season long.
With the baseball season ending in two weeks, many teams are still fighting for a chance to participate in this year's quest for greatness. The Yankees were in Toronto looking for an important win against the Jays, while the Nationals looked to keep pace with the New York Mets.
The two most expensive pitchers of the day were Max Scherzer and Corey Kluber, but would both be worth their expensive salaries? Coors Field once again dished out a ton of runs for fantasy owners, making almost any bat starting in that game worth a consideration. With so many options to go with, lets take a look at who performed and who disappointed on this Wednesday night.
IF YOU ONLY READ ONE THING…

There's never been a better time to be a Blue Jays fan than now. Toronto took the rubber game in their series, beating the Yankees 4-0 at home. It was a pitchers duel for the first five innings, before the Jays picked up a run in the bottom of the sixth inning. The big blow would come off the bat of catcher Russell Martin in the seventh inning, a three-run homerun to give the Jays some insurance. Pitcher Marcus Stroman picked up his third win since return from his knee injury, pitching seven innings of scoreless baseball. Yankees starter Ivan Nova pitched a very good game, but ran out of gas in the sixth inning. The 28-year-old now has a 6-9 record with a 4.87 ERA after tonight's loss.
JUST AS WE EXPECTED…
Coors Field is a blessing and a curse all at the same time. For DFS players, fading a game at Coors seems almost impossible, knowing very well a lot of runs are going to be scored. Tonight, the high attitude of Colorado once again provided a ton of runs for both teams. Currently in the seventh inning, the Pirates lead the Rockies 7-6 thanks to five RBIs from second baseman Niel Walker. Walker would drive in two in the first inning and crush a three –run homerun in the third to give the Pirates a 5-0 lead. The Rockies would answer back, adding four runs in the bottom of the fifth. Outfielder Corey Dickerson hit his seventh homerun of the season—a solo shot to right field—and catcher Tom Murphy hit his third homerun off the season, a three-run shot to left field. With this game being far from over, expect a few more runs to cross the plate before it's all said and done.
BUT WE DIDN'T SEE THIS COMING…
High priced pitchers are suppose to be safe plays, but tonight, both Scherzer and Kluber provided very little of that.
Scherzer got off to a rough start; allowing a two-run shot to Orioles outfielder Steve Pearce. The Nationals ace would find his game after that, punching out 12 hitters in 6.2 innings. Washington would enter the seventh inning with a 3-2 lead, before Manny Machado would give the O's the lead again, another two-run homerun. Scherzer would allow four run on seven hits and pick up his 12th loss of the season.
For Kluber, it was another rough outing that ended with him failing to get out of the fourth inning. The Cleveland ace gave up four runs on five hits in just 3.2 innings of work before giving way to the bullpen. Cleveland would add two runs in the top of the ninth, but that's as close as they would come on this night. For Kluber, it's his 15th loss of the season, despite having a respectable 3.55 ERA. It's been a rough year for Kluber owners, with very little hope that anything will change from now till the end of the season. Benching him at this point isn't ideal, but it may be the most logical solution for fantasy owners trying to win in the playoffs.
THE REST OF THE DETAILS
Neftali Feliz (8)
Huston Street (40)
Darren O'Day (5)
Arodys Vizcaino (7)
Francisco Rodriguez (35)
LINEUP MOVES
Astros recall Jon Singleton from Triple-A Fresno
 INJURIES
Nick Ahmed—day-to-day—(back)
Ross Detwiler—day-to-day—(hamstring)
Christian Bethancourt—day-to-day—(thumb)
Adam Jones—day-to-day—(back)
Zach Britton—out until late September—(lat)
Mike Olt—day-to-day—(shoulder)
B. Shuck—day-to-day—(hamstring)
Michael Brantley—day-to-day—(shoulder)
Giovanny Urshela—day-to-day—(shoulder)
Nolan Arenado—day-to-day—(head)
Charlie Blackmon—day-to-day—(neck)
Jorge De La Rosa—out for season—(Achilles)
Miguel Cabrera—day-to-day—(back)
Carlos Gomez—day-to-day—(back)
Zack Greinke—out until late September—(calf)
Justin Turner—day-to-day—(knee)
Martin Prado—day-to-day—(wrist)
Adeiny Hechavarria—day-to-day—(hamstring)
Ryan Braun—day-to-day—(back)
Wily Peralta—out for season—(oblique)
Trevor May—day-to-day—(back)
Juan Uribe—day-to-day—(chest)
Aramis Ramirez—day-to-day—(groin)
Ryan Zimmerman—day-to-day—(oblique)