Fantasy Baseball Week 4 Waiver Wire: 3 to Cut, 3 to Catch, 3 to Keep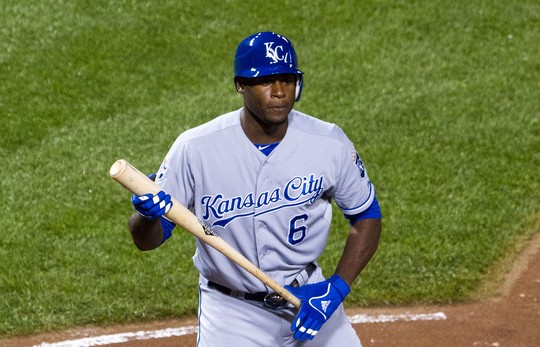 Welcome fantasy baseballers to the week 4 edition of 3×3, where I advise you to pick up Lorenzo Cain, tell Adam Dunn to kick rocks, and hold Austin Jackson and B.J. Upton so tight you'll never let them go.
Let's get it on.
3 TO CUT
Adam Dunn, Chicago White Sox 1B
After spending the better part of his career as the quintessential three true outcomes hitter, Adam Dunn has decided to focus a bit more. In an effort to narrow things down only two outcomes, he's decided never to walk again.
Ok, I'm being a bit too dramatic, but there's truth in the paragraph; Dave Cameron broke down Dunn's metamorphosis last Sunday over at FanGraphs.
Dunn has made slightly more contact this year than he has in the past, but that improvement is completely outweighed by the fact that he's swinging more often than ever before. For some reason,  he's decided to bury one of his greatest strengths (his batting eye) in order to play up perhaps his greatest weakness (his inability to make contact).
The worst part of all of this is: he's making worse contact!
Dunn is hitting more balls on the ground that in the air for the first time in his career, and as one might expect for a man with the physique of a kodiak bear, he's not legging out too many infield hits.
Dunn hasn't had a single hit all season on a ground ball.
A player with Dunn's reputation deserves at least a lap around your league as trade bait, but if nobody bites, feel free to drop him outright.
Brandon Crawford, San Francisco Giants SS
Heading into Sunday's action, Brandon Crawford had a .217 ISO. That number ranked him 47th in baseball, tied with Mike Trout and Evan Longoria.
I generally agree with the maxim "numbers never lie," however in this case, I believe that the numbers' pants are almost surely engulfed in flames.
Prior to this season, Crawford had hit seven home runs in 209 career games. This year, he hit three in his first 16 games.
Crawford has probably evolved into a little bit better hitter than the Rey Ordonez-esque glove man he's been through his first couple of big league seasons, but Troy Tulowitzki he is not. I wouldn't be surprised if ends up besting his .242 career batting average by 20 points or so, but his current .354 BABIP isn't sticking around.
I'd wager you're likely to encounter quite a bit of skepticism on Crawford from any prospective trade partners, but injuries to stalwart shortstops like Derek Jeter, Jose Reyes, and Hanley Ramirez might just force somebody's hand. If you can flip Crawford for a profit, make the move. Otherwise, ride out his hot streak, but don't count on getting anything close to this level of production over the long term.
Alejandro De Aza, Chicago White Sox OF
Alejandro De Aza has emerged as something of a post-hype success story this season, popping four home runs in his first 16 games after hitting just nine all last year.
When I sat down to write this, I had De Aza penciled into a more positive category, but although the BABIP dragons have been unkind to him, his powerful start doesn't necessarily portend future success.
Much like his teammate Dunn, De Aza's plate discipline numbers have regressed significantly from last season. He's striking out at a rate nearly 50% higher than his career norm, and he's accepted only 3 free passes on the season.
When he does make contact, De Aza seems to have come down with a terrible case of Willie Mays Hayes Syndrome.
Fast runners like De Aza should focus on hitting the ball on a line or on the ground, rather than in the air. They say "speed kills," but I'd argue it doesn't do much of anything on a pop-up to the second baseman. The numbers bear it out; De Aza's batting average is about 30 points higher on grounders.
After a career of hitting about 30% more grounders than fly balls, De Aza has reversed his tendencies this season, hitting 22 balls in the air to only 15 on the ground so far. His rise in fly balls has been accompanied by a career high 18% HR/FB rate, but considering that he's never posted anything close to that in his major league career, I'm not buying.
I know it's probably not easy to "sell high" on a guy hitting .243, but if there's an owner in your league who believes De Aza is a 20/20 candidate, make a move soon.
3 TO CATCH
Patrick Corbin, Arizona Diamondbacks SP
Patrick Corbin was solid, if unspectacular, last season; a higher-than-average penchant for surrendering gopher balls stood out as his only glaring flaw. He didn't draw much attention from the fantasy community, but based on his previous results, he didn't really deserve it.
Corbin turned some heads with an impressive turn at Yankee Stadium last week, but even after that outing, he's still available in 80% of Yahoo! leagues.
I'll admit that Corbin has been a bit lucky so far (negative regression is definitely on the way for his BABIP and strand rate), but the thing that makes me most excited about him may not have really taken hold yet.
Since last season, Corbin has shown improved velocity on all of his pitches, including adding nearly a full mile per hour to his fastball. It doesn't sound like a ton, but Corbin is now hovering around 92 mph with his average fastball.
The list of left-handed starters who can consistently throw 92 isn't long, but it's distinguished.
Along with his improving fastball, Corbin features a slider that generates whiffs more than 20% of the time against hitters from both sides of the plate.
Corbin's walks are up a bit and his strikeouts are slightly down from last year. As he learns to harness his improving arsenal, I expect both of those numbers to trend in more positive directions, and I expect Corbin to be a well-rounded asset to pitching staffs in just about all formats.
Carlos Villanueva, Chicago Cubs SP
Carlos Villanueva has always been a pretty good pitcher with one significant flaw: he hands out home runs with an unsettling frequency. A move to Wrigley Field wouldn't seem to be a recipe for success for this sort of pitcher, but Villanueva has flourished through his first few starts as a Chicago Cub, averaging seven innings per start and allowing a total of just three earned runs.
Villanueva has had success by turning himself into a champion wormburner, generating 1.69 grounders for every fly ball. That number is a career high and a huge improvement over his career average of 1.34. The home runs will always be a problem, but an above average HR/FB is much less painful when applied to fewer fly balls overall.
He's made this change by adding a two-seam fastball to his arsenal, a pitch he's throwing about one fifth of the time. Predictably, his new offering is a leading contributor to his rising groundball rate; his sinker has induced grounders nearly 70% of the time it's put in play, according to Brooks Baseball.
Some of Villanueva's peripheral numbers don't substantiate this sort of dominant stat line. He's benefitted from a .189 BABIP and 100% strand rate, neither of which are like to stick around much longer. His strikeouts are down a bit, but he's limited walks even more.
Adding the sinker has changed his approach, and as such, his prospective fantasy owners have to understand that they're getting a different version of Carlos Villanueva. He won't get you quite the same number of strikeouts that he has in the past, but if he's able to maintain his adjusted approach, he'll be a cheap source of ERA and WHIP.
Lorenzo Cain, Kansas City Royals OF
If Alejandro De Aza is wasting his speed, Lorenzo Cain is squeezing every drop of value out of his quicks. He won't maintain his current .455 BABIP much longer, but that number isn't just a result of good luck, it's a product of a very smart approach.
Check out Cain's career BABIP splits:
Grounders: .337
Fly Balls: .149
Line Drives: .685
Knowing that, his current BABIP isn't so surprising, at least not after I tell you that only ten players have hit fewer fly balls than Cain this season, and that over 80% of Cain's batted balls have been line drives or grounders.
Cain has actually been pretty successful when he's hit the ball in the air this season, but I'd attribute much of that success to the fact that he's only trying to elevate balls he knows he can drive.
Cain has some sneaky power and enough speed to swipe 30, now that he's able to get himself on base consistently. If he's still on your waiver wire, scoop him up now.
3 TO KEEP
Austin Jackson, Detroit Tigers OF
For me, Austin Jackson has always fallen into the "better in real life than fantasy" category. He's never been known as a player with overwhelming power or speed, and much of his real life value is derived from the Gold Glove-caliber defense he plays in centerfield.
I think it's time I gave Jackson the credit he deserves.
Since the beginning of last season, he has undergone a fascinating and impressive transition, turning himself from a player whose value would always be limited by a weakness for the whiff to one of the better contact hitters in baseball.
Jackson has bumped his contact rate to better than 85% this season and insodoing has put himself on pace to hit .300 for the second year in a row.
Now that Jackson has cemented himself as an excellent on-base guy, he has a chance to lead the league in runs with Torii Hunter, Miguel Cabrera, and Prince Fielder following him in the Detroit lineup. He's already scored a league-leading 19 runs this season after crossing the plate 103 times last year.
Jackson doesn't run as often as he could, and he may not ever hit more than 21 or 22 home runs, but he is remarkably consistent and deserves to be counted among the top 12 outfielders in fantasy baseball.
B.J. Upton, Atlanta Braves OF
It's been a rough road for Bossman Jr. this season. His strikeout rate is threatening to crack 30% and his batting average can't seem to get off the interstate (it's currently sitting at .167). We all know that you don't draft B.J. Upton to help your batting average, but posting anything below .200 is downright rude.
Of course, his .214 BABIP will regress toward his .320 career average, but whether Upton is able to cut back on his 35% infield fly ball rate will determine just how far that regression goes.
Upton has never had an IFFB rate even close to his current level; I'm betting that this is just a bit of over-aggression. When you step back and this about it, it makes perfect sense.
B.J. signed a big free agent deal to much fanfare in Atlanta, but then had a bit of his thunder stolen when baby bro Justin was also acquired by the Braves. We were all blessed with this little bit of genius, but B.J. was bumped a bit out of the spotlight.
Now that Justin Upton is swatting April homers at a rate not seen since Chris Shelton's magical Spring of 2006, it's not surprising that B.J. is pressing a bit.
As the elder Upton starts to settle into a routine with the Braves, his batted ball profile should trend back toward his established norm and he'll be the 20/40 threat we all expected him to be.
J.J. Hardy, Baltimore Orioles SS
At first, I thought J.J. Hardy was just a bit unlucky, but with a BABIP of just .189, you've got to be doing something wrong, right? This can't just be a bout of historically bad luck, right?
Well, the answer is kind of complicated.
First off, yes, some of this is just Hardy's fault. He hits a ton of infield fly balls, which generally isn't helpful for driving up one's BABIP. His career .273 BABIP is well below league average, and we know he's never going to challenge for a batting title.
/clears throat/ HOWEVUH…
Hardy has been ridiculously unlucky on ground balls. Hardy's not a burner, but can get down the line relatively quickly. Yet somehow, he's only been able to leg out a hit on one of the 26 grounders he's hit this season, good for a result that reads more like a bingo card than a batting average: .036
Aside from his batting average, Hardy has been fine. His walks are up, his strikeouts are just about flat, and he's hitting home runs at a rate just a tick higher than his career average.
With all of the previously mentioned injuries at shortstop, now is not the time for a quick hook. Stay the course with Hardy, or pick him up if you can.
Here's a funky introduction of how nice I am: @gerardowrites