Fantasy Baseball Week 6 Waiver Wire: 3 to Cut, 3 to Catch, 3 to Keep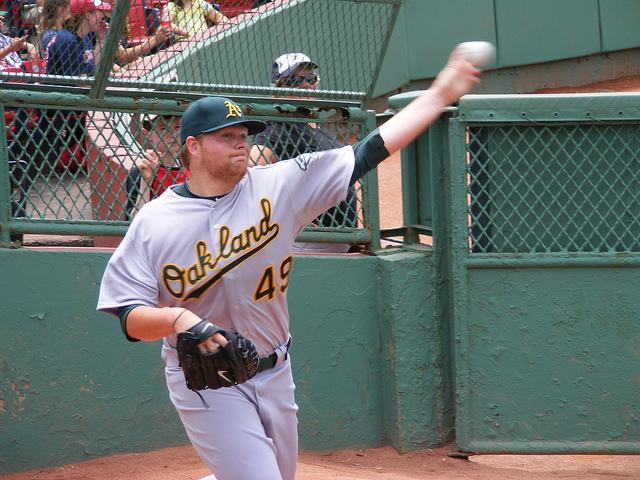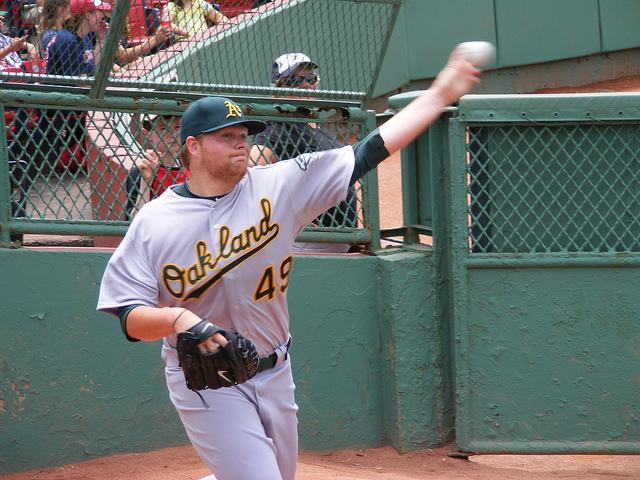 It's better late than never for the Week 6 edition of fantasy baseball 3×3. This week, we're catching Dee Gordon, keeping Starling Marte, and writing a passionate love letter to Brett Anderson.
3 TO CUT
Brett Anderson, Oakland A's SP
"Dearest Brett,
"It's over. We can't handle this rollercoaster any longer. You stole our hearts when you started 30 games as a rookie in 2009, but the 43 starts since then have been torture.
"We'd be lying if we said we didn't still have feelings for you. We'll always adore your steely blue eyes, your +60% groundball rate, your lefthandedness, your 22% strikeout rate, and those spiffy white cleats, but we can't allow you to put our hearts of the disabled list any more.
"Love always,
"Your fantasy owners"
I'd trade/drop him for: Andrew Cashner, Ross Detwiler, Jose Fernandez
Justin Masterson, Cleveland Indians SP
The way that the fantasy community reacts to Justin Masterson continually surprises me. Few pitchers are easier to evaluate, yet we consistently try to turn Masterson into something he isn't.
Masterson has two excellent pitches: a trench-carving sinker and wipeout slider. He's deadly against righties, but struggles to get lefties out. His slider is very effective against hitters from both sides of the plate, but his fastball and sinker are useless against lefthanded hitters.
In order to become a reliable fantasy starter, Masterson has to improve against lefties. That's it. Any other positive signs are just random noise.
So, with that in mind, let's check out lefties' slugging percentages against Masterson's 4-seamer and sinker so far this season, courtesy of Brooks Baseball.
Against the fastball: .611
Against the sinker: .519
Yeah.
I'd trade/drop him for: Tony Cingrani, Trevor Cahill, Patrick Corbin
Justin Grimm, Texas Rangers SP
1,7,6,1,4
Those are the ranks of Rangers Ballpark in Arlington in Runs from 2008-2012, according to ESPN Park Factors. I'm not telling you anything new; it's not easy to pitch in Texas, but it's even more difficult for pitchers who can't keep the ball on the ground.
Since 2008, there have been 14 individual seasons in which a Rangers starter posted with a fly ball rate over 40%. In only three of those 14 seasons has the pitcher in question posted an ERA better than 3.75. Colby Lewis did it twice, and Neftali Feliz did it once (albeit in just seven starts last season).
Obviously, you can tell where I'm going with this.
Justin Grimm's fly ball rate currently sits at 40.6%. He doesn't have Lewis' control and guile, nor does he have Feliz' overpowering fastball.
I'm not saying Grimm is useless; he's earned every bit of his 2.28 ERA and 23.5% strikeout rate. I'm just saying that the time to get out is now, before his ERA starts to regress toward its eventual landing spot, probably North of 4.00.
If your league uses FAAB and you recently picked up Grimm, check your FAAB bidding records and fire off a trade proposal to an owner who missed acquiring Grimm by just a couple of bucks.
I'd trade/drop him for: Kevin Slowey, Chris Tillman, Felix Doubront
3 TO CATCH
Dee Gordon, Los Angeles Dodgers SS
For at least the next 15 days, Dee Gordon is the starting shortstop for a Major League Baseball team. That means he should be owned in every fantasy league.
He's got a starting gig for at least two weeks, and could have it for much longer if he plays well and Hanley Ramirez shifts over the third base.
Gordon is a terrible hitter, but that really doesn't matter. He's always been a bad hitter, yet he's managed to swipe a bag about once every ten plate appearances for his career.
Even if his OBP is .250, he could easily steal five or six bases in two weeks. If he happens to have a stretch of favorable BABIP luck, that number could just as easily double.
A player with his speed is an asset, regardless of whether or not your team needs steals. Unless you've got absolute monsters at SS, MI, and UNTIL, think about slotting Gordon in right away in roto leagues. Playing him for just this two week stretch gives you a chance to bank a few steals with minimal damage to your batting average. As with any counting stat, banking a surplus of steals early in the season gives you tremendous flexibility to trade from a position of strength later on in the year.
To pick him up, I'd drop: Jhonny Peralta, Andrelton Simmons, Zack Cozart
Brandon Belt, San Francisco Giants 1B
Maybe Bruce Bochy lost a bet.
Maybe he drafted Brandon Belt to his own fantasy team.
Maybe Belt has some embarrassing photos stashed away.
For whatever reason, Brandon Belt is finally playing. Though the BABIP dragons have been quite unkind so far, Belt's batted ball profile shows that he might finally be combining the power he showed in 2011 with the batting average and OBP he flashed in 2012. His 41.1% fly ball rate is just shy of the career high he set two years ago and his 23.3% line drive rate is hot on the heels of  the career best he set last season.
Belt's declining walk rate worries me a bit, but I trust that the patience he's shown earlier in his career will return.
Belt will surely post 15/10 with a .350-plus OBP, but I think he's got a real chance to sneak into 20/15 territory this season. As his BABIP luck turns around, he'll climb back up in the order and have more chances to score and drive in runs.
To pick him up, I'd drop: Garrett Jones, Justin Morneau, Chris Johnson
Jedd Gyorko, San Diego Padres 2B/3B
Jedd Gyorko has emerged as something of an in-season post-hype sleeper; falling to only 27% ownership in Yahoo! leagues. He was supposed to be a flexible source of power, but after a homer-less April, his draft day backers have jumped ship.
It seems like Petco Park has claimed another victim… until you look at Gyorko's home/road splits. Gyorko's wOBA at home is .391. On the road, it's .248.
If it's not Petco, maybe it's BABIP?
His .326 BABIP actually seems a bit high, but if Gyorko continues to hit line drives on more than 31% of his batted balls (the second-highest rate among qualified hitters behind only Joey Votto), there's not reason it should regress toward the league average. If anything, Gyorko's BABIP should rise.
Still, there is a case to be made that batted ball bad luck has sapped his production. Gyorko is hitting only .172 on fly balls, an unusually low number for a hitter with proven power, especially given his microscopic 3.3% IFFB rate.
As the season goes on, more of Gyorko's fly balls will clear the fence (I expect his current 6.7% HR/FB rate to double) and more of the ones that don't will elude outfielders' gloves. With so many infield injuries, Gyorko is a great pickup to fill a middle or corner slot.
To pick him up, I'd drop: Pedro Alvarez, Chris Johnson, Kevin Youkilis
3 TO KEEP
Michael Saunders, Seattle Mariners OF
Since narrowly (and quietly) missing 20/20 last season (he went 21/19), Michael Saunders' upward trend has continued. He's cut down on his strikeouts and raised his walk rate. He's hitting more line drives and more fly balls. Despite a chronically low BABIP, Saunders is hitting .283 with four homers and four steals.
He's done it by being incredibly selective, swinging at just 12% of pitches outside the zone. His patience not only helps to maintain those improved plate discipline numbers, it also keeps him focused on pitches he can drive, which is borne out in his career high 22.2% HR/FB rate.
Even with the fences in, Safeco will probably suppress that number a bit, but I still like Saunders to top 25 home runs this season. He'll never be a boon to your batting average, but his newfound patience will help Saunders hit better than .250 for the first time in his career.
Brett Lawrie, Toronto Blue Jays 3B
Through his first 79 plate appearances of this season, Brett Lawrie looks like a different hitter. He's swinging significantly less often, yet striking out almost twice as much as last season. He walk rate is up a bit, but terrible BABIP luck has squelched his batting average and OBP. His line drive rate is down to 4.1%; Lawrie doesn't have enough at bats to qualify for the batting title at the moment, but if he did, that rate would be the worst in baseball by nearly five percentage points.
Perhaps I should reword my opening sentence.
Through his first 79 plate appearances of this season, Brett Lawrie looks like a terrible hitter.
Honestly, there's not much in his stat line that makes me feel good about this, but I'm staying the course with Lawrie. His 2013 has been so starkly different from his 2011/12, I can't believe that he's transformed into a replacement-level player this abruptly.
His power has remained consistent, and I expect the rest of his game to fall in line. Bench him if you can while he figures things out, but don't let him go just yet.
I wouldn't trade/drop him for: Kyle Seager, Michael Young, Aramis Ramirez
Starling Marte, Pittsburgh Pirates OF
On the surface, Starling Marte feels like the perfect sell-high candidate.
He was a trendy sleeper before the season and even now, he's logged only slightly more than a half season's worth of experience in the majors. He's already hit 5 homers and swiped 10 bases; even the often conservative ZiPS projection system predicts that Marte will keep up his pace. It projects 10 homers and 22 steals the rest of the way, which coincidentally matches his totals through this first 318 plate appearances of his career.
15/30 doesn't seem like a huge number, but so far this season, no player has produced both home runs and steals as efficiently as Marte. He is the only player in baseball to steal double-digit bases while posting a HR/FB rate better than 20%. I don't expect either rate to decline much, if at all.
Marte has been BABIP lucky so far this season, but beyond that, don't expect him to slow down.
I wouldn't trade/drop him for: Nelson Cruz, Michael Cuddyer, Desmond Jennings
Comin verbally Hardison as if my name was Kadeem: @gerardowrites