2017 Fantasy Baseball, Filling the Void – Pitching Stats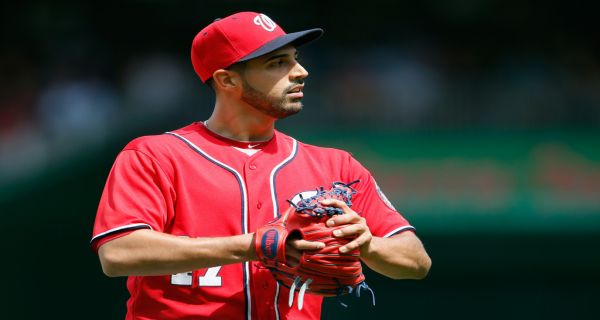 So it's late in the draft. You've got a team you're happy with. But there's something lacking. You feel you're just a bit short on the pitching side of things. Most of the categories you have covered nicely, but one is lacking. You need one more pitcher to help tip you over the edge from being a contender to being a shoe-in for glory.
So to help your bid for glory, let's take a look at some later round pitchers who could help in each of the five standard pitching categories; Wins, Strikeouts, Saves, ERA and WHIP.
The idea behind this is that you've got the other categories nicely solidified so a slight hit in your ERA for example wouldn't be disastrous if you can pile on some more much needed strikeouts.
So without further ado, let's get cracking with Wins.
Wins
Everyone who plays Fantasy Baseball knows how flukey wins are. There are lots of discussions on whether leagues should even use wins, with some favouring quality starts. However, in friendly (non-payment) leagues I must admit the element of wins does excite.
That is until I lose a win when the closer has a complete meltdown in the ninth inning. Then I curse wins as the devil of fantasy baseball.
If you do need wins, you need to look for someone pitching on a team with a good offense, good defense and good bullpen (or two of three at least). With that in mind, one pitcher who fits the bill is Gio Gonzalez.
Right now, Gonzalez has an ADP of 220 at ESPN and 245 at Yahoo. Despite a 4.57 ERA last year, Gonzalez managed 11 wins for the Nationals over his 32 starts.
Yes, there are concerns over his regression year-on-year (posting an ERA higher every year since joining the Nationals). But his consistency can't be ignored. Since 2012, Gonzalez has started 154 games (over 30 per season) and has won 21, 11, 10, 11 and 11 in those five years.
In 2016, the Washington Nationals were 8th across the Majors in runs scored, was a top 2 defense and now boast three back late innings relievers who all had sub 3.00 ERAs (Treinen, Kelley and Blanton).
He's never pitched 200 innings in a season for the Nationals despite averaging 30 starts a year, so don't expect him to go deep into games. But there's enough talent around him to give him and hold onto a lead.
In this case, Gonzalez might have more value in leagues with wins than those counting quality starts.
This Spring, Gio Gonzalez has posted a measly ERA and WHIP (yes it's Spring but you'd rather that than a 13.50 ERA wouldn't you?).
So Gio Gonzalez is someone who should give you at least double digit wins (even 12 – 15 wouldn't be too much of a stretch with a bit of fortune). He has above league average strikeout rates every year so certainly won't harm you there.
After a great start to 2016, Gonzalez suffered a poor May and June but turned things around again from July onwards. Enough to make you wonder how bad his ERA and WHIP could harm you this year. Probably not enough to take away the benefit of the wins you'll be enjoying.
Strikeouts
There's a few candidates here, some of which you will have seen on lots of "Sleeper" lists. Robbie Ray springs to mind.
But I'm going to be a bit more vanilla than that and throw you out the name Ian Kennedy.
Right now, Kennedy has an ADP of 225 at ESPN and 242 at Yahoo. Pretty similar to Gio Gonzalez.
Kennedy's ERA of 3.68 was somewhat fortunate last year and the Royals defense is pretty middle of the pack. Their offense is below average and the bullpen doesn't seem formidable. So don't expect many wins.
But in his last three seasons, Kennedy has struck-out 565 batters in 565 innings. Doesn't take a maths whizz to work out what his K/9 rate is.
Kennedy has a career WHIP of 1.268, so wouldn't be damaging to your team there. If you have wins covered, a good looking ERA but need a boost in your strikeouts, you could do a lot worse than Ian Kennedy in your draft.
Especially given how most of your league mates will be eyeing up that more shiny and exciting pitcher they read about on the "trendy sleepers" lists.
Saves
For weeks now, I've been telling people drafting early to get Greg Holland over Adam Ottavino. Holland was signed to be the Rockies closer and despite the buzz around Ottavino and stories coming out of Rockies Spring camp seem to emphasise that.
So if you're drafting at the moment and your league hasn't realised this yet, Holland could be a top-20 closer, even at Coors Field. But by the time you draft, it'll probably be too late to get this one over on your league mates.
Depending on your league, saves could be difficult to come by. I play in a 12-team league where at least 2 teams employ the closer only method making saves much more expensive. I'm not going to be drafting a closer in the first few rounds so to be at least competitive in the category; I'll need to find more value.
And one closer who springs to mind is the Brewers recently acquired reliever, Neftali Feliz.
Feliz is currently going 214th overall at ESPN and 206th at Yahoo ((28th reliever off the board on both sites). Feliz is currently being drafted after Adam Ottavino (not closing), Shawn Kelley (not closing), Hector Neris (not reliable) and Raisel Iglesias (poor team and part of a closer committee).
I believe the Brewers could compete enough to get 82 – 85 wins as a team in 2017 so should present Feliz with enough save chances to get 40+ if he's effective (the Brewers had a total of 46 saves in 2016 despite a 73 – 89 record).
Feliz bounced back from a disastrous 2015 to post a 3.52 ERA last year with 61 K's over 53.2 innings in Pittsburgh. Not overly dominating, but solid nonetheless.
The Brewers don't have any other standout options for the ninth inning so Feliz should get a pretty decent sized leash too. I can easily see Feliz being a top-15 closer by season's end.
ERA
It's easy to look at a pitcher's ERA from the previous year and base your predictions on it. But to find real value, you need to delve a little deeper into the numbers to find their true performance.
Aaron Nola is a prime candidate for such consideration.
In 2016, Nola threw 111 innings and amassed an ERA of 4.78, a step back from his 77.2 innings 3.59 ERA in his 2015 debut season.
But Nola's ERA was unlucky. There are all sorts of analytics which measure the true performance of a pitcher. FIP, xFIP, SIERA and tERA are the more common ones. Go look them up if you're not sure what they are.
And whichever one you look at, you'll get the same answer; Nola was unlucky. He could easily have posted a 3.50 ERA if he didn't seemingly break a mirror whilst walking under a ladder.
In his short Major League career, Nola strikes out a hitter per inning and has a solid if not spectacular 1.261 WHIP. Now, pitching for the Phillies that might only produce 10 wins.
But for someone currently with a 192 ADP at ESPN and 147 at Yahoo (Yahoo players must be a bit more clued up), Nola could easily be a top-25 starting pitcher, belying his current position of being in the 40th – 50th starting pitcher range.
With solid K's and WHIP, if you're set for wins and need some help at ERA, Nola is the perfect option to bolster your rotation.
WHIP
I recall around 3-4 years ago pondering why Hisashi Iwakuma had an average ADP around 200 considering his WHIP was projected to be barely over the 1.00 mark and his ERA a smidgen over 3.20. A lack of strikeouts was the main reason but as someone who had WHIP concerns with his rotation, Iwakuma was a golden ticket to glory when I drafted him in the 22nd round.
Now, Iwakuma's WHIP is more league average, jumping from 1.064 in 2015 to 1.327 last year and it's hard to see a return to his pre-2016 numbers.
But someone who looks like they could emulate Iwakuma's type numbers is Toronto Blue Jays very own Houdini, Marco Estrada.
Why Houdini? Estrada had the biggest variance between his ERA and FIP in 2015 among qualified pitchers and came 8th in that regard last year. The last two years, he's been skating on thin ice with his ERA.
But maybe it's more than luck. Estrada plays in a hitter friendly ballpark, in a hitter friendly league and yet still produced a sub 3.50 ERA the last two years. His WHIP the last two years has been 1.044 and 1.119. Can that be flukey?
Perhaps, but two years running, Estrada has been a real boost to any team's WHIP and another sub 1.150 WHIP shouldn't be a problem given his Major League career WHIP is 1.144.
Estrada currently has an ADP of 174 at ESPN and 198 at Yahoo. So Estrada certainly isn't going to cost much to get.
Playing for the Blue Jays, Estrada should get enough wins to avoid harming you there. He has around a league average strikeout rate too so providing his ERA remains fortunate (and why wouldn't it?), Estrada could provide a big boost to your WHIP at a relatively low cost.
So there you have it, some names that might only be significant contributors in one category but won't harm you elsewhere and considering their ADP's, should be very nice additions to any pitching staff.