Nick Franklin's Quiet Quest Up The Ranks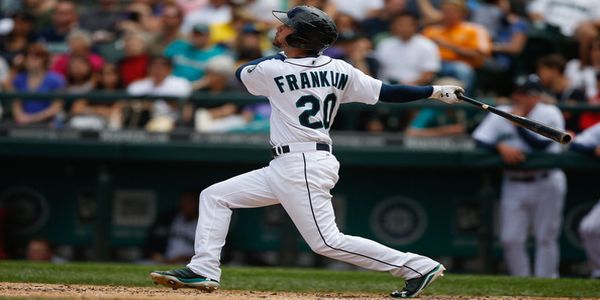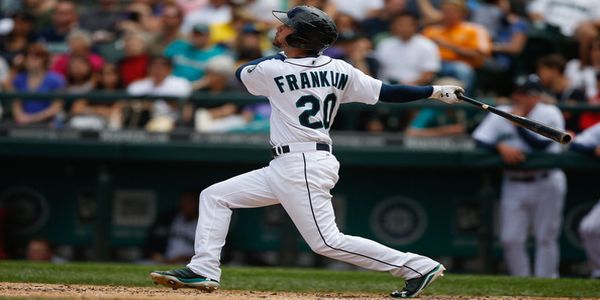 Nick Franklin has quietly taken the league by storm. I live on the east coast, so I don't get to watch very many Seattle games. That has changed recently. I found myself watching a Mariners game on MLB.tv over the weekend and absolutely fell in love with their announcers. As I continued watching I paid very close attention to Kyle Seager, Brad Miller, and Franklin. I've always had a crush on Seager, but I'm pretty sure one developed on Franklin as well. I knew he was having a solid season, but I was not aware how good it actually was until I looked up the numbers. How is he managing to put up these numbers while receiving no publicity?
If you have read my articles before, you are aware by now that I love analyzing a player's batted ball profile. While I was watching the game I couldn't help but think to myself: "Man, that is a very nice swing for line drives." I'm not a scout by any means, but his batted ball profile through his first 52 games agrees with me.

Granted, all of his data comes with a small sample size caveat, but his batted ball profile bodes very well for the future. The high line drive percentage should help his ability to hit for average, and the flyball percentage is very good for power especially, considering how few have been popped up in the infield so far.
The thing that has surprised me most about Franklin has been the amount of home runs. Many of the scouting reports I read put him in the range of 15-20 homers over the course of a full season. That is probably more realistic, but this output so far is very encouraging for his future prospects.  Franklin currently ranks 28th on Baseball Heat Maps' home run and flyball leaderboard. That 16.7% HR/FB rate doesn't look fluky at all when you consider how far Franklin is hitting the ball.
Franklin's having most of his success by punishing mistakes. In order to be successful for a long period of time hitters simply have to hit mistakes. Franklin is doing that and he is doing it very well.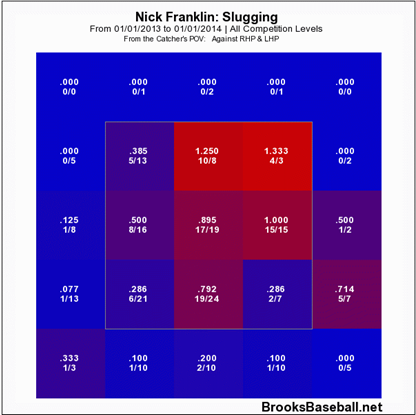 If you make a mistake to Nick Franklin there are pretty solid odds that he is going to crush it.
Franklin's walk rate is a very respectable 8.8% and his minor league track record suggests it might actually be a little better than that as more time passes. His ability to draw free passes also helps him in the stolen base department. Franklin has been a very efficient base stealer so far in 2013. He's five for six in the majors after going a perfect seven for seven in AAA.
Nick Franklin is well on his way to becoming the player for Seattle that Dustin Ackley was supposed to be. Luckily for us he plays a premium position for fantasy and should be valuable for much of the foreseeable future. His ZIPS projections project him to finish with 14 home runs and 8 stolen bases in 90 games. He could easily be a 15/15 threat in 2013 with perhaps a chance at 20/15 or better. You could essentially get Aaron Hill production in Neil Walker's draft position, depending on pre-rankings. Second base just got a little bit deeper for 2014.