Post Trade Deadline Position Rankings: Right Field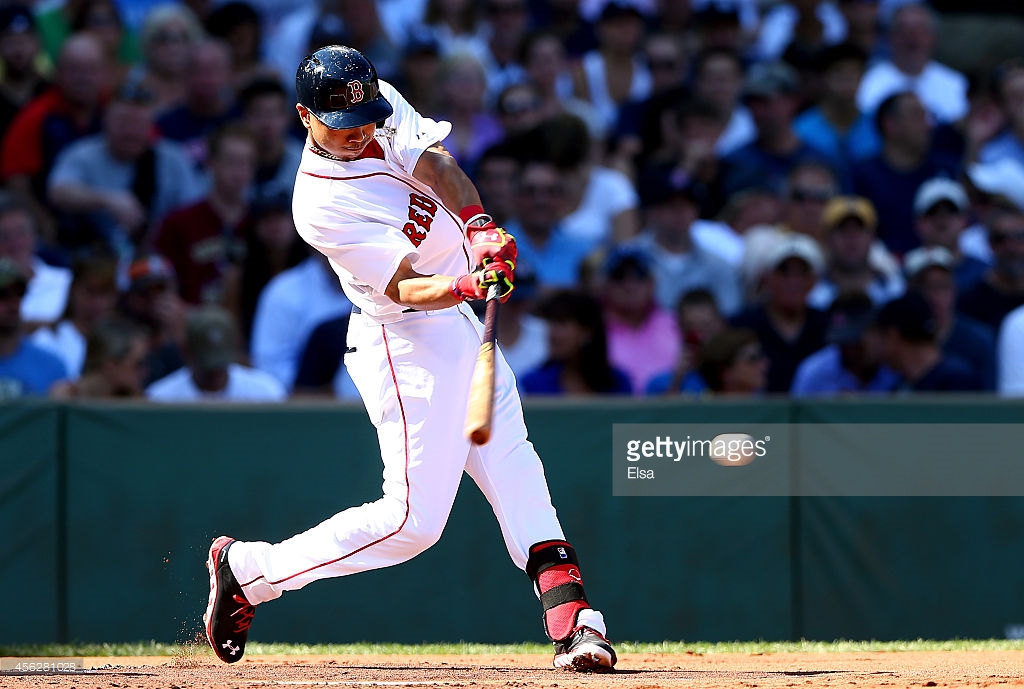 We come to the end of another series as we look at the top twelve fantasy right fielders in the game right now. Of course, many of you might bristle at some of the rankings along the way, but the point has been to demonstrate the number of surprising performances we have seen this season. Fantasy experts love to talk about the importance of draft day and it is important, but the team that wins is usually the team that does the best job of taking advantage of the waiver wire.

So, we are comparing the rankings of the top twelve right fielders along with their preseason rankings according to Yahoo. Naturally, some of the players listed in right field for Yahoo aren't exactly right fielders, but they are eligible there, so we will count them. Players throughout the series have been ranked according to the top six fantasy categories. Walks are counted as the sixth category in this case.
Mookie Betts—Boston Red Sox (Preseason #5)
(.319, 30 HR, 104 Runs, 100 RBI, 38 BB, 21 SB)
Obviously, his ranking at the beginning of the season is an indication that big things were expected. Kris Bryant was ranked above him as a potential right fielder, but most people put him at third base. Still, you can't do much better than Betts as he could be a dark horse candidate for the MVP award. He is second in the AL in WAR and he is playing on an obvious playoff contender.
George Springer—Houston Astros (Preseason #6)
(.254, 25 HR, 99 Runs, 73 RBI, 76 BB, 9 SB)
The knock on Springer has only been health. He had nagging injuries that limited his effectiveness in his first two seasons, but leads the league in plate appearances this season. Springer only finishes this high if you include walks, but he has been better than some expected. The only thing holding him back is consistency. Still, during his hot streaks there is literally no one better.
Bryce Harper—Washington Nationals (Preseason #1)
(.253, 23 HR, 75 Runs, 76 RBI, 95 BB, 19 SB)
Harper has missed three or four weeks due to nagging injuries or he would be in one of the top two slots. He has disappointed largely because he was the number one overall player taken in some leagues. Under those circumstances you can't help but be disappointed in the outcome. Still, he has been one of the better offensive players in the league when healthy.
Nelson Cruz—Seattle Mariners (Preseason #9)
(.279, 34 HR, 78 Runs, 81 RBI, 53 BB, 0 SB)
Cruz has been an afterthought largely because he has been in a power slump over the last month. When you look at his current season along with the few seasons before that you see he is one of the most consistent power producers in the game. Unfortunately, there isn't a whole lot surrounding him outside of Robinson Cano and Kyle Seager.
Carlos Gonzalez—Colorado Rockies (Preseason #11)
(.303, 24 HR, 78 Runs, 84 RBI, 40 BB, 2 SB)
I was never a big Cargo guy because he never seemed to live up to the potential. It has been two consecutive healthy seasons for him and with a strong September he could put up 30 HR and 100 RBI again. He may be a Coors Field mirage, but as long as he gets to play half of his games there he is a fantasy force to be reckoned with.
Gregory Polanco—Pittsburgh Pirates (Preseason #19)
(.268, 21 HR, 70 Runs, 80 RBI, 47 BB, 12 SB)
Yes, he was ranked 19th, but three of the guys above him were not outfielders. So, he was taken as a third outfielder in most leagues than that turned out to be a good call. Some expected more speed, but it is hard to complain about these numbers. Even discarding Andrew McCutchen, the Pirates outfield is going to be stacked for many years to come.
Mark Trumbo—Baltimore Orioles (Preseason #36)
(.255, 41 HR, 79 Runs, 97 RBI, 43 BB, 2 SB)
It has been a huge comeback season for Trumbo. In reality, he wasn't that bad last season in Seattle, but it has been some time since his 30 HR, 100 RBI days in Anaheim. As an impending free agent, his performance couldn't come at a better time. He ranked 220th overall coming into the season, so he was probably drafted as a guy eligible at three different spots (including first base).
Kole Calhoun—Los Angeles Angels (Preseason #21)
(.269, 15 HR, 81 Runs, 64 RBI, 60 BB, 2 SB)
Calhoun almost cracked the top 100 in Yahoo leagues before the season, so the position ranking is a bit misleading. Many of the top twenty right fielders aren't actually right fielders. Calhoun is the third wheel in a very top heavy lineup. Still, he is threatening to score 100 runs on the season and drive in 80 runs. Add in his walks and you can see how he ranks so high in six category leagues.
Stephen Piscotty—St. Louis Cardinals (Preseason #33)
(.275, 20 HR, 73 Runs, 73 RBI, 45 BB, 6 SB)
Piscotty and teammate Randal Grichuk were huge for the Cardinals as they nearly advanced to the World Series in 2015. As second year players, you either establish yourself and take a step backwards. Grichuk took the step backwards and Piscotty established himself. He isn't great in any single category but he does enough across the board to be a valuable fantasy player.
Jay Bruce—New York Mets (Preseason #30)
(.251, 28 HR, 67 Runs, 88 RBI, 36 BB, 4 SB)
Bruce has finally been traded to a contender. It was supposed to happen before the 2016 season began, but an agreement with the Blue Jays fell through. Bruce is a flawed player (low batting average and on base percentage) but he produces enough in other areas to make up for it. It will be interesting to see what happens next season when he gets a whole season with a competitive team.
Carlos Beltran—Texas Rangers (Preseason #42)
(.295, 26 HR, 64 Runs, 80 RBI, 30 BB, 0 SB)
Beltran went undrafted in the leagues I played in and in many others. He was one of the better adds at any position in the game this season. The future is murky for the 39 year old free agent to be. 2016 might be a sign of things to come, but it seems more likely that it was his last year in the sun before he approaches rapid decline.
Adam Eaton—Chicago White (Preseason #18)
(.281, 12 HR, 75 Runs, 48 RBI, 57 BB, 12 SB)
The joke amongst critics of the Dbacks front office is that they believed strongly in a statistic called GARP (Grit above replacement player). Eaton came up as a Dback but was traded to make room for A.J. Pollock. It benefitted both players and both teams. Eaton doesn't do anything exceptionally well, but he has that grit they loved so much. He has sneaky skills and ability to produce that surprises you by the end of the season.