Prospects Who Will Help This Season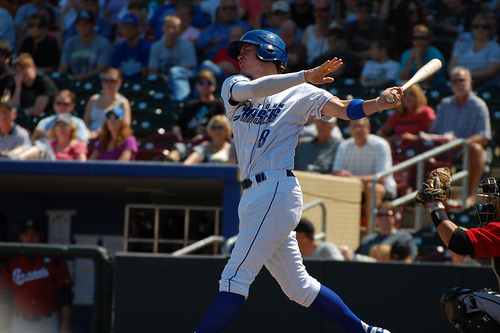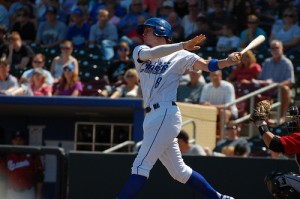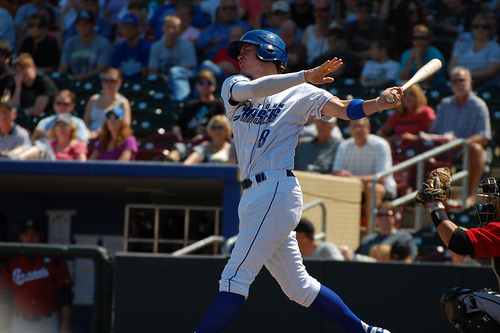 I don't mean to brag (well, maybe a little) but I won all my fantasy baseball leagues last year. Even taking into account my utter brilliance, what really carried me to victory was my Bryce Harper/Mike Trout combo patrolling the outfield for each of my imaginary teams.
Also, on my imaginary teams, Harper and Trout share a small apartment and are constantly getting into Odd Couple-esque comedic shenanigans; Harper got his eye-black makeup all over Trout's trophy case and Trout's clean-cut ways embarrassed Harper when Bryce had Nick Swisher, Kevin Youkilis and AJ Pierzynski over for poker night. Hilarious!
The point is, rookies aren't just for keeper leagues. Sure, they carry more risk than the average player and will generally produce at a lower level but fantasy leagues are won by getting value. It's not just who has the best first round pick, who which third rounder yields first-round value, the player who can nab a quality starter in round 17 and picks solid replacements off the waiver wire in late May stands a chance of drinking beer out of his league's trophy (my fantasy football league literally has a trophy with a cup on it that has been filled with untold amounts of alcohol and shame).
Fortunately, I'm here to talk about a few rookies who may yield current value and round out a championship team in 2013.
– Wil Myers (OF) TAM
Like all the players I'll talk about in this space, if you're in a keeper league Wil Myers is already gone. However, if you're starting from scratch Myers could yield positive value on draft day. Only 24 outfielders hit 25 or more home runs in 2012. Only 16 of those 24 stole at least 5 bases. Wil Myers has that kind of ability right now. The Rays will almost assuredly leave Myers in the minors to start the season, but he should get regular playing time by mid-May. Sam Fuld and Matt Joyce could use a right-handed partner in the corner outfield spots. In the minor leagues Myers has played every position except shortstop and first base. Tampa is as aggressive as any team in shifting defensive assignments;  Joe Maddon will find a place for Wil Myers to play. Myers should grow into a terrific player but could be an average-to-slightly-above-average offensive player right now with a skill, power, in shorter supply than some realize.
– Travis d'Arnaud (C) NYM 
The centerpiece of the RA Dickey trade, d'Arnaud is the single best catching prospect in baseball and should have an everyday job in Queens to start the season – assuming there is no chicanery with his arbitration clock. Though d'Arnaud's .333/.380/.595 line in Triple-A looks slightly less impressive given that it took place while d'Arnaud was playing for the Las Vegas Area 51's and playing half his games in one of the minor league's most hitter friendly park, there is virtually no way to look at his minor league track record as anything other than a rousing success. Outside of Posey and Molina offensive production at the catching position is scarce. d'Arnaud has a very reasonable chance to hit something like .260-.270 with 12-15 home runs 50-ish RBI and maybe a steal or two. That won't win the league by itself but it's reasonable production (basically what AJ Ellis did last year) that comes with no downside risk. Rookies are a bit like getting dealt Ace-King in poker. It's great, a lot of potential, if it hits you're sitting pretty and even if it doesn't you can fold and not lose much.
– Jurickson Profar (SS/2B) TEX
Profar will probably be the highest drafted rookie in most leagues, and with good reason. He has an above-average current hit tool (insanely high praise for a 20-year-old), solid-average power, draws walks, can run, plays defense and has positional value; Profar is arguably the best all-around prospect in baseball right now. Despite already being the best "Jurickson" in the history of baseball, Profar's current fantasy value is diminished slightly by the lack of a clear path to the big leagues. Elvis Andrus is a better defensive shortstop and Ian Kinsler has gone back and forth with his stated willingness to change positions in the short-term. Texas appears willing to run with a Mitch Moreland/Lance Berkman duo at 1B/DH and David Murphy/Nelson Cruz in the corner outfield spots – leaving less room for Kinsler to play other positions. If given a full season at SS, Profar might be a top 10 player at the position. Even if he only had second-base eligibility, Profar's potential for a 20-20 season with quality batting average would thrill most owners. Whenever he gets a chance, Profar will play on a good team in a good run scoring environment which will help boost his runs scored and batted in totals. If MLB comes down hard on Nelson Cruz's alleged PED use there's a chance Kinsler will be moved to a corner outfield spot and Profar gets a shot sooner than expected.
– Adam Eaton (OF) ARZ
Playing time in the Arizona outfield is still in flux but if we know one thing it's that Kirk Gibson and the front office prefer "grinders". If Adam Eaton isn't a grinder, Nikola Tesla wasn't an insane-genius. The current Bill James player forecasts have Eaton as a .291 hitter with 36 steals, 8 bombs and 95 runs scored. Know how many players hit at least .290 with 30+ steals and 90+ runs scored last year? Two. Ryan Braun and Mike Trout. That's it. That's the list. Adam Eaton is basically those guys without the power; that's still a terrific player. Adam Eaton has a really good chance of being every bit as good a fantasy player at Michael Bourn. Go get him. Right now. I'll wait.
We good?
OK.
Moving on.
– Jedd Gyorko (3B/2B) SDP

What a great freaking name that is. Jedd Gyorko. Sounds like a cross between a hillbilly and an alien robot who learns the value of human life after befriending an innocent child. A collegiate shortstop at West Virginia with zero chance of playing short at the game's highest level, Gyorko moved to third with mediocre results. The terrific Chase Headley has blocked that big league path but second base is currently manned by Logan Forsythe/Alexi Amarista who pose a much more manageable obstacle. Forsythe is a solid player, but if you move a mediocre defensive third-baseman to a more demanding defensive position it's done with the intent of getting his bat in the line-up. San Diego lacks hitters and the hillbilly-robot-man can mash (I really hope that nickname sticks). If there's one team in baseball that can afford to give up a little infield defense for offense, it's San Diego. Even in PETCO, Gyorko has a chance to develop into a .290-.300 hitter with 20-25 home run power in relatively short-order. Gyorko could provide better value than a low-end starter like Dan Uggla and may work his way into the Neil Walker-level as a solid starter in a 12-team league that is snagged at the end of the draft or off waivers.
Follow Lincoln on Twitter @LHamiltonPP