2016 Fantasy Baseball: Giants Sign Denard Span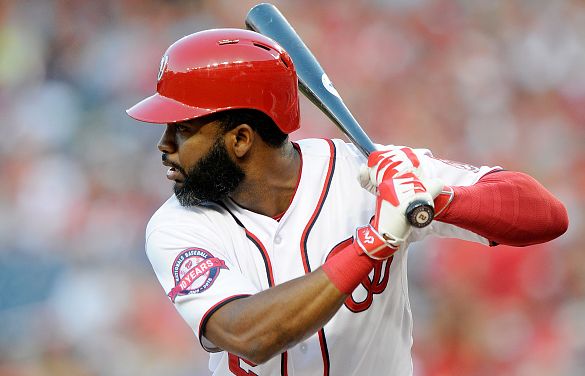 The San Francisco Giants continued their offseason spending this past week, signing outfielder Denard Span to a three-year, $31 million dollar contract. Span, of course, spent much of last year on the disabled list, which is one of the reasons he'll be earning an average of $10.3 million dollars a year.
While that's certainly not something to spit at, it's still well below what he must have thought he was going to get prior to 2015. Before his injury-riddled campaign, Span was good for four wins about replacement in 2014. Had he stayed healthy and kept up that production, he would be in a similar price range as Alex Gordon and the other free agent outfielders. He'd be in the bottom part of that group, but he still could have netted $65-70 million dollars total.
There is risk in signing a 32-year-old center fielder coming off of a hip injury, though the risk isn't astronomical given the amount of money they're guaranteeing him.
Why the Giants made this move
There was a clear need in the outfield for the Giants, which is why we've seen them linked to Yoenis Cespedes and Justin Upton, as well as Alex Gordon before he re-signed with the Kansas City Royals. It's not clear whether they're planning on running Span out either in center field or left, though he can provide solid defense at both positions. The Giants, along with others that expressed interest in Span, saw value at a highly discounted price. Span, unlike the other big outfield names, wasn't attached to a draft pick and will be earning well below the going rate for this type of player.
Span doesn't hit for power, so that won't change with the Giants, but he hits for plenty of contact and is only one season removed from nearly collecting 200 hits. He also stole 31 bases that season, though that's where the risk comes in to play. If the hip is fully healed (he shared a video of himself on Instagram doing hurdles along with other exercises), then we shouldn't be worried about him being a threat on the base paths once again. That being said, he's 32, and this is where we see a sharp decline in stolen bases; Alex Gordon stole just two bases last season, for example.
Jeff Sullivan of Fangraphs.com spoke about Span having the highest contact rate over the last three years in all of baseball (minimum 1,000 at-bats). For a player that accumulated four wins above replacement in 2014, taking a small bet on him is something that can easily work out for the Giants.
While the offseason isn't officially over yet, the Giants' big spending might be over after this deal was struck. The deal caps off what was an offseason where the Giants' addressed their largest needs. Headed into the offseason, there was a starting rotation that consisted of Madison Bumgarner… and that was really it. There are plenty of questions surrounding Jake Peavy, and you can't feel overly confident heading into 2016 with Peavy as your #2 starter. Instead, he is the number three, or number four in the rotation depending on how you feel about Jeff Samardzija. The Span moves seems like a classic move by the Giants, and I'm expecting it to work out for them in the long run. If it doesn't, well, it's only 31 million dollars, which is nothing in today's baseball world. Brian Sabean is a smart guy, and hey, it's an even year.
What this deal means for you
The main goal if you're a Span owner is for a healthy campaign in his first year in San Francisco. If they run Span out to left field often, you will see him gain eligibility in fantasy for that position as well, which slightly increases his value and gives you more versatility out of him. He's not someone that owners are sprinting to their computers to draft, but he can offer hidden value in the later rounds of your draft. Like I said prior, he's not going to hit for any power, but put him in that lineup and he can become a .300+ hitter again.
For the Nationals, they lose their center fielder for the last three years. They acquired Ben Revere from the Toronto Blue Jays over the weekend to provide outfield depth and likely to start in center field. In addition, the Nationals also have second-year outfielder Michael Taylor ready to takeover whenever he is ready. Taylor hit 14 home runs with 16 stolen bases in his rookie campaign, though he owned a sluggish .229 batting average. If Taylor can figures things out, he seems like he could have a ceiling of a possible 25/25 center fielder.