Taijuan Walker's Arrival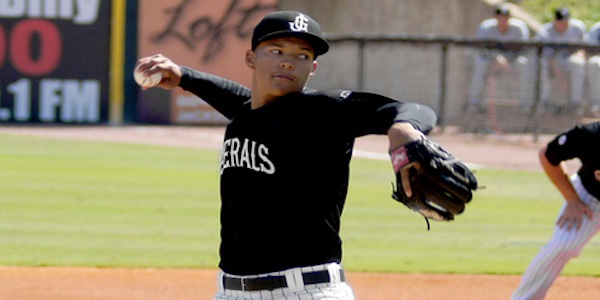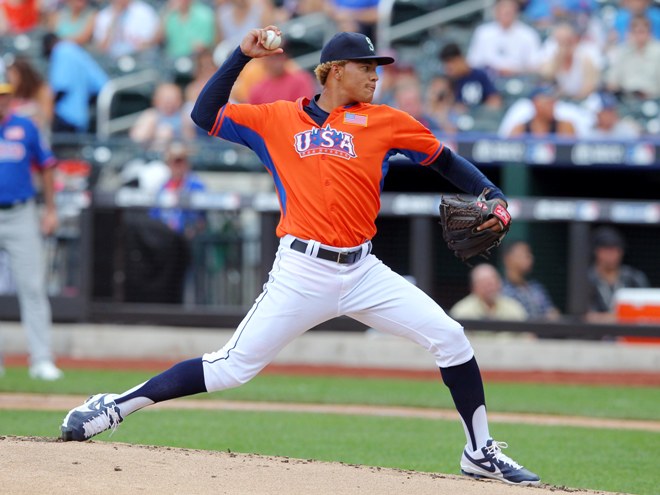 The Taijuan Walker show is finally going to arrive in Seattle on August 30 (Friday). Walker's been on prospect radars for awhile now, but we'll finally get our first looks at how major league hitters will fare off of the electric arm of the 21 year old.
Background & Scouting Report
Walker was rated as the 20th and 18th best prospect coming into the 2012 season by Baseball America and MLB.com, respectively. Those rankings jumped a little bit, to 18th and 5th overall, as we turned the calendar into 2013.

Keith Law wrote the following about Walker in his most recent top 50 prospects update: "Walker's mid-90s fastball, up to 97 regularly, is incredibly easy, and he still has the loose, athletic body that scouts love to see. This year, he's using a good cutter as his out pitch, which is good because it's the best secondary weapon he's ever had but not good because it's come at the expense of his curveball, which has become less tight and is now just a fringe third pitch.
He's still so young and athletic that I wouldn't bet against him, but as close as he is to the majors, he should have a stronger third offering in his arsenal."
There's a lot of praise in that small piece. The first thing we notice is the velocity. I've watched Walker a few times and saying his velocity is easy is dead on the money. His frame makes his mid-90's heater look absolutely effortless. Law isn't the only scout I have seen write about Walker's curveball taking a step back in 2013, so it'd be nice to see him get that back.
Minor league splits can be a little touch and go, but we have to use what we have available to us. Below is the breakdown of batted balls off of Walker in 2013.

I love those groundballs. Walker's induced groundballs on 48% of the balls batters have put in play so far in 2013. I love this for many reasons, but the main reason is because it's much easier to limit damage when hitters are beating balls into the ground. He's posted a 3.62 FIP in AAA so far, which matches nearly perfectly with his 3.61 ERA.
Walker's number one calling card has been his strikeout potential. He's struck out right around 27% (10 per nine innings) across two levels this season. That number is phenomenal and plays well in any fantasy league, but his command is still a work in progress. Since his promotion to AAA Walker's walked 11% (4.24 per nine) of the batters he has faced. While that isn't a death nail by any means, it's vital for him to improve upon that number if he wants to reach his potential (and not destroy your WHIP).
Fantasy Value for 2013 and Beyond
Walker's already pitched 141 innings in 2013. He tossed 126 in 2012, so I'm not sure how many starts he'll actually get for the rest of the way. I'd guess he receives around 2 or 3 turns before he's shut down for the year. He's probably owned in most of the leagues he should be owned in at this point. With that being said, his start on Friday does come against the Astros. If you want to take a flier on him they're the perfect team to start him against. For the rest of the way you can play around a little bit and plug him in, but don't expect him to put you over the top or anything down the stretch.
2014 is a little bit of a different story. Walker will probably come into the season with a fair amount of hype, especially if he shines during his cup of coffee this year. He has the potential to have a massive impact in 2014. His ceiling, according to nearly every scout, is becoming an ace. We'll see if that comes true. His strikeout potential, groundball tendencies, and favorable home ballpark make for a pretty good recipe.
*All data courtesy of FanGraphs and MLBfarm.com*