The Future is Now: Xander Bogaerts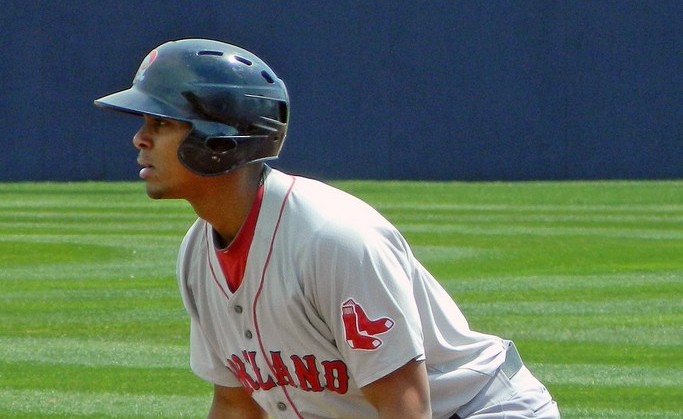 The Boston Red Sox called up one of the best prospects still left in the minors. His name is Xander Bogaerts. A child named Xander Bogaerts has to be pretty awesome in order to live up to that name. Luckily, Xander Bogaerts is pretty awesome.
Few players combine plus hit and power tools with enough athleticism to stay on the left side of the infield like Boston's young stud. Bogaerts projects to be one of the premier offensive-first infielders in the game, in time.
In 2012 only seven batters hit .300 AND 30+ home runs. Of those seven, only Adrian Beltre, Robinson Cano and Miguel Cabrera did so as non 1B/OF. Over the last five years only Troy Tulowitski and Hanley Ramirez have done so as shortstops. That's the type of player Xander Bogaerts has a chance of becoming. He's almost certainly going to be a very good player, potentially an All-Star and maybe even a true franchise cornerstone.
However, Xander Bogaerts was born in October of 1992. "End of the Road" by Boyz II Men was atop the billboard charts and Last of the Mohicans staved off a late charge by the original Mighty Ducks movie for the top box office spot. In those 20 short years since James Fenimore Cooper beat coach Gordon Bombay, Xander Bogaerts has become a very good baseball player. He is not yet what he will be.
In the entire history of baseball really only Alex Rodriguez has been a great player as a 20-year-old shortstop. In 1996 A-Rod hit .358/.414/.631 with 36 bombs and lead the league in average, doubles, runs scored and total bases. A-Rod was in the conversation with Griffey and Bonds as the best player in the game and was far and away better than Juan Gonzalez who won the AL MVP by one vote.
Beyond A-Rod's magnificent season, just being worthy of playing that young is a major achievement. Bogaerts figures to be that as his playing time is almost assured. Current Red Sox shortstop Stephen Drew can't hit lefties and third baseman Will Middlebrooks couldn't hit water if he fell out of a boat.
Bogaerts has destroyed minor league pitching this year, showing both power and patience that belies his age. He's not a burner, in fact his speed may be a tick below-average, so he won't give you the steals most people want from the position but Bogaerts is likely already and above-average hitter for a shortstop. Only 10 shortstops have posted a wRC+ greater than 90 so far this season, meaning that they produce runs at least 10 percent worse than league average. Due to the shallow nature of offense at shortstop, Bogaerts is an immediate start in most formats.
If you're tired of waiting on Asdrubal Cabrera to come around or have been stuck with Jimmy Rollins/Starlin Castro this season due to lack of alternatives Bogaerts represents a likely upgrade. Even in shallow leagues, Bogaerts figures to be worth a roster spot.
Projecting a few months worth of stats if folly but Bogaerts works out to be something along the lines of a .260-.270 hitter with 10-12 home runs had he spent all year in the bigs. Outside of mediocre steals totals, Bogaerts could be a first round fantasy pick in a few years and is still worth playing time in most formats right now.