Three Players to Target in OBP Leagues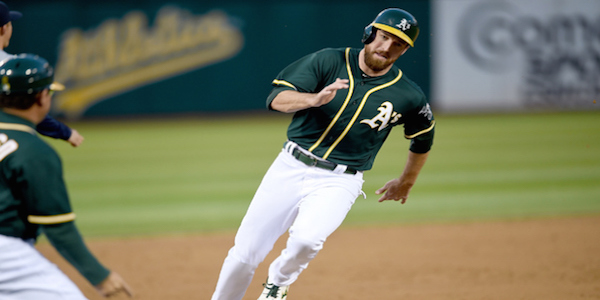 I know I am not alone in having abandoned leagues that have batting average as a category. It is not an easy thing to ditch, as many fantasy players are in decade old leagues that stick with stats they are accustomed to, and most fantasy advice is geared toward those in batting average leagues. However, with the advances that have been made in baseball research, we all know OBP is a far more useful stat than batting average.
Thankfully, each of my three leagues are OBP leagues. One thing I notice is that the ranking systems on Yahoo! are all based on batting average and not OBP. The same goes for pre-draft advice. With OBP leagues, you have to do a bit more heavy lifting on your end. With that said, I wanted to touch on three players I like specifically in OBP leagues that can be had for relatively cheap.
Ike Davis

Being utilized in a platoon role in Oakland has been great thus far for Ike Davis, who is trying to have a career resurgence after being traded from the Mets and the Pirates within a few month span.
Ike has always had a patient approach and is fond of the more advanced numbers, but his usually high walk rate combined with limiting his strikeout rate has allowed him to hit for a high average and maintain a high on base percentage this year. He has yet to produce the type of power that he had in his first few years with the Mets, but he does have six doubles in under 80 plate appearances, and if a few of those doubles start turning to homers then Davis will become a valuable OBP league asset.
Similar to Davis, Granderson has yet to see the ball fly off the bat as he has in year's past, but he has limited his strikeouts and maintained a high walk rate, giving him an OBP in the .360's despite an average under .240. Granderson is being deployed in the leadoff role in New York, so he is taking his job as the on base man in front of the run producers very seriously. His 17% walk rate is the fourth highest in the National League.
Being a high OBP guy with power and some stolen base potential, some may be overlooking Granderson. While he is not a guy you fawn over in batting average leagues, since he has hit under .250 in five of the last six years, he has had a 10% walk rate at minimum in each of those seasons which has pushed his OBP between respectable and very useful. He is a worthwhile trade target in OBP leagues as his power has yet to come out.
Shortstop is a tremendously weak position each and every year, but it seems like this year it is even weaker than we are accustomed to. Brandon Crawford's .235 average is not jumping off the page at anyone, but his 12.5% walk rate and .350 OBP certainly are given the nature of his position.
Crawford has also belted four home runs after posting a career best 102 wRC+ last season. Crawford's ISO has improved each season he has been in the league, and with a more patient approach he will allow his natural power to continue to improve. Things are definitely trending the right ray for Crawford offensively, as he has posted better walk rates each season combined with more power. He will not provide the type of speed you would hope for out of most shortstops, but his power and patient approach make him very useful in OBP leagues.